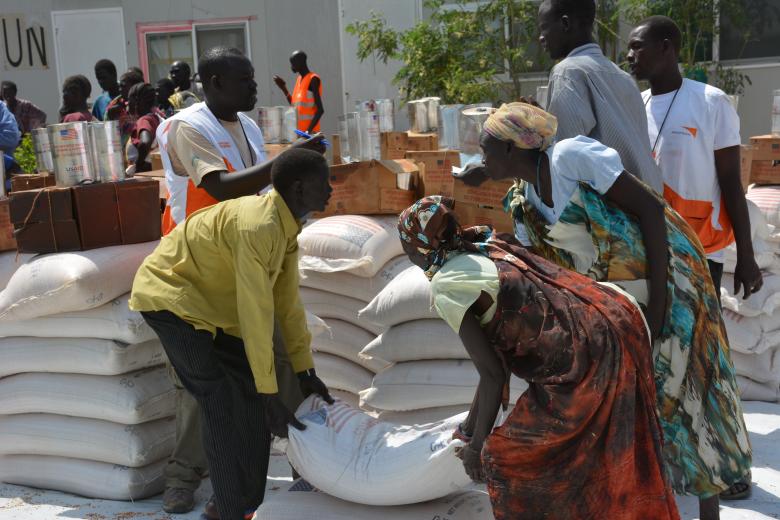 World Vision distributes food to thousands of displaced people in South Sudan
Friday, February 21, 2014
The Cessation of Hostilities Agreement signed on January 23 between the Government of South Sudan and opposition group has opened a window of opportunity for scaling up humanitarian assistance to the conflict affected population in South Sudan.
 On January 27, World Vision started distributing a 15-day food donation from World Food Program to 26,000 Internally Displaced Person (IDPs) within United Nations Mission in South Sudan (UNMISS) protection of civilians camp in Malakal, Upper Nile.  Already, World Vision has distributed food to 21,000 IDPs in Malakal town. World Vision food aid team is working round the clock to ensure that the remaining IDPs get food. Each beneficiary receives 17 kg food ration, which includes cereals, pulses, vegetable cooking oil. 
 A recent food distribution on January 28 coincided with the visit of a senior United Nations official, Valarie Amos, who witnessed the deplorable conditions of civilians within UNMISS's protection of civilian camp in Malakal. Speaking at the distribution site, Valarie Amos, commended World Vision for its role in bringing food assistance to the needy and wondered whether there was enough food in store for other needy civilians in the state.
 Most aid agencies including WFP and World Vision had some of their relief supplies looted by armed elements during weeks of violence in Malakal.
 The protection of civilians' camp in Malakal is teeming with thousands of people mostly vulnerable children and women. The IDPs are living in deplorable condition with limited access to safe drinking water and sanitation facilities. World Vision South Sudan's Water and Sanitation (WASH) Response team in Malakal described the situation of the IDPs as risky and requiring urgent sanitation interventions.
"Lack of clean water is a health hazard. We understand cases of diarrhea have been reported. Agencies are trying to address the provision of soap and clean water, but more support is required to arrest a possible outbreak of waterborne diseases," says Stephen Maina, World Vision South Sudan Water and Sanitation Advisor.