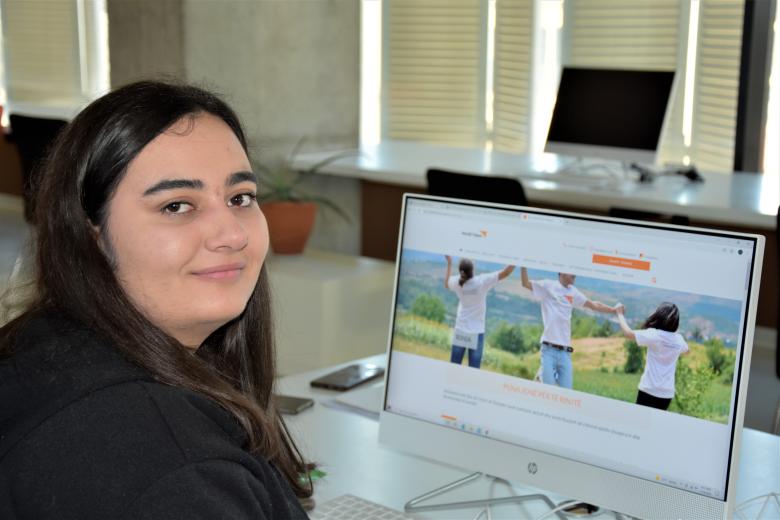 Ana designs her own future
Tuesday, April 26, 2022
Ana is 18-year-old and is a senior in a vocational high school in Korça. After finishing her nine-year school, her parents decided that she pursue vocational education in the field of Hotel-Tourism, but Ana is 'designing' her own future. She likes tourism and the opportunities provided by the sector in Albania, however lately she has been presented with a new opportunity. Creative and passionate about technology, she has also been engaged in the field of graphic design. The opportunity to attend an afterschool course is helping the young girl to expand her knowledge to adapt to the needs and requirements of the job market.
Besides her studies, Ana works as a freelancer during her free time. She creates various designs for local clients and businesses in Korça. Keeping in mind the effects of attractiveness and distinctness, she helps her clients to establish their public profile through the product logo. This secures her income, the opportunity to professionally grow, as well as the satisfaction of being an active citizen who contributes to the quality of her city's social and economic life.
Ana joined World Vision projects two years ago and has attended every meeting of the SKYE club in her school. "I have had the opportunity to learn new things, visit different places, and exchange ideas with other Albanian youth. All of these have given me another vision on life and above all have uncovered talents or skills I never knew I had. I have been part of the training on social media for 2 to 3 months and I am currently practicing my knowledge. I was not aware that I could be this creative or that I had the skills to create product designs for local businesses and play with colors," Ana shares as she talks about the great change in her life.
World Vision is working with young people by helping them to build their capacities and skills, and to strengthen them to actively participate in social and economic life. Ana and five of her peers, all SKYE club members, have been supported to attend a course at the Korça Innovation & Technology Hub through the "Social Media Management" programme.
This new inspiring window of opportunity for technology, innovation, information, and entrepreneurship is professionally training them to successfully compete in the job market.
"We come here every day after school. I have learned a lot about websites, and how to create our own work and be authentic. I have learned about Instagram and LinkedIn, how to open a client profile, and negotiate service fees. First, we present the clients with five different designs so that they can choose, and then we set a price depending on their needs," Ana explains while emphasizing that her new professional training makes her confident about her future.
Ana states that digital training creates countless employment possibilities for young people irrespective of where they live and their family circumstances. With technology, companies and job vacancies all over the world are just one click away.
"Being a freelancer is very profitable, therefore young people should seize the moment. Desire and passion drive us forward. These young people are full of ideas and very systematic. I am surprised," exclaims Aleksia, the programme director, who mentors their practice on Korça Public Library premises.
*World Vision works with 2,100 adolescents all over Albania, by helping them to reach their full potential to express themselves, undertake projects benefiting the community, and bring about social and economic change.