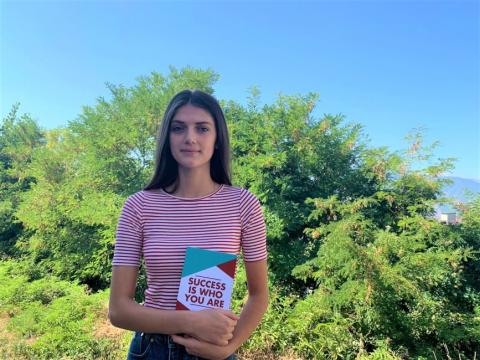 Being a girl
Monday, October 11, 2021
Sindi is 18 years old and will soon leave her hometown, Dibra, to start university studies in Tirana. She wants to study pharmacy, as she considers it a way to improve people's health, and also as a way to heal the wounds of her community mentality towards girls.
Sindi has been part of the student government at her school and almost always participating in the activities and initiatives that the IMPACT youth groups of World Vision have undertaken in the last 4 years. Inclusion, migration, protection of rights, violence, environment issues, and discrimination are some of the areas where she has given her contribution and raised her voice to bring awareness and change in Dibër area. Sindi was born and raised in the city of Peshkopi, and as many other girls in Dibër or other cities in Albania, she has witnessed and experienced the differences that our society makes between boys and girls.
Today, on the International Day of the Girl Child, she shares with us some of her own feelings and reflections which are also those of the lives of many other girls from Dibër. Sindi wants to raise her voice and bring attention to what is talked about a little, but felt a lot.
"I was born and grew up in Dibër, so it is not difficult for me to describe in a few words my life as a girl from Dibër. For years we have been talking about the importance of gender equality, but prejudicial attitudes and behaviors towards girls / women are still being transmitted from generation to generation. This is a hostile reality that I and a lot of my friends are living in.
As a child, a girl is being taught about the rules of conducting and standing like a woman. Here, we grow up being told that in front of a boy she has to lower her head. For no reason should she talk to a stranger.
Being a girl from Dibra is a big burden. Any unintentional gesture or movement is analyzed in detail and soon being slandered. It makes me feel sorry thinking about all the answers a girl should give while going to the store for example, for sure she will be also asked about the way she is dressed or even why she went out in such a hot or cold weather. And so, we have always had to think about every single detail in order to prevent violation of our dignity.
Can you imagine what it is like to live in fear of doing something wrong? Many of the girls here, especially girls living in the villages, live locked inside the house, afraid of their own thoughts and never allowed to make their own decisions. Our dreams have been affected by the mentality and our desires have been downhearted by seeing what the community expects from girls, what stereotypes they have.
But let's talk a little bit about the boys, too. Being a boy in Dibër gives you courage to face all challenges. When a boy, the family tells you that taking care of yourself and providing family income is your responsibility. Boys grow up by dictating and reinforcing to them the idea that they are superior to girls. I believe most of you who are reading this article have heard from grandparents, parents and even aunts and uncles saying, 'Take care of the boy! Do not touch/tease my son.' They teach girls to be humble as girls are born to go at a foreign door (to get married and leave their parent's house). Whilst, boys should be strong, make sure that the sister does not make mistakes, reproach and yell at the sister when she does something that is not expected of her (no matter if the boy might be younger than his sister). In most situations in the Albanian families while children are having a fight, the boy is always right, he is not shouted at.
Boys never receive a "No" as a response from the family for them to participate in whatever they want to do, regardless of their age. Many things, although not age-appropriate, are allowed to boys by their parents. Boys are allowed to work, to drive or to travel with friends. Thus, they always feel that they are stronger than girls, they are superior than girls are.
They are taught to be authoritarian and to decide for themselves their own life goals. All parents tell their children that they love each one of them in the same way, with the same strength. And, of course, I believe it, like every child. However, deep in their subconscious, parents are influenced by culture, mentality, way of growing up, and all the norms of society that lead to a different treatment of girls and boys. I would like parents to give both girls and boys the same support, same attention, and same space to grow up and progress.
Today, as I am getting ready to start university, I know that a girl in my community named Marsela* (not the girl's real name) is not doing so. Even though she had a grade point average of 9.4 (out of 10), her parents did not allow her to start high school. As a matter of choice, I think that it should be the girls deciding to attend or not higher education, and not the parents who stop her. Parents and society should raise boys and girls by telling them that it is not a shame for boys to cry; that girls are strong and smart. Girls should not be oppressed and left without dreams; that boys should take a girl's hand to help her walk faster on the path to her goals and not to violate or stop her. Parents and society should set the same starting and ending line for boys and girls on their journey to well-being, protection, care and love, and should cheer alike for both parties.
Thinking it deeper, I believe that somehow there is an issue in the way that the community treats both girls and boys in Dibër. We girls are oppressed because we are given less than we deserve and this causes us a lot of dissatisfaction and certainly affects our full development; while boys are given greater priority and responsibility, more than they can take at a certain age, which also impairs their growth and development.
Certainly, in recent years, despite the policies, projects and work that many structures and organizations have done, more space has been given to the inclusion of girls, gender equality and raising the voice in this regard. Many parents are trained and informed on aspects of child development and the importance of equal treatment between boys and girls; as well as the high involvement of girls in youth groups and community initiatives to mitigate high levels of prejudice and create equal opportunities for both genders. I am one of the girls involved in such groups, and my parents are among other parents involved in such training. but there is still much to do.
I cannot close this reflection of mine otherwise than hoping and wanting to encourage every girl to be brave, not to be afraid of her ideals and life goals. And I want any boy to be open enough to understand and accept that his sister, cousin, and girlfriend is as smart, wise and valuable as he is.  Boys should be supportive in their every decision and initiative a girl takes. No matter what others around you speak about, what matters is our willingness to change our future.