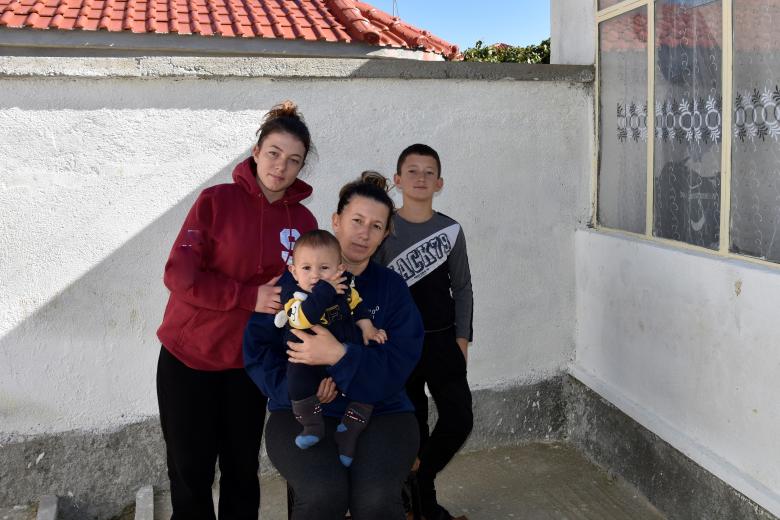 Empowered woman, empowered family
Wednesday, March 15, 2023
"Life in the village is difficult for girls and women. You have to work a lot and, often, face prejudice,"  says Nertila from Korça, mother of three.
Married at the age of dreaming, at only 19, she was unable to attend high school and obtain a profession. 
Now Nertila is 36-years-old woman and recalls she had to work since her teenage years in agriculture along with her three sisters, in order to help their family. Even after marriage, agriculture work was the only option she had and her family's only source of income.
"The first 12 years of marriage were not easy, as we had to live as an Albanian traditional extended family. When my husband, I and and our three children moved out, I finally understood what it means to be a united family. I felt as if I had remarried," says Nertila.
She is energetic, courageous, and ambitious. Despite the inability to obtain a profession herself, she invests all of her savings in her children's well-being and education. At the first light of day, before sunrise, she is out working on the cropland. That is where all of her hard work takes place, in order for her three children, Inva, Irineo, and Noel, to have all they need.
"We spent several years growing apples. We had planted nearly eight dunams of land and it took a colossal amount of work. The profits were not great and now we are growing beans. My husband is my right hand. All of this would be impossible without him because I also have to look after the children,"  she explains.
Nertila lives in a village located only about 14 km far from Korça. Though they live close to the city, the prejudices persevere. Her husband is her greatest supporter, even sometimes goes against accepted norms.
Nertila is part of World Vision Albania's farmers' group for several years and has received various agricultural inputs to recover her household's financial condition.
"I willingly became part of the farmers' group, overcoming every prejudice of the villagers. The villagers speak quite a bit about others, they take note of who gets on and off the bus and then start talking. However, I thank God for having a husband who understands and supports me. It is very important for a woman to have a supportive partner."
"If I would not have joined World Vision, our future as farmers and the future of my children would be more difficult. Prices have gone up. The pandemic really affected us. We received spray and irrigation pumps, which facilitate our work. The provision of fertilizers reduced our agricultural expenditures considerably. The money I would have spent to purchase these items, I have now invested in my children's education." explains Nertila.
Nertila is a capable farmer and a dedicated mother and wife. She has young children, a teenage daughter, and a husband who emigrates for nearly three months every winter to obtain money for the family. Sometimes she finds it difficult to balance her daily life.
"The trainings delivered by World Vision Albania on family, marriage, and parenting have been of great help. The children have also appreciated them. I realised that satisfaction can only be found in the family and I also learned new parenting techniques. When you are tired from work, when your product does not sell, when children request more things, it is not easy to remain calm and parent them. Thanks to the trainings, our family is now stronger. Now we discuss everything, share our worries and joys, but also spend quality time together," says the mother of three.
Her children's empowerment and education are Nertila's priorities. Inva, her eldest daughter, is also involved in World Vision Albania's programmes.
"It is important for people to find their own support circle. In my case, it comprises my husband and my eldest daughter, who is like a friend to me. She is part of IMPACT groups and I would like her to continue her studies. I wish my children get proper education. If we help each other out, we will make it," concludes Nertila.