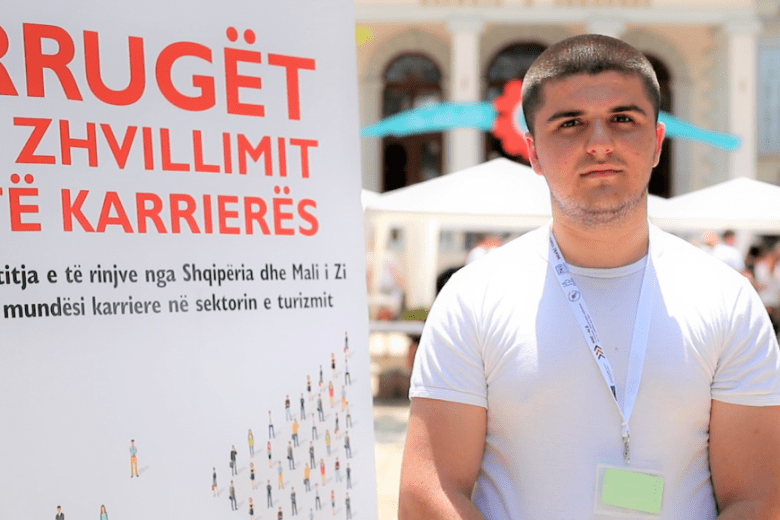 Eriseld's Journey through Career Development
Thursday, August 19, 2021
Erilseld just finished his third year in the professional high school, Hamdi Bushati, in Shkodra. In September, he will be back to school as a Senior. Since he was little he's had a passion for cooking and has chosen to study Hotel-Tourism, in the profile of Cooking-Pastry. After three years, he's still committed to the idea.
"Professional education offers you many opportunities and it is the type of education all students need these days," says Eriseld.
Almost all young people have dreams and plans about their future profession during their youth.  It is the age in which thoughts about the future thrive the most. They are one step away from their dreams and they face the dilemma about choosing a profession. However, Eriseld seems to have had a good start to his career journey.
"We have always supported Eriseld in his decisions especially concerning his future. Since he was little Eriseld had a passion for cooking, so when he took steps to develop it into a career, we supported him because that was his dream," says Eriseld's mother.
Since March, Eriseld has been participating in a youth group organized by the project, Pathways to Career Development: Preparing Albanian & Montenegrin Youth for Career Opportunities in the Tourism Sector,  which aims to increase the economic capacities and opportunities of young people in the bordering region of Ulcinj and Shkodra and to contribute in increasing opportunities for the youth so that they can be competitive in the local or regional labour market. 
"The activities were very productive for all the students serving as professional practice, sharing experiences with their peers and developing group work skills," says Eriseld's teacher, Stejsi.
During these months, he has been part of various trainings and activities and he told us about one on market research methods. 
"It was an interesting experience because we were able to immediately apply what we learned into practice, and learned about demands of the local business, especially regarding the young people they hire," says Eriseld.  
One of the most impactful experiences Eriseld remembers was the youth fair held in Shkodra at the end of June. He was part of the group of young people from Shkodra and Ulcinj who came together to present various projects.
"The fair was something new and a fantastic experience. It was a lot of work but a great success at the same time. Together with students from Ulcinj, it was beautiful to see our two neighbouring countries present their similarities and differences. The fair was filled with creativity by different projects presented by the students and it was also full of new opportunities," says Eriseld.
Young people not only showcased their entrepreneurship skills by displaying handmade products but also presented such products to visitors and companies looking for employment opportunities.
Eriseld says that he has always wanted to turn his passion for cooking into a profession and his dream is slowly becoming a reality, because he is currently taking an internship at a local business. He is enthusiastic that in this career he will always be exploring new things, but he adds that the activities he has participated in have helped him learn new skills, such as cooperation or group work.
"I suggest all young people to take professional education. It is a long journey but filled with beautiful things. I am certain that whoever is reading my story has a passion of his own. That's why I tell them to explore it and follow their dreams," says Eriseld.