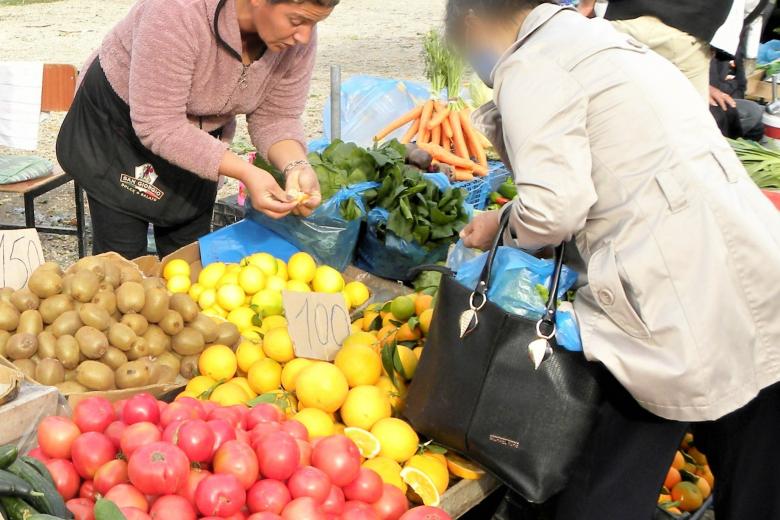 Finding hope in fruit, vegetables and flowers
Thursday, February 24, 2022
Every day, married couple Lindita and Miltoz sell seasonal fruits and vegetables and sometimes fresh flowers in their stand in the market of Kurbin. Their rare smiles and courtesy welcome their customers in the market.
But their lives have not always been so filled with smiles. In recent years, they faced numerous challenges and difficulties, which they have managed to overcome only by standing close to each-other.  
Miltoz comes from the town of Korça, while Lindita is from Burrel. After their marriage, she moved to live with her husband's family in Korça. During the first years of their marriage, when their son was born, they were very happy. But the beautiful days came to an end when disputes over property rights settled in with the husband's family.
In 2016, driven by the difficult economic situation they faced, Lindita and Miltoz decided to emigrate to Germany. After nine months in Germany, their application to reside was not accepted so the family had to return to their country of origin immediately.
They traveled to Korça, to re-settle in the apartment where they lived before. But their former house was closed to them because after several lawsuits the house had become the property of Miltoz's brother.
Under these conditions they found it impossible to find another house for their family. Being left in the streets and without any solution, they decided to emigrate again to Germany, where they stayed for six months. During this period, Lindita lived with two big fears—another asylum refusal and health problems from her second pregnancy.
"The pregnancy with my daughter was very difficult," says Lindita. "Stress and all the other difficulties I had gone through, caused me a lot of health problems. Doctors recommended that I rested in bed, otherwise I risked losing the baby. However, after our residence permit was refused again, we were informed to leave Germany."
This time, Lindita and her young son first went to her parents in Burrel until her husband Miltoz rented a house in the town of Laç. Then, they all moved into a small apartment together including Miltoz's mother, who was also homeless after losing the ownership of the house.
Some days Miltoz was able to find work as a construction worker, but often stayed unemployed for weeks. Lindita worked as well even though she had just given birth to the baby girl. She would make phyllo dough layers all night, which then she would dry and sell in markets during the day. 
"I worked 16 hours nonstop, so hard that my hands would become sore by opening the layers. In my best days I would earn 1,000 Leke, just to buy food for the kids. My family helped us pay the rent, because we could not manage to pay it ourselves," she says.
One day as Lindita was selling the layers in the market, by chance she contacted the coordinator of the RE-IN-VEST project for the Municipality of Kurbin.
"The boy asked me something in German language and the project coordinator listened and approached to ask me whether I had sought asylum in Germany. Then she told me about the project, offered to help and this was the start of the biggest change in my life," says Lindita.
The RE-IN-VEST project is funded by the German Government and implemented by GIZ Albania. This project aims to support families in 10 Albanian municipalities who have returned from emigration.
World Vision, through the RE-IN-VEST project, supported Lindita's family first with food and hygiene packages and then with trainings on how they could generate a business idea, which would help the family to increase its income.
Miltoz had always liked to engage in trade, but had neither the experience nor the initial capital to undertake such an initiative himself. But, in 2019, after attending all the project trainings with interest, they decided to start their business selling fruits and vegetables.
The project staff provided financial support and assistance on the registration and formalization of the business.
Each one of them had different tasks. Lindita mainly stayed to sell in the market, while Miltoz provided the necessary products directly from farmers, choosing the highest quality products that would give them the highest profit.
As soon as their family started to take its first steps in business they were hit with unexpected challenges. First came the devastating earthquake of November 26, 2019, which hit the city of Laç very hard. Hundreds of houses were destroyed in the town of Laç and many residents were forced to evacuate, thus reducing the purchasing power.
Then the global Covid-19 pandemic. Restrictions on circulation because of the pandemic cut off their initial momentum and enthusiasm. The pandemic significantly reduced their working hours and the income they could provide, but again they decided not to give up. They received additional support from the project with ready-to-trade products.
Today, almost two years after starting their small business, a lot has changed for their family. They have their regular customers. Now, at the end of the month—even after paying taxes and duties—they have earned enough money to support the family of five.
They can meet the needs and wishes of the children, as well as provide the necessary medication for Miltoz's ailing mother.
The children have grown. The boy goes to second grade and the girl to kindergarten. They have a lot of dreams and above all a lot of willpower to move forward. Miltoz wants to rent a shop in the future where, in addition to fruits and vegetables, they can also sell dairy products, while Lindita tells us that she dreams of buying their own house one day.
Happy with their new life and grateful to all the people who supported them in their most difficult time, Miltoz and Lindita feel hopeful that better days will come for their family.