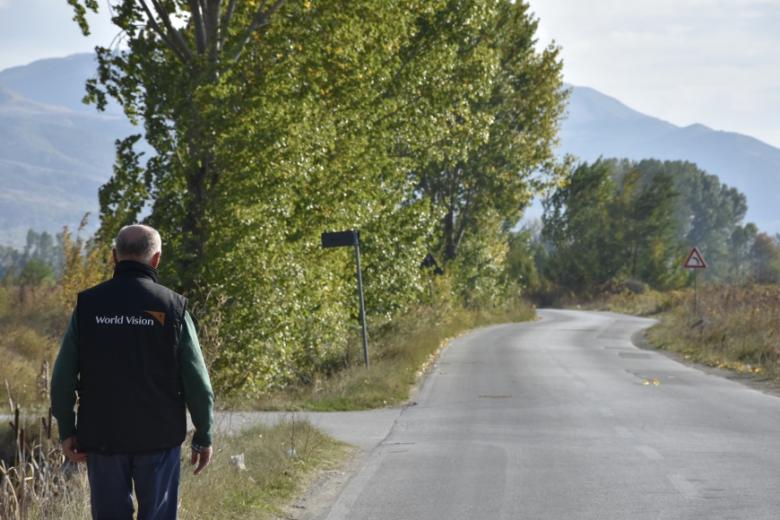 Forever young
Monday, October 11, 2021
Afrim is almost always on the move, often on foot, and rarely sitting and doing nothing. He joined the World Vision Albania team in 2015 as a business facilitator and since that day he has done his work with zeal and dedication.
He constantly tries to improve the lives of the people that surround him, including his family, colleagues, or farmers. At the same time, it seems that he always finds room for new opportunities that make him feel young and full of energy, and without exaggeration, we can say that so far, his only competitor is himself.
Afrim joined 'Walking Champion', the one-month challenge that World Vision Albania undertook to take care of the health and the well-being of its staff. Walking Champion encouraged people to think and act in ways that improve their physical and mental health and stressed the importance of the environment.
With an average of 21,000 steps per day, the winner of the one-month step challenge was 65-year-old Afrim, from Korça.
He seems to have challenged his age, retirement, and any other kind of algorithm known for his age. The stereotype of a retiree working in an international organization fits very well with his type of inexhaustible energetic person. He always takes care of himself, but this time, through his works he demonstrated two important lessons that are also the topics of the day all over the world: a sound mind in a sound body that cares for the natural environment.
 "I accepted directly," he says. "I even went to the director of human resources myself. At first, I asked one of my colleagues, to explain how the challenge was since at first, I did not quite understand it. The colleague explained to me that it is an application to be downloaded, which measures the steps you take daily. I downloaded it immediately and registered. Then, my team leader asked me, "Afrim, will you register for this challenge?"
"'Why don't you better ask, did you register?' I answered. I have been part of it for a week now," he says. "Even on the last day of the challenge, when we had gathered as a team at an event, I did a walk from the hotel to the Albanian customs to add some more steps. Colleagues begged me to, 'Get in the car!' but I was very clear in my intentions. It was even starting to rain a little, but I did not stop walking."
Afrim says farming contributed to winning. "There were some factors that positively contributed to the success of the challenge during this month," he says. "I had a lot of work on my family farm. It was the bean-harvesting season, which is an agricultural process that requires a lot of work and activity."
His job with World Vision keeps him busy, too. "In addition," he says, "I had to do a lot of work for the project of business facilitation in World Vision—distributing agricultural inputs to farmers who are beneficiaries of the project, notifying people in the village, give nitrate, raincoats, sprinklers, irrigation pumps, and hoses. All these works meant more steps and moves for me. I was watching one day with curiosity what was happening with the recording of the steps and I noticed that from 4:30 a.m. when I woke up to do the work on the family farm until 7:30 a.m. when I left home to go to the World Vision office, I had done 5,000 steps. These translate into real movements: clean the place of the animals, feed the pets, open the doors of the warehouse, close the doors, every possible detail of the activity on the farm," he says.
But even in the past, it seems that Afrim has always been active. He started his career as a teacher in an agricultural school which meant fieldwork, cooperative farms, direct work with students, and agronomists. He practiced this profession as a teacher until 1992 when agricultural schools were demolished and other education systems for agriculture were established in those years in Albania.
"I made the transition from intellectual work to becoming a farmer, with a great desire. The land was mine, only if you did not want to work, then you could stay and justify yourself. We had children to raise and we looked at it, together with my wife, as a parental obligation that had to be fulfilled," he says.
Thus, Afrim has not had a single day of life as an unemployed person. He went from employed to self-employed and finally employed in two different places.
"My past has been full of activity. No day has been a day of rest," he says. "Those who know my family in the village tell me that I resemble my father. On the farm, starting from April until October with the collection of beans, the days were very busy. I have managed entire areas planted with crops. Now that I am in World Vision, I cannot afford it so much, I have only 6 acres of beans and some others with wheat. "
Afrim has always moved by walking in the area around his apartment until he got a new friend: his bike.
"I have always lived a healthy lifestyle," he says. "I have always chosen food carefully. I do not like excesses and abuses with food. I find physical activity necessary and I aim for success in every area of ​​life. Therefore, I enjoyed the step race. Even if I had not won I would not have been upset, but the important thing for me is that I entered with seriousness and a high willingness to win. I enjoyed every moment and even more the moment when I was declared the winner when I received congratulations when I heard the applause of colleagues and congratulations. "
When asked how his family members reacted, he says that they did not always support him because they were afraid that he would endanger his health by exerting himself too much. "My wife rebukes me from time to time, especially now that I have officially reached retirement age," he says. "But I tell you that nothing bad comes from physical activity. I always start with the attitude to do well at work, in life, in the education of children, and farming works. I have never doubted success. Unsuccessful today is the one who does not try. I do not accept the philosophy of failure. Work keeps man alive, work is life, it is fun, it is development, it does not matter how much he earns. Everyone has to work even after retirement. I want to continue working as long as possible," he says, determined and convinced of the decision he has made.
Many times, he has tried to influence others as well. There is a lot to tell, so he gives us a taste of working with the communities he has worked with.
"Every time I look back at the work I have done with the farmers, I think of good moments and bad moments as well," he says. "Some farmers do not work, do not use the opportunity they have. In these cases, I get very upset. Every time I meet one of them I tell them to try as much as possible because agriculture never leaves you in the lurch. I was not a beekeeper either, but I decided for a moment to deal with their growth because it is a great opportunity. Therefore, I started reading, getting informed, asking pharmacists about bee health, and so on. One has to try. There is no excuse for failure in agriculture."
However, the father of two and Pablito's proud grandfather has a message for the youth today: "Stay as far away from the mobile phone as possible. Physical activity is very important and the phone keeps you away from it. The phone keeps you away from family, away from work, away from healthy habits. Physical activity is more than necessary, walking always keeps you charged, sports gives you energy. You have many benefits from it. You stay forever young." After this message, he adds: "When you focus on success and improvement, you do not have time to deal with unimportant things."