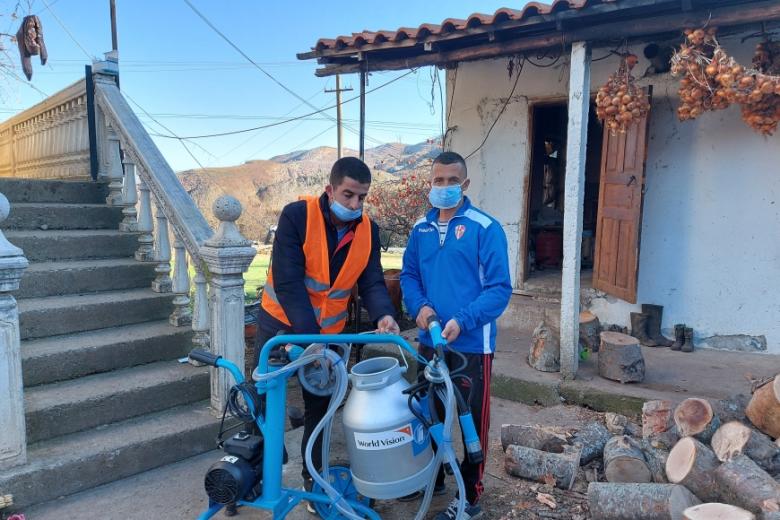 Hard work pays off
Wednesday, March 10, 2021
The story of the Balla family resembles an Albanian old proverb that reached us from generation to generation with the main message: "If you work hard on your land, you will find the wealth of your ancestors."  
"My brothers and I grew up working on the land. Our father taught us all about farming since we were little boys. When we got older, he told us: "Here is your land, your livestock to breed, the mountain as a pasture for animals, and the leased areas of land in Elbasan to use for your benefit. If you work hard, you will succeed and manage to grow up your children just like I did with you. Every time I was listening to my father, I was feeling as if I was living in the old fairy tale telling that hard work always pays off," - tells Astrit.
Astrit is 32-years-old and a father of three: a eight-year-old son and two six and three-year-old daughters. Their family is big and they live together with Astrit's parents and brothers.
Their life passes between the village of Babje in Librazhd located next to  Babje Mountain, where they keep livestock during summers, and the village Katund i ri located in Elbasan, where they keep livestock during winters. Astrit attended the Tourism high school education in Durrës, after that he also took cooking courses. He has worked as a cook, a waiter in several restaurants, and he also emigrated in Macedonia for some time, but came back as he wanted to be with his family.
"I have invested in the work that our father taught us and we are following his footsteps. I often hear about friends who leave the country and others encourage me to move abroad, but I refuse to do that as I have a job that keeps me occupied. My father, my middle brother and I are very busy with what we do. My youngest brother is still experimenting with living abroad, but I am sure that he will eventually come back and build his future here, just like I did." - explains Astrit.
Astrit and his family are all the time busy and working. He takes care of animal, takes them to pastures, and milks the cows. He drives to the city every day to sell the milk to restaurants. During the summers, when the sheep is in the mountains, he goes to the city to sell the milk and takes the remainder of the milk to the local dairy farm, where he sells it at a lower price.
The World Vision staff met Astrit and his family four years ago, when they received trainings on livestock maintenance and hygiene in barns. The meetings became more frequent with the help of Drini Qoshku, who is one of the local World Vision partners. He attended trainings on veterinary services, community engagement, group organization, and building a safe life through the Empowered Worldview (EWV) module.
"Astrit and his family are one of the most hardworking families in the village. They invested all their energy in developing animal husbandry and providing for their family by using all their land and the mountain offer," - states Drini.
Drini explains, that last year Astrit's family was selected as one of the farming families to join producers groups, which partook in capacity building events, the same as mapped out plans on the aroused needs for support as a result of the COVID-19 pandemic effects.
Drini also explains, that as part of World Vision Building Secure Livelihood project in Babje village, 50 families were selected to be part of the Producers Group. Astrit's family is one of them. Within this initiative who was given a chance to participate in trainings. He also has a possibility to contribute in mapping out plans in response to the needs of farmers aroused by COVID-19 pandemic.
During the training it was noticed that Astrit's hands were severely cracked as a result of milking his five cows twice a day and helping with the 300 sheep they raise.
"World Vision equipped me with a milking machine, which has been a big help for me because it saves me a lot of time and it has improved the state of my hands. However, what really boosted my confidence was the group trainings with other farmers. In these trainings we talked about our future and the vision for the area. This motivated me and made me feel good about my decision to stay here with my family. I didn't leave my mother, my wife and my three children behind. On the contrary, we all live and work here, believing in what our land has to offer," - says Astrit.
They are a united family; each member shares tasks and contributes to their common wellbeing.
Astrit's mother looks after the house and his three children. She feels happy that her sons live together and do not feel the need to emigrate in order to provide for the family.
In the future, Astrit aims at improving trade and he hopes that milk can be taken by an aggregation center and be transported by milk tanker trucks. "I want to be involved in producer groups and contribute in order to influence local and national level policies with a hope that the policies are more supportive to all small entrepreneurships and family businesses," - concludes Astrit.