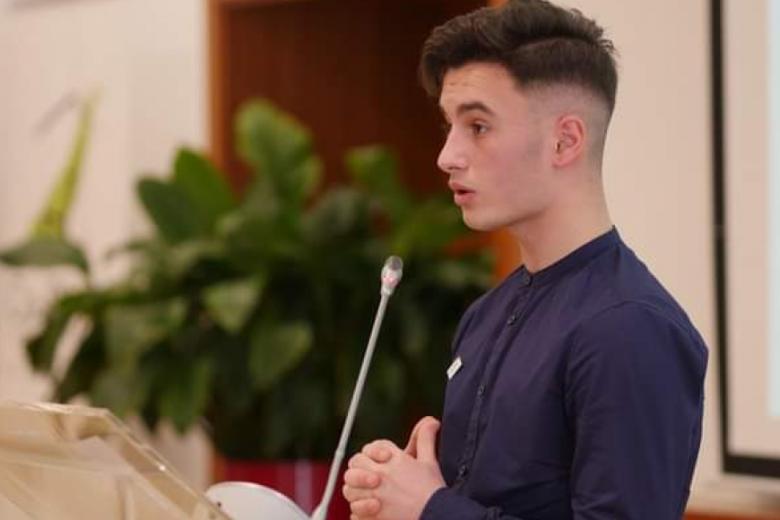 Igli, the youth voice in the "Governance for change" event
Tuesday, March 9, 2021
"In October 2020, I was involved in the consultation process for the new European Union strategy for the Child Rights 2021-2024. The process involved 677 IMPACT Club members aged 14-18 from all over Albania. The areas we prioritised are related to our protection from domestic, school or community violence; quality and inclusive education; taking care for our physical and mental health. All of these areas are highly essential for us.  Albania aims at joining the EU family must hence must prioritise them in its policies and finance services," - says Igli. 
Igli is a youth representative in the activity "Governance for Change" organized by Co-PLAN Institute for Habitat Development and Westminster Foundation for Democracy. Among many urgent issues the challenges youth are facing in Albania after two emergency situations, post-earthquake and Covid-19 pandemic, were addressed.
During the months of June-July 2020, 477 children and youth aged 12-16 from 9 Municipalities of Albania participated in the study "How a global pandemic is changing the lives of children in Albania and Kosovo" initiated by World Vision Albania. Three main issues that were strongly highlighted in this study by children and youth were:
Increased stress levels among youth as a result of social isolation,

Lack of the right to quality education during the period of online learning,

Increased physical and emotional violence against children during the pandemic period.
Igli raised his voice on behalf of his peers and highlighted that the challenges children and youth in Albania are facing require the attention of policy-makers, organizations, agencies, institutions and above all emphasized the necessity for their involvement while drafting policies and services that directly affect their lives.
Igli also shared recommendations of youth for solutions with the audience. They suggest the following:
Increasing the number of qualified psychologists and social workers dedicated to schools. Establishment of programmes, spaces in schools where through dedicated service, sports, art, contact with nature, to support coping with situations of anxiety, stress, problems we face or bullying, by receiving the proper service.

Continuous training of teachers in schools on how to ease the learning process and workload, whether in pandemic times or not, and additionally equipping schools with the necessary digital infrastructure, particularly children from vulnerable families.

Increasing the number of child protection workers, their continuous training, and concrete services as close as possible to the areas where we live for domestic violence cases. A whole system that works together to tackle violence against children including the family, school, police and the child protection institutions.
The well-being of children and youth in Albania continues to face additional challenges due to the post-earthquake situation and the Covid-19 pandemic. Lack of adequate funding for national strategies and plans that directly affect children's lives and consequently lack of community services have cause emerging challenges that need to be addressed as soon as possible.