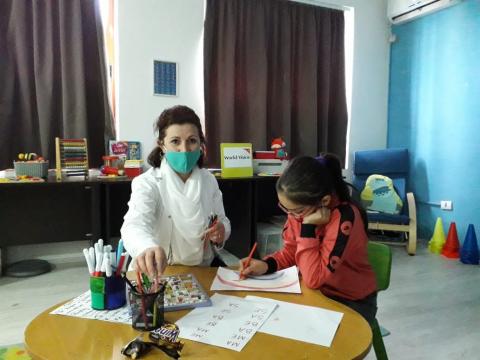 The journal of the assistant teacher in the Development Center, Kamza
Friday, August 6, 2021
There is light, colours, and smiles. A variety of toys and children running joyously around. This is the Development Centre for children in Halit Çoka school, in Bathore, Kamza. Opened two years ago, this facility provides more development opportunities to children and greater hope for happy parents.
As we approach and knock on her door, Dëfrime, the assistant teacher of the many children frequenting this entertaining and educative facility, heartily welcomes us.
"This facility provides services that a regular class cannot," she says. "The tools of the centre constitute the basis of my work as an assistant teacher. They facilitate our work with the children by intertwining play with the planned activity."
We learn that the centre features a jumping springboard which greatly helps the children to learn counting. It provides serenity that helps them improve their concentration, as well as various creative games, thus differentiating it from the rest of the environments that children may have at school or in their neighbourhoods.
Teachers dedicated to children in the centre tell us that teaching here is a beautiful but challenging process as there are students with special abilities who require more work, patience, and attention so that they can see progress in their development.
The center welcomes children with autism spectrum disorders, attention disorders, hyperactivity, Down syndrome, and each of them has their own specifics.
"The cases are different and unique," she says. "For these children, this space has been a gateway to their world, where every day we have seen improvements in their behaviour."
She says that children with disabilities often experience anxiety. Taking time to plan the centre and its special programs and thinking through the kind of environment these children need helped create a place for children to grow.
A few pages from teacher Dëfrime's journal
December 2019
It was December 2019 and there was a thunderstorm. Among the many children in the classroom, one stood out in particular. He was very affectionate with everyone, and only later did I learn that he had been diagnosed with autism spectrum disorder.
Then his behaviour suddenly changed. He could hardly concentrate, his emotional state aggravated, and he started screaming... I calmly took him to the development centre area, while I asked his form teacher to call his parents. Apparently at the time of the call, his father was on his way to the school as he expected his child to feel distressed over inclement weather. The boy was afraid and snuggled in my arms, while I hugged and cuddled him and reassured him that the rainy day would be over and pretty soon the sun would shine again.
At one moment I approached the gate and wet my hands in the rain, I encouraged him to do the same as the rain would not harm him. He put out his hand and quickly wiped it off, but he seemed calmer, and I did too. A knock was heard on the door; it was his sister whom he deeply loved and trusted. The rain stopped and they left. I was relieved and thought to myself how great it was that the school provided for assistant teachers and a development centre that was so warm that it could melt the ice within every child's soul.
September 2020
This new academic year.
There is a student who is in first grade and has a number of difficulties that hamper relationships with his peers. He willingly attends school, but at times he is anxious. This may be caused by his lack of communication. He does not speak, his pencil grasp is poor, he can barely move, and these difficulties affect his emotional well-being, so he often shows anxiety which can lead to aggression. Like every beginning, we faced difficulties with the student, but day after day, along with the help of his parents, he began to adapt. The Development Centre helped me to see his strengths and weaknesses. The difficulties were enormous. Our efforts focused on three main areas: communication, motor development and concentration. Today his pencil grasp is better, and he can tear paper, which he couldn't do before. He feels calmer and his fragile soul is less agitated, and he calms down when listening to his favourite soft music, i.e. classical music. His concentration time has slightly changed, and I am happy to notice such improvement.
September 2020
Beginning of the school year.
It was the second day of school, and I was returning to the Development Centre when I noticed by the first-grade door a little boy crying and refusing to enter the classroom. I notified the form teacher and she brought him to the Centre. He slightly calmed down once he started jumping on the springboard, drawing and playing with building blocks. Not long after, he returned to class smiling, the fear had disappeared... Isn't this a miracle that World Vision has done for our students?
These are just a few of the cases that have been engraved in the beautiful memories of teacher Dëfrime, the tireless teacher who daily takes care of the children not only in the classroom but also in the Development Centre.
These are but a few of the many moments that teacher Dëfrime recounts to us as she tells us of the countless cases.
"Children are like butterflies, they fly high and they all try their best. Why compare them with each other, each one is special, each one is beautiful," is how Dëfrime ends her story, the teacher of 12 children who, for two years now, has dedicated herself to the Development Centre that World Vision established as an opportunity for the school children, and in particular for children with special needs.