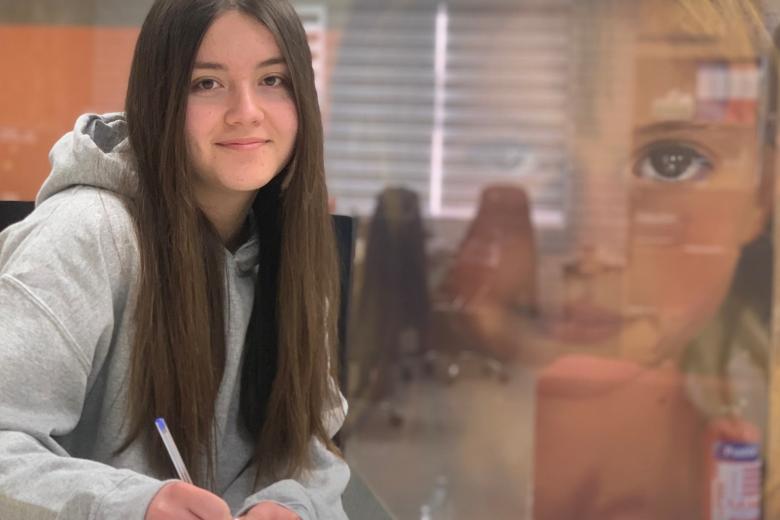 Laura from Dibër: help us build the future in our country
Wednesday, June 8, 2022
"How to convince myself to stay here? How can I tell other youth that Albania will one day become as we want it to be?". These are some of the questions that concern Laura from Dibër.
She is one of 216 youth involved in 12 IMPACT clubs working with World Vision in Dibër. She shares some thoughts about the difficulties that youth like her face in their communities. Involved in the students' government and IMPACT youth groups, Laura has had the opportunity to gain knowledge, experience and skills to speak about specific issues and be part of several initiatives focusing on children's rights, inclusion and gender equality.
According to the teenager, the lack of laboratories in schools and the lack of spaces where professional courses can be offered become serious barriers for young people to develop their talents and build their future in Albania. The 15-year-old also gives some advice to institutions, organisations and society regarding the focus of their work with children and youth in order to end mass emigration.
Read the full letter of the teenager, who calls for more attention, support, and initiatives to help youth.
A few months ago, I believe, many heard the news that in the last 10 years, 60 000 Albanian children have requested asylum in an EU country. This number means 10 percent of the children in our country. This news made me think more about my future and that of my peers…
I aim to become an architect but if I would have the possibility I would study in another country. Not because I don't like my country but I think that the education conditions abroad are better and there are more opportunities to work in my profession after graduation.
I have heard many stories from Albanian youth who emigrated to EU countries. I have heard cases when they have worked as waiters, in the kitchen or maintenance; jobs that maybe they would not accept in Albania because of long hours and low salaries. Nonetheless, regardless of difficulties, the majority of them prefer not to return, because hope to find better opportunities abroad. The Albanian youth are leaving their home country every day. Do you know why? Because they are offered no opportunities to explore their talents and build their future at home.
In our schools' laboratories are lacking. This not only hinders the learning process but often leads to demotivation. Sport and fitness premises, being that indoors or outdoors, are lacking. Public parks and children playgrounds are not sufficient. In my city there are not enough centers where we may pursue painting, singing, or other activities or courses. In this situation, we have no possibility to make use of the time in a qualitative manner, exposing ourselves instead hanging on social networks for hours. The work of institutions and organisations should focus on creating conditions and equal opportunities for youth.
Our country is a small one, where youth and children are raised hearing: "Be quiet because you know nothing". This kills every dream, every hope and motivation we have. When hope is killed, the only thing remaining is to leave your country and seek opportunity elsewhere.
We want to be heard and understood. We want this situation to change. We want to build our future in our country. I feel bad when I see that the families are the first instigators of their children to leave, because they don't see a better future for their children in Albania.
This hurts me. "How to convince myself to stay here? How can I tell other youth that Albania will one day become as we want it to be? Are we the ones that can change our country? Everything begins from the desire to change and improve ourselves and understand what is missing and what should be changed. When we are able to understand these things, we will find it easier to be active citizens.
Leaving is just one option, but we have other option - to stay and change the lives of all children in Albania. To create the conditions that everyone will have the opportunity to develop their skills.
These are Laura's sincere thoughts in a diary page after a meeting with her peers in the IMPACT group.