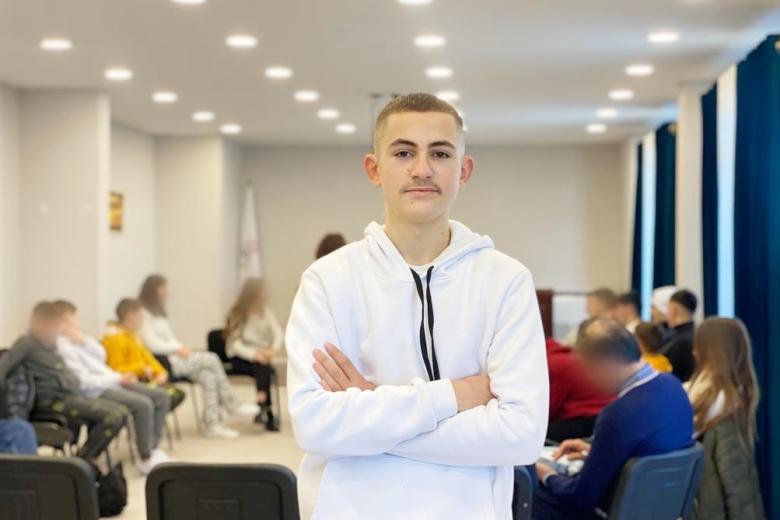 Liman - the child rights activist
Tuesday, April 26, 2022
"I am learning, I am training and preparing myself so that today I can be a strong voice for all small children while tomorrow I can become the active youth, responsible citizen, and leader of a community with major issues but with the desire for improvement and resilience," states Liman, the active 16-year-old member of the IMPACT youth group in the Kamza area. He is one of 224 youth and members of 11 IMPACT youth groups, who completed the training course to build his leadership skills.
"The most important and practical thing that I have learned from the last topics were the qualities, skills, and characteristics that a leader must have in order to contribute to his community. Being a young person who aspires to serve the community, I have decided to assimilate these characteristics in order to achieve success and become more useful to myself, my family, and community. Therefore, I promise to become a leader who will fight for various causes and issues," the young boy emphatically states.
His engagement with World Vision in the youth groups began three years ago and ever since he has been the most active young person in his community. The numerous issues in the community, especially those about domestic issues have encouraged Liman to contribute to bringing about change to the most pressing issues affecting youth just like him.
"The voice of children and youth on issues concerning them remains a problem in my community. Being raised in a patriarchal society, the voice of children and youth is ignored, unheard and thus we cannot get their opinions to solve those issues concerning them. In such conditions, my focus relates exactly to raising the voice of children and youth regarding their societal issues. This has been achieved through informative and awareness-raising initiatives which my IMPACT group and I have frequently undertaken," Liman explains.
He appears resolute on his path to becoming a successful leader. Today he lists concrete initiatives that he has carried out thanks to his engagement with the IMPACT group youth over the years. "I often recall our first initiative which addressed violence against children. It was an awareness-raising campaign, and we held a massive demonstration in the community dressed in uniforms carrying awareness messages, holding and distributing leaflets with useful information. It was one of the most beautiful and valuable initiatives that we have ever undertaken and I always remember how much in unison we were while defending our cause," he recounts. Liman is a high-school freshman and football is one of his biggest passions. However, neither school nor his passion for sports has held him from engaging with the IMPACT group.
As he talks about his dreams and future profession, he emotionally states: "I haven't yet decided what I am going to study, I am very young and not sure on what I want, but I know for sure that my future profession will certainly relate to my community. I want to pursue a degree that my community will benefit. I want my profession to be useful to others as well, especially to the children and youth of my community," he adds. At a time when technology, the virtual world, the pandemics, and successive events seem to have gripped the entire world, our country, and the youth being raised and educated here make no exception.
They may be the most affected and vulnerable age group, therefore Liman conveys a message to all his peers: "You are not born a leader, you become one. It does not matter whether it is me, my friend, or a peer, everyone may be or become a leader; it requires work, strong will and perseverance."