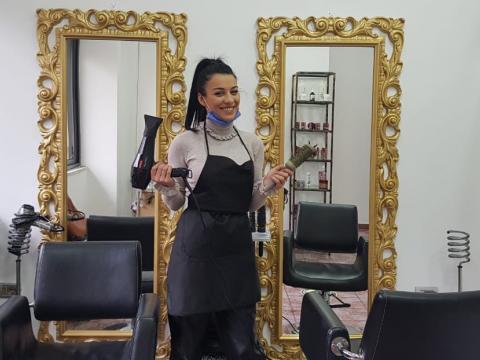 My life
Thursday, December 10, 2020
"After finishing my hairdressing training, I had to knock on every single door to find a job, but it was not easy at all. I faced stigma and various challenges but I insisted a lot to get here what I am today," - this is how Bukurije, 22 from Tirana, begins her story.
Hairdressing has not been her biggest passion. When she was a little girl, her greatest passion was cooking and she always dreamed of becoming a chef. It was her family that prompted her to start her hairdressing course. Her older sisters encouraged Bukurie to find a job that would make herself economically independent, but also that would help her sister.
"Like every Albanian family, we also had our problems too. As a big family, composed by four sisters and one brother, we had financial difficulties. My parents got divorced and my mom had to work hard, whilst my sisters and I had to take care of the house. Being a chef was my passion and greatest dream, but in a way my sisters encouraged me to choose either finishing my studies or vocational school. So I decided to attend a hairdressing training course because I knew that following my passion for cooking, it would be harder for me to open something of my own in the future, such as a restaurant. You can open a hairdressing salon with few equipment." says Bukurije.
With the support of her family and the great determination for succeeding, she started the hairdressing training course, which day by day turned into her passion and life priority.
"Every day I attended classes with great pleasure. My friends often invited me for a coffee or a drink, but I used to refuse to go. I didn't want to miss my classes because I learned a lot of new things. Not to mention that before attending these hairdressing classes, I knew nothing about beauty salons. I then realized that the direction of my life was changing. "Being in touch with girls who loved beauty, made me also feel in love with this profession, so I started to like more and more what I was doing…" - she says.
Bukurie successfully completed her 10-month hairdressing training course and she even stayed two months longer in the beauty salon, because her teacher liked very much the way she worked. No one could make as beautiful braids as Bukurie did! However she had to look for a real job after completing her training. She initially worked for about one year and a half as an assistant in a hairdressing salon, but then she had to leave her job because the business was closed. The months that followed were not easy ... She was constantly seeking for a job, but she failed.
"It has been a bad time, one of those periods when a person loses self-esteem. I wondered why they would not hire me. I felt something like a stigma, like they were choosing others instead of me. But, then deep inside me said to myself: I will do it! One day they will recognize me for who I am and they will accept me. My sisters and my mom encouraged me not to give up. They have been my biggest support. "This gave me strength to move forward," Bukurie said.
The ordeal of finding a new job went on for some time until one day a new opportunity was presented in front of her. She found not only a new job in a new beauty salon, but also a good friend who encouraged her at every moment. This friendship has impacted Bukurie's life…
"I had the support of my family and that of World Vision too. But, apart this, it was Valentina, a kind lady who not just opened the doors of her beauty shop for me, but also the doors of her heart. She was such a professional, and kind and human. She had no prejudices about the color of my skin. I learned a lot from her and there I gained a lot of experience. I gained the confidence and courage to make succeed." says Bukurie.
With the support of her family, but also with the support of World Vision over the years, Bukurie managed to realize her big dream; opening of a beauty salon of her own. Every day she meets with young girls and is happy to share her story. She loves supporting girls by giving them strength to keep dreaming and moving forward, even when they haven't finished their studies.
"World Vision has always been by my side. Now that I decided to open my own salon, they supported me with the products and some of the equipment I needed. I was 10 years old when I first participated in World Vision meetings they organized in my community. I remember that together with some peers, we attended a photography training course and an internet and PC training sessions. We learned some soft skills and we addressed topics on how to help families in need. Above all, during these meetings, I learned about the importance of school and how we can move forward despite the difficulties we face. I learned that, you can always achieve what you want if you believe and commit. "World Vision is a great support for many children in my neighbourhood, in Bregu i Lumit area, encouraging them to go to school, despite the family's economic difficulties," says Bukurie, feeling grateful.
She floats in her memories and it seems to her distant the day when she had to leave school, in the seventh grade, to take care of her younger sister. Today she lives with her mom and little sister. Other family members live outside Albania and have created their own families. They have been a great support that Bukurie has taken to date. But now she thinks that this is the moment of helping her little sister, whom she raised herself, to gain a profession. She want to help her little sister to learn about hairdressing.
"My dream does not end with the opening of the salon. I expect a lot for my future... but I have to work hard to succeed. I want to have a bigger beauty salon in the future, to hire girls and women who do not have the opportunity to go to school or who do not have the opportunity to pay for a training course. I would like offer you such opportunity to other girls, as others have offered it to me, so that women can be independent and support their families". This is Bukurie's final message. She considers that Albania is the only place that she would like to build her future, as her dreams have just begun to come true...