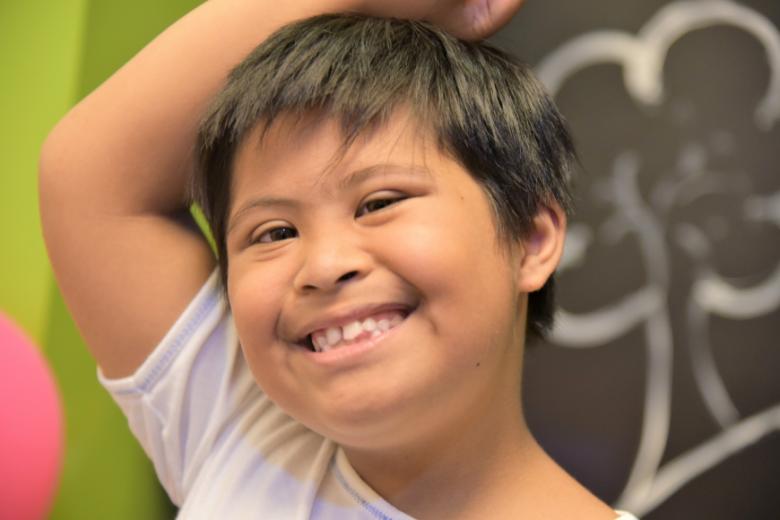 Samuel's smile
Friday, November 26, 2021
We would like to introduce you to Samuel, an 8-year-old boy from Tirana, who has a radiating smile. Ever since he was born, Samuel's parents say they noticed something different in their son's portrait. Although they suspected that something was wrong, it was difficult for them to accept such a fact, so only when the boy turned 5 years old they decided to consult a specialized doctor. Their suspicions were confirmed, the toddler was diagnosed with Down syndrome.

He needs special care by his family, but especially his sister, Julia is very devoted to her brother.

"When Samuel was born he brought 'spring' to our house. I am very lucky to be Samuel's sister. The happiness that my brother gives me is incomparable to anything. "I will always be there for Samuel and I want to go to college to offer a better future to my brother." - Julia tells us as she continues, - "I am very grateful for our grandma as well. When my parents divorced, she quit her job to take care of me. She is devoted to us and extremely committed to taking care of Samuel."

Julia is 18 years old and like her grandmother, she has taken care of Samuel since she was a little girl. Samuel's family consists of his father, sister, grandfather and his greatest love - as he describes her - Grandma Bukurie. She is always there for Samuel and his sister.

As the years passed and the relationship between the members of this family became even stronger, a difficult moment challenged this family, but also many other Albanian families.

The earthquake of November 26, 2019 that hit Albania brought many difficulties for Samuel's family. He had strong emotional reactions, both fear and anxiety. Their house became uninhabitable. For a short period, Samuel's family received a rent bonus from the Municipality.

However, after the rent bonus terminated, they could not afford paying the rent themselves anymore, but relatives helped them provide another safe environment where they could live. Moving to another house, increased the family expenses day by day, meanwhile the sources of income were the same. Later, her sister noticed that Samuel needed optical glasses. He stood very close to screens like TV or cell phone screens. After consulting the ophthalmologist, it was determined optical glasses were essential for Samuel.

"Samuel will have the optical glasses he needs and his eyesight will improve. Due to financial difficulties, it was impossible for us to provide the glasses. Moreover these difficulties were added to us when my son (Samuel's father) faced COVID-19 and caused him disability, as he was the one who took care of our family income. Often we have to ask for help in our family circle. I cannot work because I have to take care of Samuel," - says grandmother Bukurija.

The pandemic that gripped the world affected many Albanian families, including Samuel's family. The family's difficulties were increased by the serious complications Samuel's father had due to COVID-19. He was hospitalized for five months at the Infectious Diseases Hospital. After many sessions of physiotherapy, his condition began to improve, but again the consequences left by the virus are many. It is impossible for him to work at his former profession as a taxi driver, to provide the basic needs of his family. Besides the help they receive from their relatives, Samuel and his family have become part of the support provided to families of children with disabilities under the project "Inclusive COVID-19 response for children with disabilities and their families in Albania", funded by the European Union and implemented by World Vision Albania.

This project aims to respond first to the immediate needs of 700 families of children with disabilities in the Municipalities of Kurbin, Lezhë, Shkodër, Durrës, Elbasan, Librazhd, Prrenjas, Berat, Korçë, Maliq, Kamëz, Tiranë, Dibër dhe Bulqizë. So far, 450 families of children with disabilities in these areas have been supported with food and hygiene packages and financial opportunities to cover emergency expenses to improve the wellbeing of their children.

World Vision Albania, in cooperation with civil society organisations, are supporting the families of children with disabilities in Albania, not only by offering help to overcome the emergency situation created during the COVID 19 pandemic, but also by providing information, legal support, or with parenting and assessment sessions for their children.

Moreover, this project aims to improve integrated services for children with disabilities by providing quality services at school and at home through specialized support provided by partners such as Down Syndrome Albania, Together Albania Foundation, Medpak, ADRF, Help Life and ANAD as part of the project.