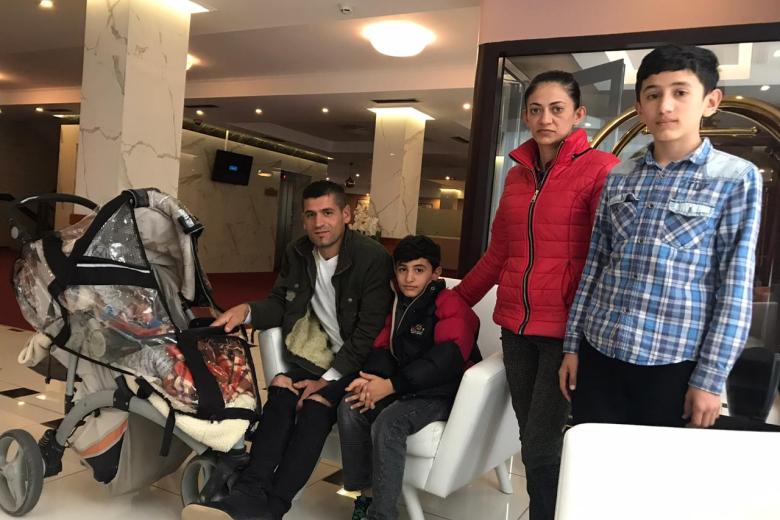 Searching for a shelter
Thursday, December 5, 2019
Kurti family returned to Albania from France some time ago, where they stayed for three years as an asylum-seeker. They experienced hardships upon their return to Albania, having difficulties to find a job to take care of the family. It took them huge efforts to build a house which was a hope that the future will be cheerful. 
During the earthquake of 26 November their house was destroyed together with their hopes of cheerful future. The family became homeless and spent several nights under the open air, in the courtyard of their former home. But they have a shelter now due to the assistance and support provided by World Vision Albania.
The terrible night
"All over sudden we became homeless. We were asleep when the earthquake stroke and my mom called my father to wake up. Now we are fine, but our home is totally wrecked," - says nine-years-old Andi, the eldest child of this family.
His father, Mentor, tells how he struggled to save his children's lives while their house was shaking strongly by the earthquake. 
"My wife screamed during the stroke, earthquake! earthquake! Half-awake I took my two sons and went out running. My wife wrapped my third son in a blanket and we all stayed in the courtyard. When you have young children and your house shakes, you think of the worst, but luckily we are safe now though without a home. As soon as I take a look at the house I get scared. From the moment I was able to take my children out I do not dare to take them in again, this is how scared I am," - says Mentor.  
To find a way out
After they spent the night outside Mentor pursued help from World Vision that implements a series of programs in Kamza. World Vision provided an immediate response and the entire family, together with many other families who also suffered from the earthquake, got shelter under the emergency tents made available at Kamza stadium.
Mentor and his family spent two days in the tent. When the third day heavy rain started the tent was no longer secure place to stay with children. 
Searching for a long-term shelter
Mentor shares that their house was already cracked since the earthquake that happened back on 21st of September, two months before this devastating one. However, the inspectors back then said that the house was still habitable and they would provide assistance to fix it.  
"World Vision offered us food and a good place to sleep with a matrass, blankets and clothes when we were under the tent. But it was difficult to stay there for long, as my children are very young and they need a bit of comfort and safety. The heavy rain was coming in and I asked World Vision people to find another solution for us," - says Mentor. 
The assistance came both from World Vision and the generous Albanian citizens. Mentor's family managed to be accommodated in a hotel located on the highway of Tirana - Durres.
"I am thankful to World Vision, they had a chance to find shelter for one family and we were lucky enough to get that," - says Mentor.
World Vision Albania made this decision because Mentor's house is uninhabitable and the family had 3 young children who urgently needed safe shelter.   
"We are warm and peaceful here; my mother, father, my two brothers and myself," - says Andi. 
"But we want to have a home of our own, similar to the one that my mom and dad have built. We have also helped them to build the house we were living in, but now it is ruined and we need help to go back to our place,'' - continues Andi. 
Earthquake survivors are in great need not only for emergency support in terms of getting food and clothing, but also for psychological support and orientation on what to do next after the crises.   
Since July 2019 Kurti family is part of RE-IN-VEST project that provides assistance to returnees that face significant re-integration difficulties upon their return to Albania. Through this project Mentor is involved in Vocational Education Training (VET) courses which will help him a long-term job.