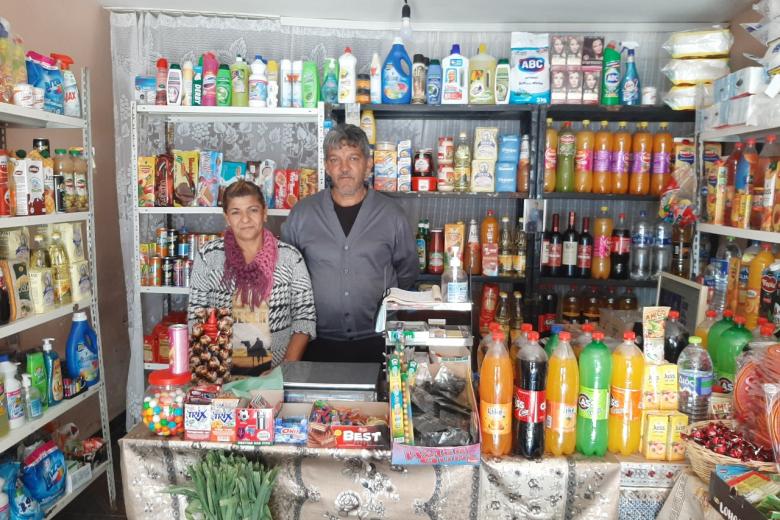 The shop that feeds one family
Thursday, March 10, 2022
Mirela and her husband, Fatos live in one of the old quarters of the city of Korça. Mirela—a noble and tireless 46-year-old is mother of three children and grandmother of two. For many years, Mirela and Fatos ran a small shop near their house where they sold food products.
 
However, in 2015 given the difficult economic conditions they were facing, and the fact that many people were choosing to leave the country, reducing the purchasing power of the store, they closed the shop and emigrated to Germany for a better life for the family. They left as a family, together with their twins Klisman and Hermes, then 18 years old.
After arriving in Germany, the family settled in a camp and applied for asylum. They stayed there for three and during this time, moved to three camps in three different cities.  
In 2018 their request for asylum was refused and they had to return to Albania. They faced economic problems and the re-integration process proved extremely difficult. So, one year later they attempted to emigrate again, this time to Turkey. Still, even for trying for one year, they couldn't get valid work permits.
The decision was taken to return, once and for all, and build their life in Korca, Albania.
Upon their return, during the first months, they survived only on the economic assistance given by the municipality.
While the family were living in Germany, one of their sons, Hermes, then 18, and a German girl fell in love. They remained in contact even after the family returned to Albania and after a while, the girl decided to move to Albania to be with Hermes. The young couple married and gave birth to their daughter, Felisia.
But after a few years, life in Albania and the adaptation with the economic conditions of the family seemed to be more than the young mother could bear and as a result she left for Germany and did not keep in touch with the husband's family. She also left her infant daughter, Felisia, for Hermes and Mirela to look after.  

The family's path had been among difficulties for years, and upon their return from Turkey they were facing significant financial issues.
Their attempts to reopen the shop they had before emigrating failed and no one in the family managed to find a steady job. Then they learned about the RE-IN-VEST project. A project funded by the German Government and GIZ Albania and implemented by World Vision Albania which aims to provide social and economic support to families recently returned from emigration in 10 municipalities of Albania in the process of economic recovery.
At first the family received food products and hygiene kits. Then a few months later they received financial support, they used to purchase items for their shop, which by this time had been closed for five years.

"The day we were supplying our shop with products and getting ready to open it again I cried again. It was so much unbelievable to me that I thought it was a dream. This small shop of ours does not make you rich, but it can feed our family," says Mirela emotionally.

After re-opening the shop, the old customers started to return again one by one and gradually everything started to return to normal.
Most of the time Mirela and her husband run the shop. Mirela leaves only for a few hours a day, when she takes Felisia to kindergarten and then picks her up.
"Sometimes I forget that she is a [granddaughter] to me because I feel like she is my daughter, even though I try to tell her constantly about her biological mother," says Mirela. "I have raised her since she was very young and my only concern now, is for her not to lack anything material and family love."
A few months ago, Mirela's family received another grant from the second phase of the project. With this money they bought more food products for their shop. This helped immensely because last year the family grew when both sons married and a second granddaughter was born. 

"We tried to re-open the shop ourselves upon returning from emigration, but it was very difficult. The assistance we were provided from this project is enormous and we are grateful that we were able to settle once and for all in our country," says Mirela.

After going through all the challenges and difficulties of emigration, they've found their happiness right in their own community.