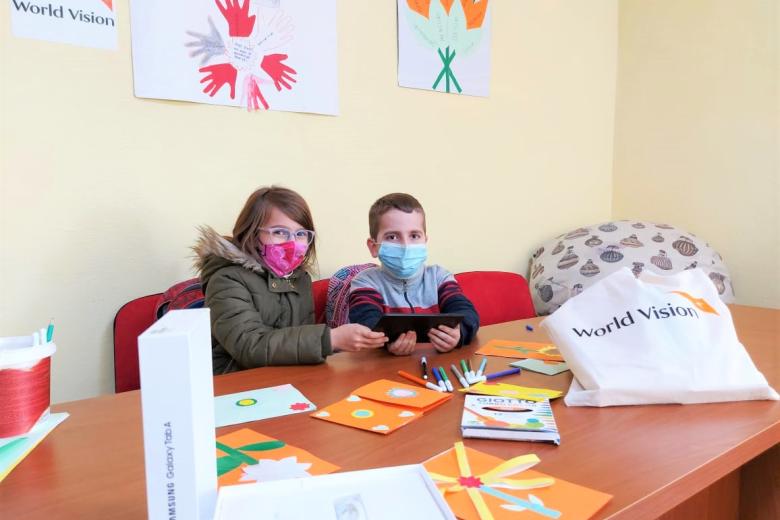 A sister and a brother…
Tuesday, September 14, 2021
"I want to talk about Durim and Drita. They are a source of inspiration to all the school" says Arjana, assistant teacher at Secondary School "Ibrahim Basha" in Bathore. Durim is 11 years old and together with Drita, his nine-year-old sister, they come to school every day and sit together with their friends in 3rd grade. Durim started school two years later than usual, due to his walking problems.
"The first time I noticed something about Durim was off, was when he was one. It was something new and unknown to me. I didn't know how to react. Later I learned about this disease. But Durim would give me strength to go on and not shed tears," says Durim's mother. The boy is diagnosed with Metabolical Myopathy. This muscular disease is caused by an enzymatic malfunction, which doesn't allow cells to produce energy and as a result, Durim started walking at the age of five. At first parents were hesitant about sending him to school. Despite this fact, they never lost the desire to send him to school, though it was later compared to other kids.
Durim goes to physiotherapy, but even though he has pain in his limbs and spine, that doesn't stop him from coming to school. Drita, Durim's sister, and at the same time his best friend is the biggest support he has. She's close to her brother, taking care of him by easing his pain by holding his school bag so his back doesn't hurt. But Durim is there for her as well, helping her with maths.
"Working with these children is a mission, a profession which we exercise not only with dedication and passion not only to transmit knowledge to children, but to also teach them how to develop that knowledge," says their teacher, Arjana. "Students with disabilities need to be helped, to be supported and be active at school like all other kids. He got friendly with everyone since the first day. He didn't feel distant in the presence of an assistant teacher, but was more confident in his abilities. Durim is kind to teachers and to his peers."
Durim's family consists of six members: his mother, father, Durim, Drita, his 14-years-old brother and the eldest sister who is 18. The father has been through a difficult time due to health problems. Durim must continue taking specialized therapy, but their earnings are low and treatment is costly.
World Vision Albania has continuously helped Durim and his family, with therapies and with a tablet so he could follow online learning during the COVID-19 pandemic.
"This act that you did today for us, the assistant teacher who stays close and helps him every day and all the other people who help us, thank you from my heart," says his mother. "The tablet will be used by all of the four kids with Durim's permission of course. He cannot go out often to play like the other kids and Drita stays with him so he doesn't get bored. At least now they'll have the tablet to play." 
Currently school "Ibrahim Basha" where Durim studies, has three assistant teachers. They follow individual PEI programmes designed for children with different disabilities. In 2017, this role was missing from the school. As a result if World Vision's cooperation with the government, many children with disabilities today  attend schools and have assistant teachers.