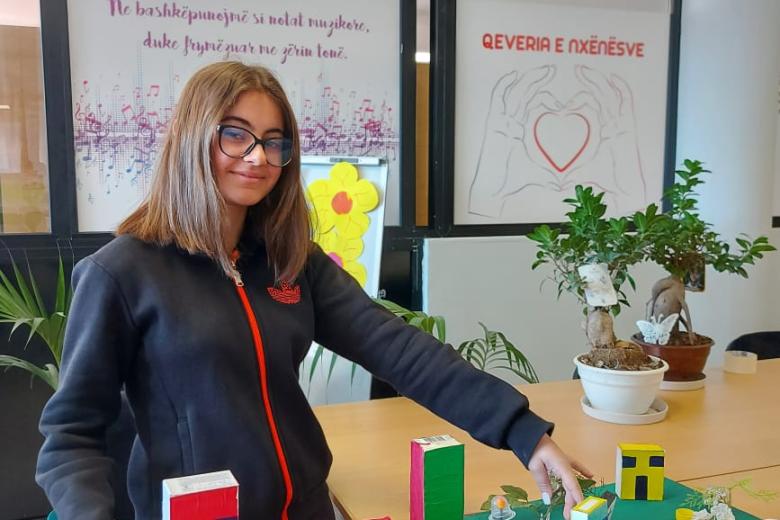 Small steps towards the future
Thursday, May 5, 2022
The diary of Izabela, a teenager from Durrës
 
My name is Izabela, I am 14-years-old from Durrës and I want to tell you how I started my journey five years ago in the IMPACT groups.
I was introduced to the IMPACT youth groups for the first time in sixth grade, and received an invitation to be part of this group which was being created in our school. This invitation came at a time when I needed to do something different.
I am really very happy that I accepted the invitation to engage in extra-school activities, because it has helped me be more open-minded and look beyond my daily life. For me it was something unfamiliar and we had never had such a group in school. I was always a quiet child and had difficulty speaking in public or large groups.
Also, I wasn't very familiar with the activities taking place in school and I wasn't so involved because I was too shy and insecure.
In the area I live we didn't have spaces where youth could spend any free time or express their talents. The only options we had were to stay at home or take a walk with our parents, as going out with friends would take long walks on foot to reach the destination which was a bit dangerous.
But being a member of the IMPACT club has made me more confident, it has taught me how to collaborate with friends and how to contribute to my area.
It has made me see my community as an initiating point to change, starting with our school and neighborhood.
Today I see myself as an active young girl and I feel prepared to face the challenges, but also to raise my voice for the most vulnerable groups. On the other hand, I can help as a member of a group whose focus is on youth. We seek our rights but we do not forget our duties and we can contribute to making our country better.
In the IMPACT group, where I have been a member for long time now, we have had the opportunity to develop various topics such as: environmental protection or human rights, etc. Seeing youth of my age speaking without barriers and sharing their thoughts, encouraged me and made me feel more confident to share my own opinions.
My journey, which started to have a positive impact on my peers' lives, had a great impact on me at first. I would like to have more words to describe the crucial opportunities this group provided me.
We are stronger together and we are now ready to take our voice beyond the institutions in Durrës. We want to be together wherever there are IMPACT clubs in Albania and to raise our voice so that attention is paid to youth; to establish spaces dedicated to youth; areas for activities, and each town to aim building a multifunctional center dedicated to youth.
Over the past year, World Vision in Durrës has worked with nine youth groups consisting of 116 youth aged 12-18 years old. Six of these initiatives focused on environment; healthy lifestyle for children and youth; sharing messages to respect and support each-other in difficult situations; using technology to build healthy relationships with each other.