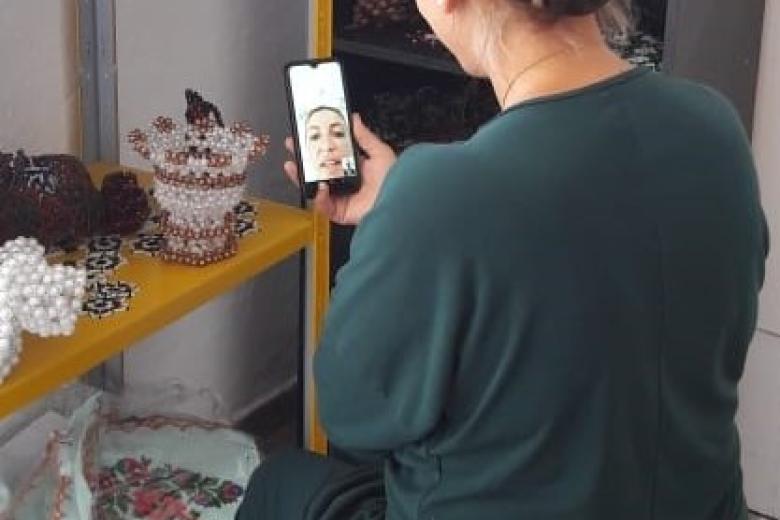 The sun always shines after the storm…
Friday, October 23, 2020
"Where I live, it is quite difficult for people to understand that you need a psychologist, as they believe that such services are only provided to people suffering from serious mental health problems. I strongly disagree. In my opinion, talking to a psychologist is encouraging and makes me feel good. It gave me the strength to carry on when I was feeling hopeless. Now, I am full of energy to take care of myself and my family," - says Sonila, 33. 
Sonila lives in the suburbs of Tirana with her husband and three children. Thanks to her passion for handicrafts, Sonila manages to considerably contribute to the family budget. She has been making handicrafts for home for 10 years, such as baskets or vases made of beads, which she later puts up for sale. The profit she gets is sometimes the only source of income for her family.
''It is very tiring and I spend a lot on getting materials, but I sell them at low price just to provide food for the children," says Sonila.
''I overcame a lot of challenges, there were days I was almost starving. My husband used to drink alcohol a lot, the children were still young, and at that time I had nothing to do but to take the complete responsibility for the family,'' - says Sonila.
''I strongly believe in God, and I go to the nearby Church. With the great faith I have in God, I chose to talk to my husband and convince him to stop drinking. I became his greatest support, and never got tired of giving a hand to him. Even though sometimes he didn't keep his promise, I never got disappointed, on the contrary I trusted him and let him believe that everything could change once one have goodwill and tries hard. Eventually he stopped drinking and I am infinitely thankful to God for helping out my husband, who is now my greatest support'' - continues Sonila.
An 'unfulfilled' dream due to the pandemic
''I always dreamt of having my own shop, where I could sell my products, and worked hard to make it happen. When COVID-19 pandemic hit it caused me a lot of stress and I lost my hope. Being in lockdown for so many months and staying jobless, I didn't know what the future prepared for me. Who would buy my works?'' - says Sonila, recalling the lockdown period.
During this hard times World Vision Albania supported her family with food packages to cover the family's the most immediate food needs.
"I was so stressed out as I had to provide money for rent, food and everything else.  The thoughts of whether we would make it through worried me every minute. One day I told my husband: ''Please, take me somewhere to scream at the top of my lungs, as I have a huge lump in my throat and I can no longer hold it in".
However, thanks to her strong faith in God and reaching out to the staff of World Vision Albania for help, she finally managed to find a solution.
"Thank God, I was able to find a place where I could 'raise my voice'. I asked the World Vision staff for help to provide me with a psychologist. Today, I no longer cry out, now I communicate'', - says Sonila with a smile on her face.
A better future
In response to the earthquake of November 2019, World Vision has implemented "Emergency Response in Albania for Earthquake affected communities in Tirana and Durres" project. The project offered online psychological support for adults and children. Since Sonila has three children enrolled in World Vision's sponsorship programme, she used to have continuous contact with World Vision staff sharing her family challenges and problems with them. World Vision recommended her to use specialised psycho-social services offered by the project which was held online for three months.
"Today, I am a completely different person, as I found my smile and hope again, only thanks to the therapies provided by the psychologist. Through our conversations, I have found salvation in prayer and games with the children," - says Sonila, describing her change.
She also noticed a positive change in her family relations, she explains that this change partially is due to the trainings such as "Celebrating the Family".
"One day it started raining and my husband noticed that our roof was leaking and water was seeping in. I was really upset but he calmed me down. "Our roof might be leaking, but our hearts are light, we will manage and will fix the leak by relying on each other and on God," - Sonila adds.
Today the whole family is eager to help Sonila to create her beadwork and everyone strongly believes in her dream to move forward. She is also extremely optimistic, trying to build a better future.
"If my business flourish with God's will, I would gladly help other families with some basic food, because I know how painful is to suffer from lack of food," - says Sonila.
Now, from the conversation with Sonila, it seems that her business is going well and her family is supporting her. Moreover, her husband and her children keep helping her in her work. Demand for her handicrafts keep increasing. To continue with her work she needs to buy beads and other materials. World Vision will support her in purchasing and store some materials to boost her business with a hope that she will be able to pay for all needed supplies from the income she will get from sales.
Sonila is among 78 adults and children who have benefited from specialised psychosocial services through online counseling in Tirana and Durres municipalities. This service is a response to the earthquake of November 2019, and continues to alleviate the emotional consequences of the COVID-19 pandemic.