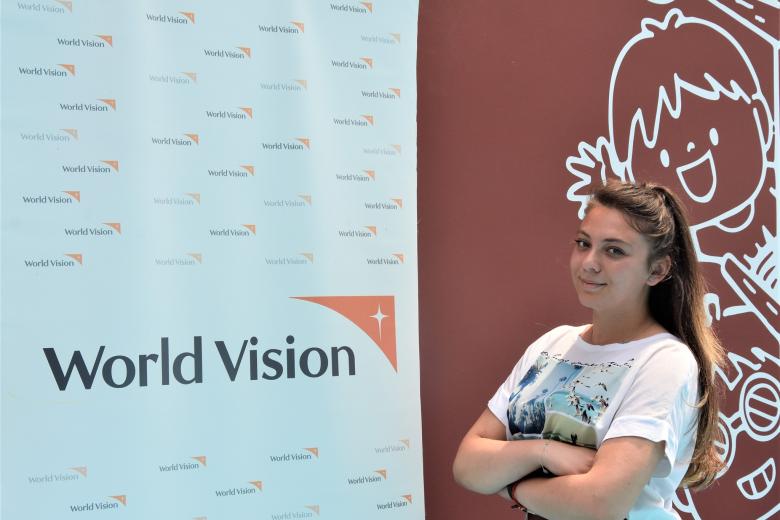 There is no place like home
Thursday, August 19, 2021
Maria's day starts busy, thinking about the university, rushing to catch the bus which will bring her from Pojani to Korça, calling her university friends who study nursing at the University of Korça, listening to long lectures, volunteering, and at the end of day, coming home to her family. Besides her student life, when back home, Maria has responsibilities with the youth club in the village where she lives. In the last 3 years, whenever she plans her days, weeks, and months, she schedules her work with the village teenagers in her IMPACT club.
Today when we met Maria, she had just returned from university, and while thinking about her midterm exams, she was preparing to meet families in need. There are far more families in need of support because of the global pandemic.
Going back home, she greets her fellow villagers and she doesn't hesitate to share her medical knowledge with them. Maria answers every question they have about COVID-19; the importance of hygiene, social and non-social distancing, and also any information or advice they need on mental or physical health. This is how the nurse of the village used to help the young people and their families in the area where she worked.
At the time, she was only 11 and had just become familiar with World Vision. Smiling to herself, she says that she never thought that the day would come when she would serve her community in the most extreme conditions, when everyone must stay home. Now Maria is about to graduate as a nurse, and in the future, she will be able to help even more people.
Maria has been one of the most active children in the Student Government, when she needed to vote the school president or when she needed to prepare the action plan during emergencies. Today as a leader in her community, she leads 15 teenagers of IMPACT club to improve as much as possible the lives of her peers and needy families in Pojan.
"Engaging in projects and activities has been one of the best things I have done in my life. I used to be very shy, lacking initiative, always needing a hand to push me because I was afraid I wouldn't be up to par. Even today, I still continue to be quite modest," she says smiling, "but I have grown a lot in other directions."
Sweet and quiet, she says it was a surprise to her when members of the club voted her as the leader. Because of her shy nature, she never thought she would be able to lead others, especially those she considers friends.
"I was worried if they would like me, if I would be able to lead them properly, if they would listen to me, if they would keep quiet during IMPACT's meetings. Some of these worries I've already passed because the work model in IMPACT equips you with unique skills," she says.
Maria, together with the other leader of IMPACT Club, has undertaken three initiatives over the last two to three years. When asked which initiative has left the most impression on her, she says the club's initiative to equip schools with books in order to increase the reading of books, initiatives to help families in need, etc. Maria says that she has seen with her own eyes poverty in these families and that there is always a way to treat poverty with dignity.
"This year, unlike others we chose to bring a project in line with the times we are facing. The pandemic has changed everything, it has turned upside down every certainty we previously had. Together with the club members we decided to prepare hygienic packages with hand sanitizers, masks, disinfectant detergents for 20 families in need and who were at highest risk of facing consequences of COVID 19. If I used to be shy, reserved, lacking confidence, now due to the participation in conferences and teaching, I have no problem speaking in public, I can handle peer pressure, I am more confident," she recalls.
The findings of the report, Act Now by World Vision, show that almost half of the children interviewed, especially girls (49%) feel sad and bored and more than a third of them feel scared (39%) and lonely (38%). These numbers speak about the experience of negative emotions as a sign of psychological stress caused by factors of isolation. In the future, Maria tells that she will continue leading the IMPACT club. Lately she, together with members of IMPACT have been reflecting on the hardships and achievements of this year, about the changes they want to bring but also their dreams and desires as young people in Albania.
"I want to graduate with excellent grades and continue to serve my community. To all my peers, who will read this confession: As little social media as possible and as much work. Trust me, it's worth it!" Maria says.
Maria is one of the 26 leaders of the twelve IMPACT clubs in the area of Korça. Together with other young people in her group, they have undertaken five initiatives to improve the situation of children and the youth from the poorest areas of Korça. During 2021, World Vision Albania has supported 49 community projects designed and implemented by young people in nine municipalities of Albania. The main focus of these projects has been mental health and building up resilience through sport, art, contact with nature, reading, and spending time with one another.