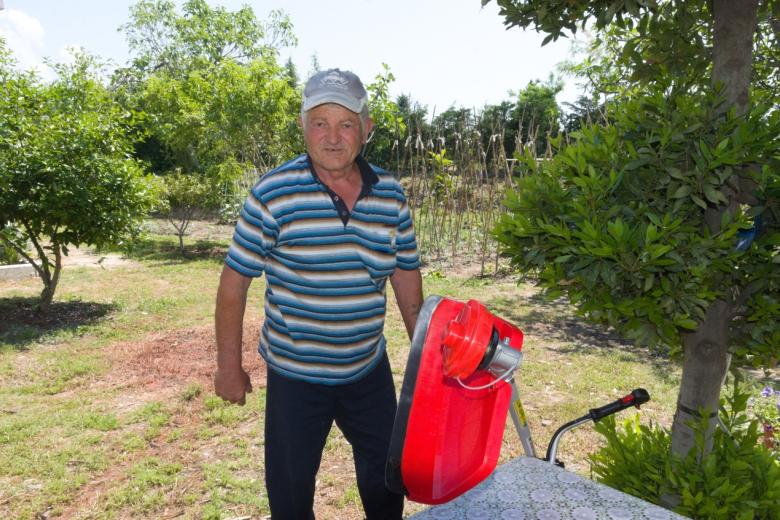 Trees, fruits, and employment opportunities for Asllan
Wednesday, July 13, 2022
Asllan from Thumana is retired. During most of his life, he worked as a tractor driver and farmer, while he has been involved with decorative works.
The 68-year-old has crafted with his own hands the decorative table and railings of the balcony where he is seated to avoid the strong sun rays, but the house belongs to his son. The old family house where he and his wife lived has been declared uninhabitable by the state authorities because of excessive damage from the earthquake of 26 November 2019. Asllan says that he didn't benefit a new home during the rebuilding process.
"We have been separated for years from our son, but he had not made it official at the civil status offices. This penalized me and my wife and left us homeless. Now we have to live in a small space," says Asllan.
The seven family members live in a one-story three-room house, built close to the old house. Asllan says that his family provides income mainly through agriculture and animal husbandry work.
"The land is the only income source for us. I own 12 dunams, but the costs to cultivate them are very high and I have leased part of the land. The remaining part we cultivate mainly with maize, alfalfa, and different vegetables," he continues.
Throughout the years he has tried to cultivate a part of his land with different fruit trees. The economic difficulties have hindered him, but in recent times, his objective has become reality.
He has been supported with 20 orange saplings, 20 tangerine saplings, 20 pears, and five olives, which he has planted and expects to receive produce from them in a few years.
Evaluating its potential to generate income through agriculture work, Asllan's family was selected to supported through the "Improving the family capabilities to respond to emergency situations" project. The project funded by UNDP Albania and implemented by World Vision Albania in Kruja municipality, one of the most affected areas by the tragic earthquake of 26 November and the Covid-19 pandemic.
"The trees are food, life, inheritance. I wish my nephews and nieces to have fruit in abundance, to consume and even for sale," says Asllan smiling, grateful for the opportunity that was given to him.
The 68-year-old has also been supported with an electric grass mower. This machine, as he admits, has provided him part-time work in the village. Many villagers hire him to clean their house-yards, for a fee.
Through this project 115 families in Fushë-Krujë, Thumana, and Bubq in Albania are being supported with food packages, agricultural and animal husbandry inputs, and psychological counselling and training on how to better respond to future emergency situations.
This intervention is undertaken in the framework of the "Earthquake Social Protection Response" (ESPR), a UNDP implemented Project funded by Government of the United Kingdom, the Government of Finland, and the Government of Norway. The project supports the Albanian Government and three earthquake impacted municipalities, in designing and translating the policy intent into proper local actions to ensure that men, women, girls and boys living in poverty, or vulnerable situations, intersecting with post-earthquake conditions, have access to integrated, quality social services.