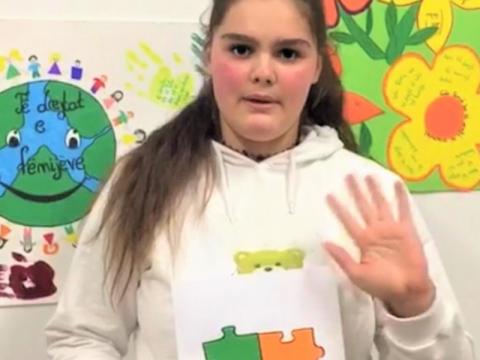 We built bridges and tear down walls
Tuesday, September 14, 2021
Ariel's story is very special. Today she is an activist for children and youth rights in her community. However, her path hasn't been without challenges or difficulties. She was diagnosed in her early age with child autism, but that hasn't stopped her from being a factor for change in her community and she turned it into strength.
Commitment to a youth group, like the young clubs of IMPACT, was the main driver Ariele needed to help others not to be afraid to face those who "bully them".
We invite you to read a couple of lines from the diary of a girl from Durres who tries every day to help others.
"I am Ariel, I am 14 years old and I'm about to finish the 8th grade. Two years ago I became part of a youth group called IMPACT Club. At first it was a bit difficult for me to understand the topics and be engaged because it was my first time that I took part in meetings with other young people. I understand how shy I had been and the insecurities I had. I was afraid of being judged by members of my group, due to my difficulties in speaking and expressing my thoughts.
This fear faded with the passing of time because I really found great support and all were patient to listen to me to the very end. Even though it took a lot of time due to my speech difficulties, thanks to my group friends, my journey was very beautiful and inspiring.
I have met new people, expanding my social circle where I spent important time with them. I have managed to successfully adapt anytime we talk about topics regarding our life and our dreams.
Because of my experience, I have continuously sent messages to people, but the one I have closest to heart is: 'All people go through the same things, but the barriers we put around ourselves limit us from knowing how similar we are.'
I have discovered that I wasn't alone in many situations and that gave me strength. It gave me strength that I could not only express my thoughts but it also gave me strength to not feel alone.
Meetings during the pandemic were also cool. They were a sign of unity during difficult times. I am happy that a day will come when I will remember these beautiful moments filled with emotion. I feel motivated knowing that I'm not alone."
Young people of these groups have the opportunity not only to improve their skills, but also to help improve the lives of their peers by raising their voices about matters they feel concerned about.
Ariel has had the opportunity to represent the kids of her school in a meeting with the Mayor where she shared the concern for more support of children with disabilities, and currently in her school, including her, there are 15 children with disabilities.
I have been in many meetings. One of them was with the Mayor where I asked for more support for children with disabilities, but also more recreation spaces where children can spend their free time in quality.
During the last year World Vision in Durrës has worked with nine youth groups made up of 116 young people aged 12 -18. Six of these groups focused on the environment, daily life of children and youth, spreading awareness messages to be respectable and supporting each other in difficult situations, and using technology to develop healthy relationships with each other.