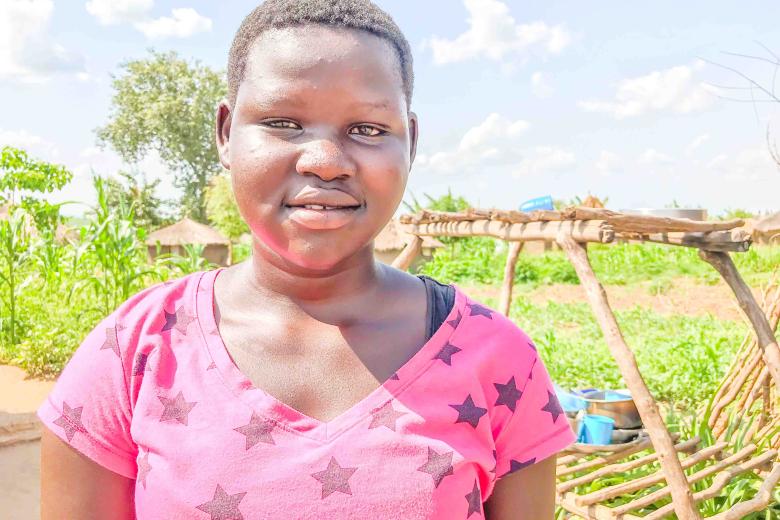 Harriet – a young leader addressing high-level stakeholders at the European Humanitarian Forum 2022 in Brussels
Thursday, March 10, 2022
Harriet is a 16-year-old young leader from South Sudan, who currently resides in the Bidi Bidi settlement in Uganda. During the March 2022 European Humanitarian Forum, Harriet will speak at one of the world's most notable session on Hunger and Conflict, where she will address European and global stakeholders.
In an opening speech to the panel, Harriet will share how her life experience and that of her community were directly affected by both hunger and conflict.
As an 11-year-old girl, Harriet fled her home in South Sudan, together with her family as a result of conflict. Throughout the journey, she faced difficulties through inappropriate shelter and lack of basic commodities which were exaggerated by shortage of food provided to make the long journey to Uganda.
"We crossed the border, and they gave us biscuits. That was the food that I first received in Uganda. I was very happy with that biscuit that they gave me, I ate it for 2 days", Harriet remembers.
Becoming a powerful young leader
Since her arrival in South Sudan, Harriet has become an active member of her community, engaging in child-led activities and raising her voice on radio talk shows. She speaks up about the issues she faced on her journey but also highlights the ones that are still present in her community. To create change, she regularly engages with fellow advocates, policy makers and stakeholders from Africa and Europe.
Harriet's Participation at European Humanitarian Forum
During the Hunger and Conflict panel Harriet will highlight the importance of raising the voices of the children in her community and beyond. She will have the opportunity to share both key recommendations and calls for actions with all the panellists and participants of the Forum. To ensure meaningful and impactful child participation, her asks and recommendation will be addressed by the panellist following her speech.
The EHF will thus put into practice the EU's commitments for meaningful child participation made in the European Union new Humanitarian Action.
Setting safeguarding measures for safe child participation
To prepare Harriet for this important engagement, she has gone through several steps of capacity building. World Vision provided her with an introduction to the European Union, the event in which she will participate, the stakeholders present, and her expected role in the panel. Information was shared in a child-friendly language, giving Harriet the chance to ask questions and raise any concerns she might have. The capacity building and overall participation was made possible by close collaboration between the World Vision EU office, World Vision's local office in Uganda, and DG ECHO representatives as the co-organiser of the event along with France.
Harriet wrote her own speech following discussion with her community peers. World Vision staff provided some insights to ensure that the speech addressed the relevant audience and topic of the event. Whether or not to follow the feedback was always up to Harriet to decide. After all, she is the expert on her own story!