Surviving Typhoon Goni: 11-year-old Mico's story
Monday, November 9, 2020
"At night, I still dream about what happened to us during the typhoon. I would wake up feeling afraid," 11-year-old Mico tells us.
Typhoon Goni (known locally as Typhoon Rolly) ravaged Mico's village in the Philippines' Albay province.
Hundreds of homes were buried in volcanic mud, called lahar, as the typhoon swept through, destroying everything in its path.
Mico returned to his family's home with his father as they try to secure what is left of their house and his grandmother's home.
"I help remove the mud that buried my grandmother's house," Mico shares. "After this, my father and I will go to our house to do the same. For now, we are still staying in the evacuation centre while we clear the mud away."
A harrowing experience
"It was around 7am when mudflow, triggered by the heavy, alarmed us. I carried my youngest child. Mico and his other sibling held on to their mother as we escaped from the house. The lahar came really fast. It was knee deep and it kept getting worse," Eli, Mico's father, says.
I was also afraid. I thought that we won't survive. Papa said we need to go to a higher ground so we kept running.
As soon as the family found a safer place, they waited for the flood and volcano mud to subside before heading to the evacuation centre.
The next day, they went to see their house and found it partly buried in mud.
"My school supplies and other things are now gone. But I will still help Papa remove the mud so we can recover whatever we can."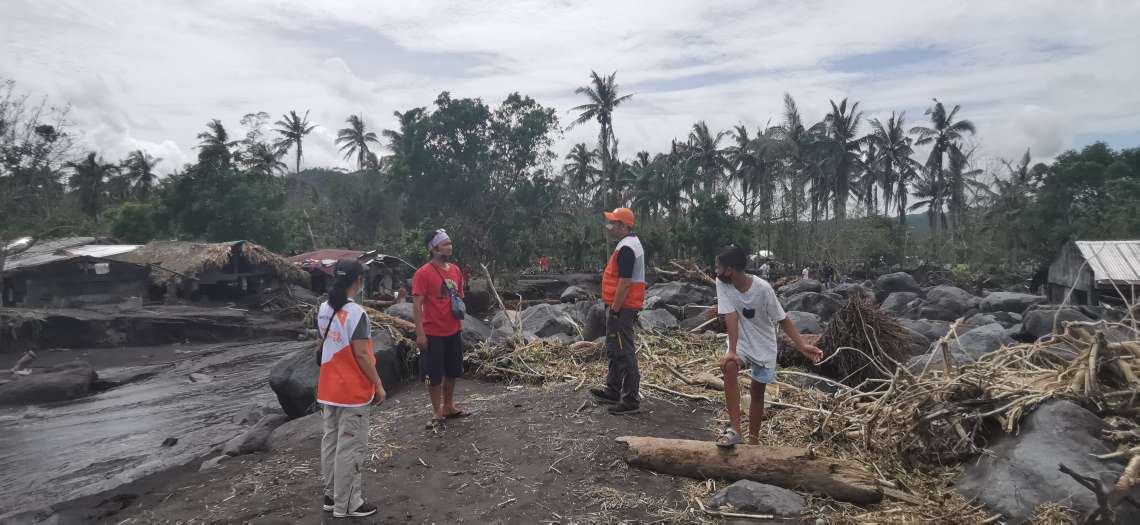 Emergency Response
At least 20 people died and a further 74 were injured as Typhoon Goni struck the Philippines on 1 November. Over 2 million people have been affected.
World Vision Philippines aims to assist 10,000 families, or 50,000 individuals, with emergency essentials including hygiene kits, mosquito nets and plastic mats.
Around the world, we're ready to respond when disaster strikes. With pre-positioned stocks and relief items, trained local response teams and emergency-ready funding we move at the first signs early warning triggers. We rely on strong partnerships to ensure our aid is delivered to the right people, in the right ways, on time.
Learn more about how we help communities prepare for, respond to and recover from emergencies here.