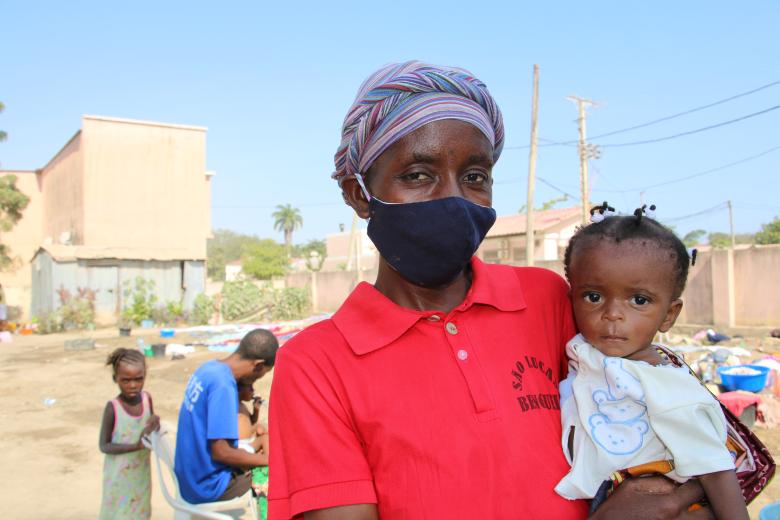 Hunger's assault: Hundreds of children in Angola affected by nutrition crisis
Monday, June 28, 2021
The air in the Paediatric Unit of the Provincial Hospital of Benguela is stifling. As we entered its narrow blue hallway, a warm waft of sickeningly sweet chemicals embraced us. We held our breaths in anticipation; we knew what despair awaited us.
A brief meeting with the provincial department of health and a report submitted by World Vision's Emergency and Disaster preparedness team set the stage for heartbreak. The sense of urgency and exhaustion was still in the air; the energy was palpable, yet no children were in sight.
Dr. Flora Vanda Calivangue, the Provincial Supervisor for Nutrition, sounded the alarm in March 2021 when the paediatric unit of the biggest hospital in Benguela was taken over by an avalanche of malnutrition cases needing immediate hospitalisation. Dr. Vanda contacted World Vision in the hopes of receiving Ready-to-Use Therapeutic Food (RUTF), known as Plumpy'Nut, and to request a rapid food and nutrition security assessment for Benguela.
We were prompt to respond, and at the end of April 2021, an emergency team led by Robert Jan Bulten, Senior Technical Advisor for Emergency and Disaster management, visited four municipalities in the province of Benguela to assess the situation. What we found was a worst-case scenario turned reality, a devastating situation.
During World Vision's assessment, more than 1,300 children aged between six and 59 months were screened for malnutrition in the municipalities of Benguela, Caimbambo, Catumbela, and Ganda. We found that for every 10 children screened; four were malnourished.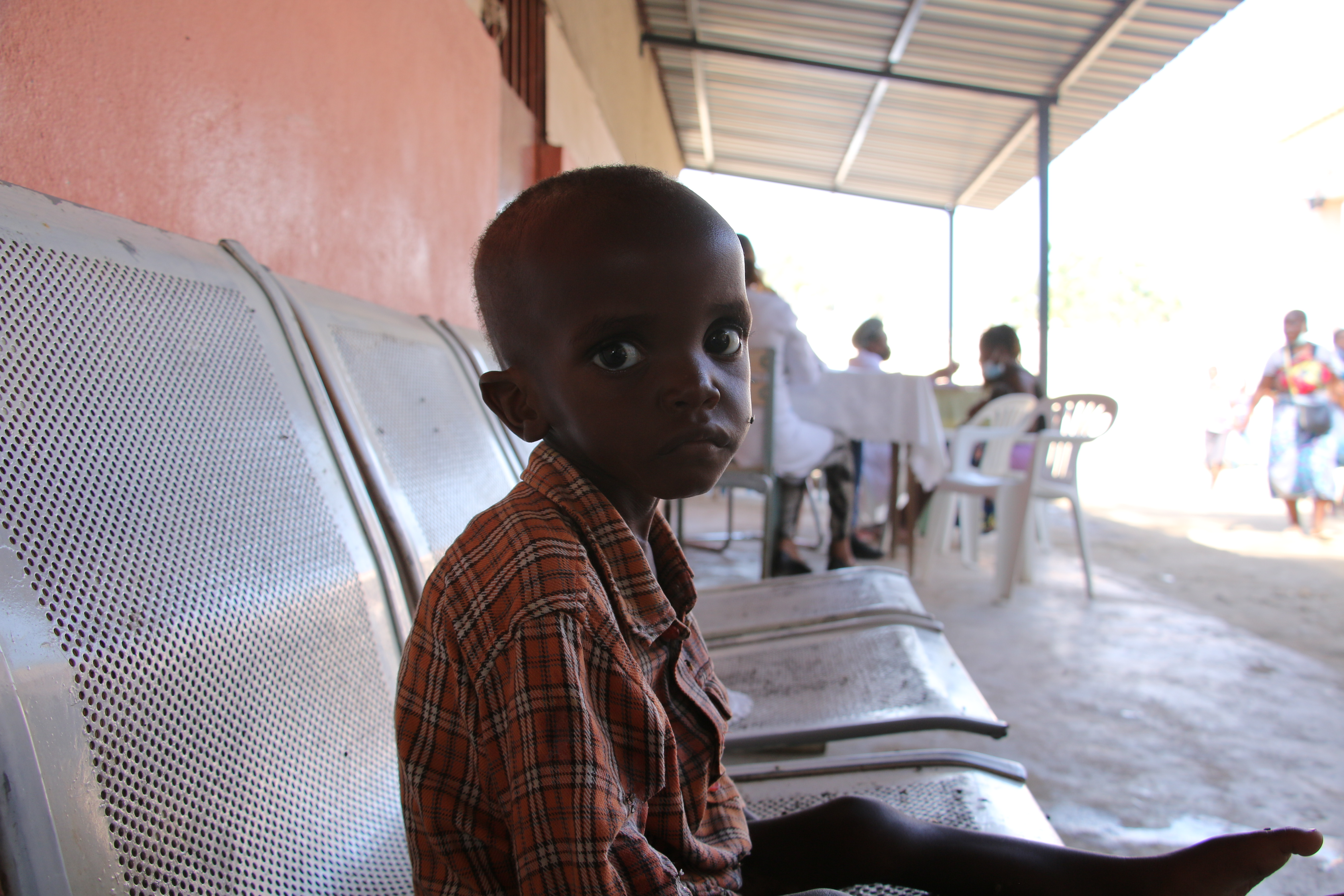 The drought that assailed the southern region of Angola has devastated crops and livelihoods. Although rains started well in November 2020, in December, a prolonged dry spell began and lasted up to the first week of March 2021, which caused crops to dry up.
Many families now survive on a diet of boiled water with sweet potato leaves, supplemented with maize bran that - in the past - was feed for domestic animals.
The cost of food has sky-rocketed. From 2020 to 2021, there has been a 67% rise in the price of staple foods and, although street vending jobs are plentiful in the market, they pay no more than US$3 per week – US$3 sustain entire households.
During the assessment, four focal group discussions were held in Cubal, where one of the village elders in the community of Marco spoke of 35 deaths by starvation of children and adults between March and April 2021.
The municipal health centres for child and maternal health are overwhelmed by demand. Because peripheral ambulatory units cannot treat children who present symptoms of malnutrition because of the lack of therapeutic and supplementary supplies, all children are sent to the provincial hospital for treatment and hospitalisation.
The paediatric unit of the provincial hospital of Benguela and the municipal nutrition centres, which have 133 beds for hospitalised children, encamped 476 children and their mothers in April with an average of 20 new hospitalisations per day for severe malnutrition.
In an environment already overwhelmed by rising cases of malaria and COVID-19, children shared beds, other children were treated on the floor, and even more children were cared for and slept in the narrow blue corridor of the paediatric unit of the provincial hospital of Benguela.
That was a month before our arrival, yet, nothing has changed except the children's whereabouts.
As we crossed the eerie blue hallway, we were greeted by several health workers, and when asked where the children had gone, their expressions turned to despair, pointing to an abstract location; we would indeed find the children somewhere outside.
After a long walk through hallways, entrances, and exits, way beyond the paediatric unit, we found a makeshift centre scattered with children and their mothers in a frenzy on a back road through various sets of gates.
On the day we arrived, the children of the paediatric unit received a donation of over 20 boxes of frozen fish and salt. In gratitude and despair, mothers took their frail children off their IV units and mounted them on their backs as they sought to get fish and salt, under the scorching sun, to cook for their children in one of four small cast iron grills.
Many of the children, too frail to cry; too weak to play, stared at us motionless, fraught with hunger, strained from the heat and weight down by the uncomfortable catheters still attached to their tiny hands. They sat and waited on their mothers to return.
Although the context was one of despair, there was an aura of celebration in the air; there was food. What more could a mother ask?
At that time, all the hospital could provide was palliative. There were no more supplies of RUTF, F-100, or F-75 in the entire province, and our donation of three full containers of RUTF was weeks away.
The children were hungry, and their mothers would feed them for nourishment. The weight of solid food on the weakened structure of a child in starvation and the aggressive shift in electrolytes is of no concern when a mother can't see beyond the feast.
Our intervention in the hunger crisis is currently limited to the provision of 450,000 units of Plumpy'Nut for Benguela, but our success rate in the fight against malnutrition in Huila, Cunene, Namibe, and Cuando Cubango, shows that we can do so much more; we can go further.
From 2019 to 2020, 14,395 children diagnosed with Global Acute Malnutrition (GAM) were cured and benefitted from our integrated approach to nutrition that merges Child Protection, Water, Sanitation and Hygiene (WASH), and Agriculture initiatives to ensure the overall and sustainable healing of families and communities. Since October 2020, World Vision has been able to refer 58,019 with GAM to the in- and outpatient nutrition centres in the four Southern Provinces.
As we seek to deepen our commitment to reducing the vulnerability of children in the province of Benguela, our national office reaches out to our supporters so we can work together to find sustainable solutions for so many lives interrupted by hunger and poverty.
We urge that supporters help us with further resources to empower nurses in peripheral ambulatory units with the knowledge and materials to treat cases of malnutrition in a decentralised manner. We further request for resources to assist us in bringing WASH projects to rural areas to lighten the load of water-based diseases and strengthen the health of communities by improving hygiene and; we urge for resources to help communities rebuild their livelihoods to reduce poverty and enhance households.
It is in our hands, within our reach; we ask that you join us.
For more information, please contact:
Maria Carolina da Silva, Country Programme Director, World Vision Angola
Phone: +24421214545
Robert Jan Bulten, Multilateral Grants Director, World Vision Angola
Phone: +244937458922
Maxwell Sibhensana, Regional Humanitarian Emergency Affairs Director, World Vision Southern Africa (SARO)
maxwell_sibhensana@wvi.org; skype: maxwell.sibhensana
Phone: +27798721058
Pamela K. Chama, Communications and Public Engagement Director, World Vision Southern Africa (SARO)
pamela_chama@wvi.org; skype: pamela.chama
Phone: +26097778239