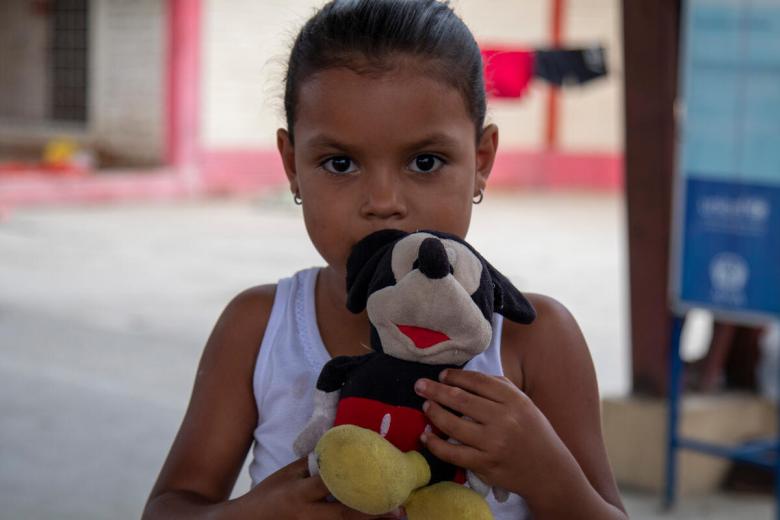 Venezuela crisis: Five-year-old Ami's story of hunger and health
Thursday, July 15, 2021
Five-year-old Ami travelled almost 3,000 kilometres from her home in Venezuela's Falcón state to the city of Huaquillas, located on Ecuador's border with Peru.
She travelled with her grandmother Nancy and her father Anfernee. Ami and her family entered into the country in early March 2021 via an informal crossing, because they don't have Ami's official documents.
Her only toy is Mickey Mouse, which her grandmother washed and stitched back together following the long journey.
The following month, Ami and her family attended an emergency supplies distribution in Huaquillas with several migrant and local families.
They received food vouchers, biosecurity kits and baby kits from World Vision. This visit was coordinated with the Ministry of Social Inclusion and Economy of Ecuador and ADRA.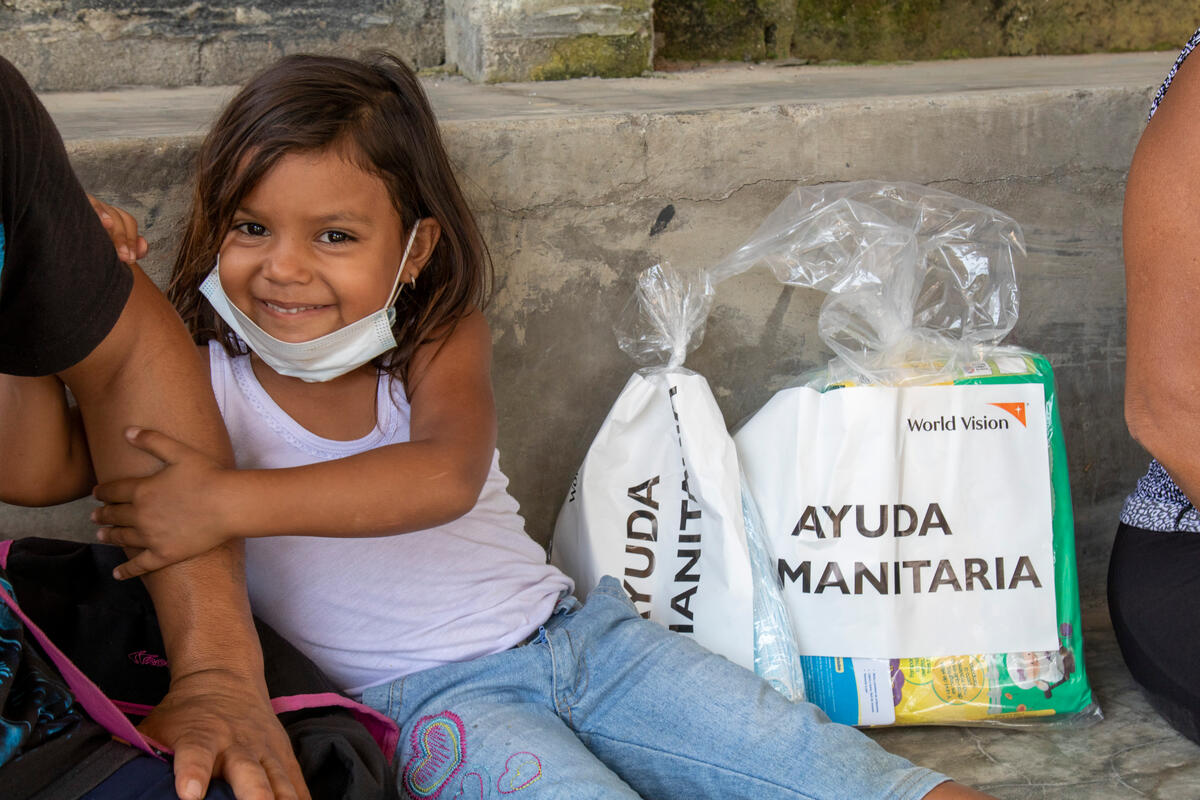 Ami was playing with some other girls – Sofía and Isabela – when Salomé, a member of the World Vision communications team, began talking to her. Ami did not respond.
"I imagined she was shy around adults she did not know, although her constant smile suggested the opposite," Salomé says.
"Her father was going to the delivery table, and Ami greeted him. Anfernee raised his hand and made a couple of signs. He told me Ami does not hear or speak. At that moment everything became clear to me."
Nancy and Anfernee are unsure what caused Ami's disability.
"When Ami reached the age that children typically begin to speak, she was only making muffled sounds," says Nancy. "We took her to a specialist, who told us that she was deaf and that she was not going to speak."
Ami doesn't leave her grandmother's side. Nancy is protective and loving towards Ami.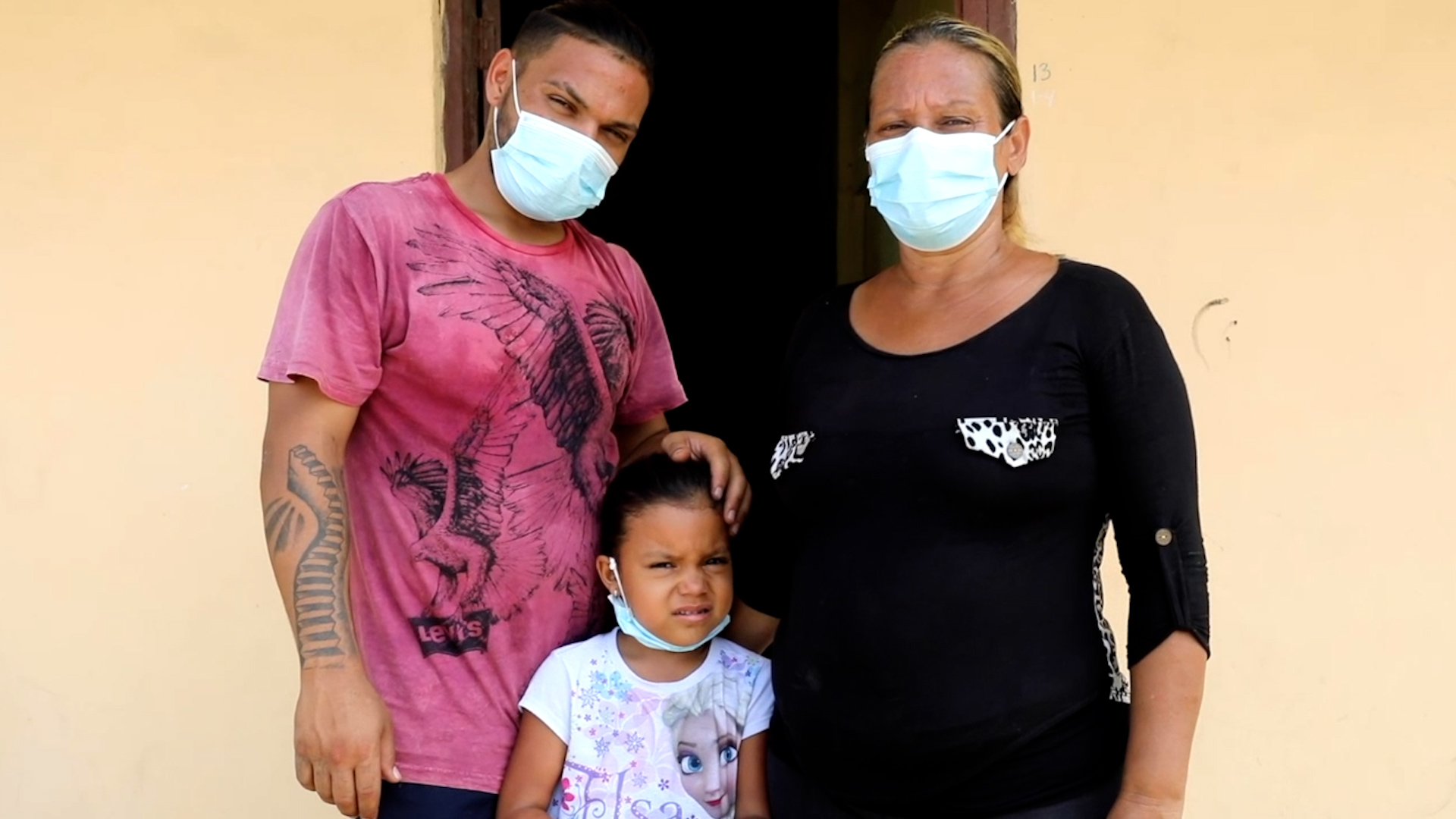 "My granddaughter does not speak and does not hear, that makes her very vulnerable to an accident or to people who can hurt her, so I never lose sight of her," says Nancy. The grandmother has cared for Ami since she was a year old, when her mother abandoned them.
Ami's disability and the lack of food in Venezuela are Anfernee's greatest motivations to migrate in search of a place where they can help to improve her living conditions.
Huaquillas, a city of around 50,000 people on the Ecuadorian border with Peru, is the main crossing point for Venezuelan migrants heading to the southern part of the continent, having previously passed through Colombia and Ecuador.
Since the end of January 2021, the city has received hundreds of families as a result of the border closure. Many migrants had to make the streets their home. According to data from the Huaquillas Mayor's Office, approximately 200 families, mostly Venezuelan, are living on the streets, and of this population between 20% and 30% are children and adolescents.
For the first week following their arrival, Ami and her family lived on the street.
Nancy says that one of the biggest repercussions of travelling and living on the streets is reflected in Ami's poor diet.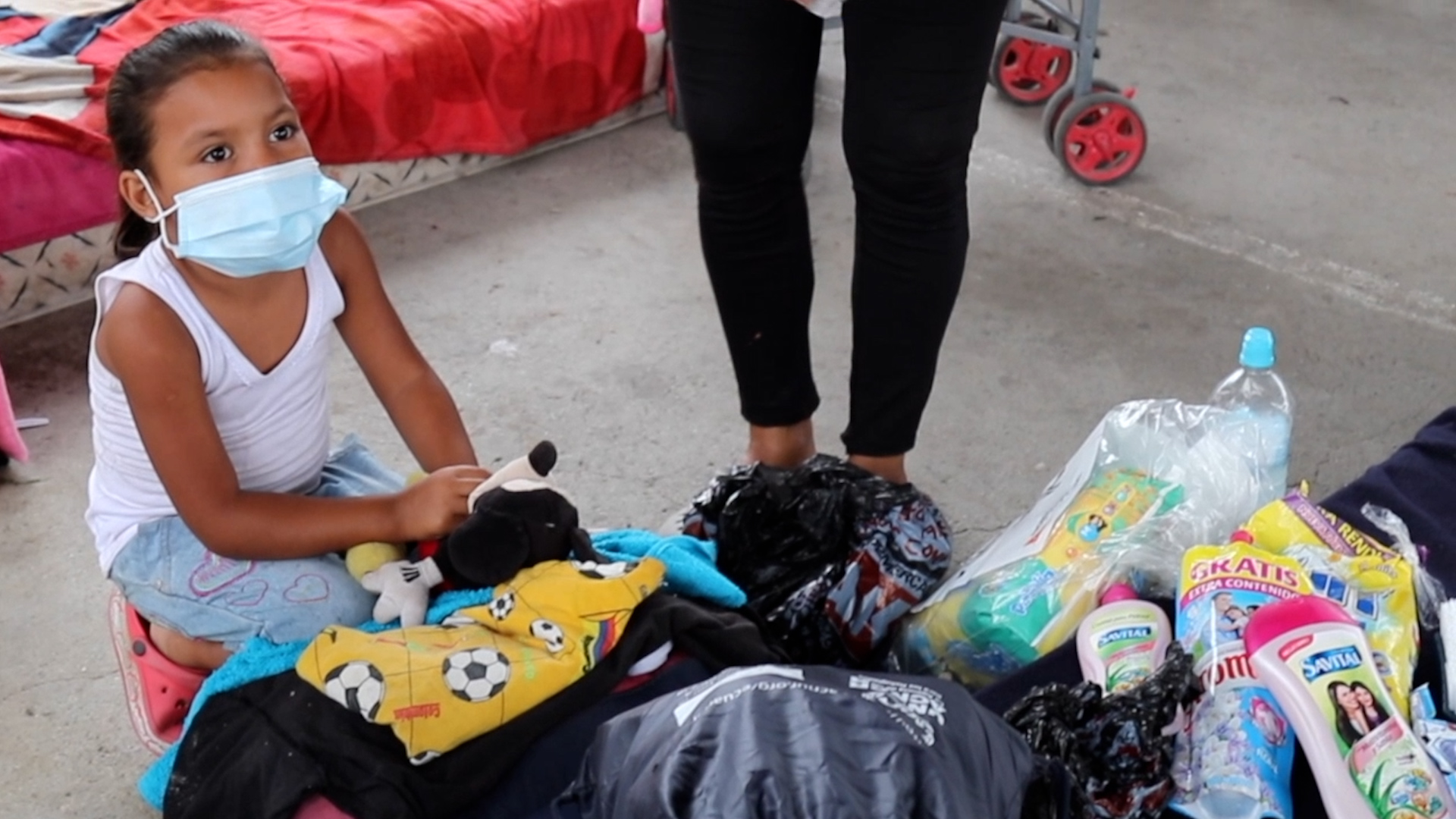 "We don't have a place to cook, we don't have utensils, and the little money we get is for a meal," she says.
"There are days when my son has nothing to sell and begs for food. They give him soft drinks or sweets and that is what Ami eats. We cannot buy vegetables or fruit, because the heat damages them quickly or we cannot cook them well as we have to take turns using the stove."
When Anfernee arrives home, he feeds Ami with what he earned that day. Ami is used to eating rice, beans and arepas from when they lived in Venezuela, and doesn't like to eat anything else.
"I hope that little by little she begins to like new foods," Nancy tells us.
After seven days of living on the covered court along the main road coming into Huaquillas, Anfernee and three other young men found a home for all their families.
They now have a place to call home.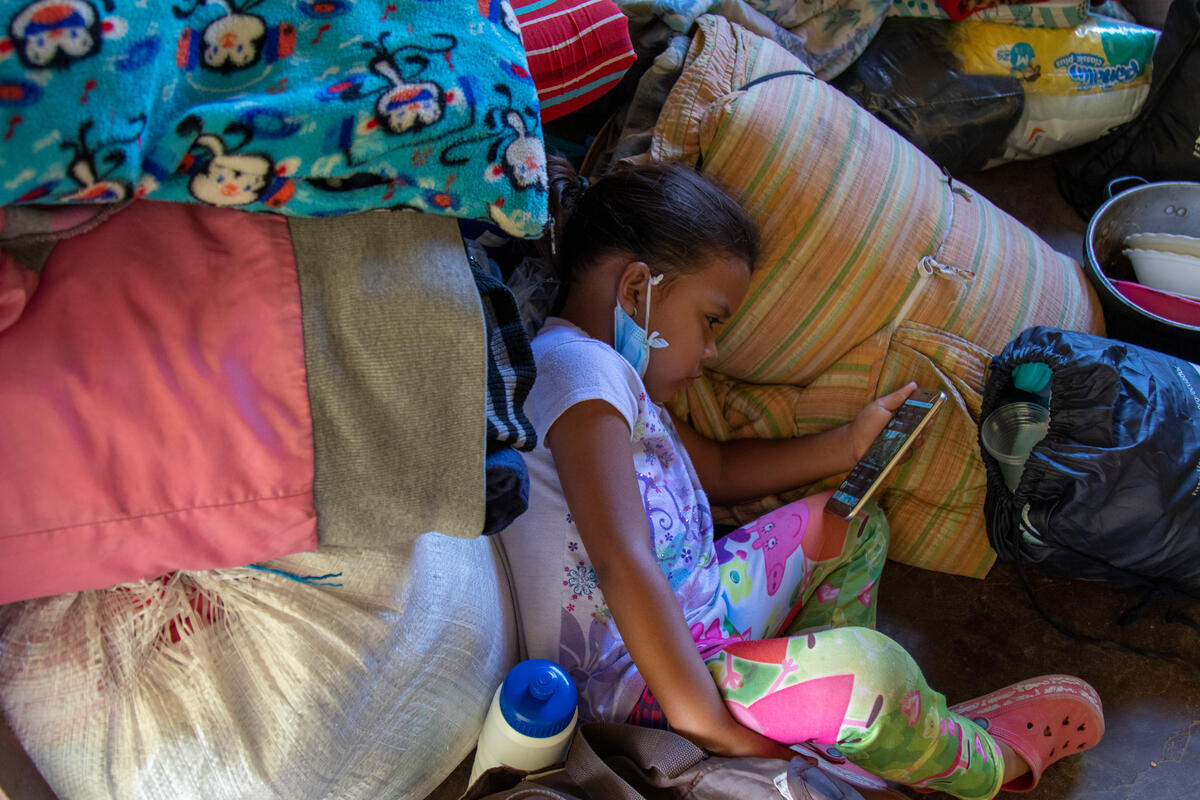 It is not much. It's a house of approximately 80 square metres with a rusty zinc roof and a garden that was abandoned. Nine adults and four girls will live in this four-room house. Ami is the oldest of the children.
They are not sure how they are going to make ends meet. But now Ami's family wants to start a new life. They may set up an arepa stall or start a motorcycle mechanic shop, which is what her father trades.
For now, their short-term goal is for Ami to receive medical attention, and for her to attend a school where she can learn sign language and be more independent.
According to the United Nations, nearly 5.5 million Venezuelans have fled their homes to seek refuge in neighbouring countries such as Colombia, Brazil, Ecuador, Bolivia, Peru, and Chile.
73% of families in Venezuela don't have enough food, according to a survey we conducted in September 2020.
Our research found that for an average Venezuelan family receives a monthly income that equals 0.9% of the price of the basic food basket - the monthly nutritional needs for a family of five. They would need to earn 116 minimum salaries to buy the basic food basket.
Millions of children are facing hunger in urban and rural areas.