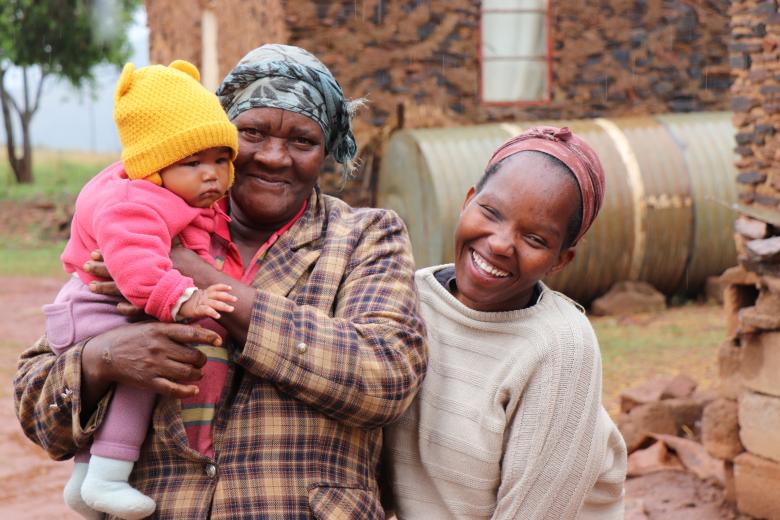 Ayanda's Journey to Motherhood
Monday, November 6, 2023
Ayanda (32), is a mother to a bouncing 5-month-old baby named Uzusiphe. Ayanda and her daughter hail from Ncangosini, a community under the Mtsambama constituency. 
Upon arrival at the Shongwe homestead, you are welcomed by this healthy baby girl's smile, which is evidently a blessing to the Shongwe family. Her name, "Uzusiphe," means "finally, a gift," also shows just how much of a blessing this child is to this family.
But having Uzusiphe was a real struggle, according to Ayanda. Ayanda lost her first baby at 7-month preterm birth. She explains how lack of knowledge about her high blood pressure (also known as BP) resulted to her losing her first baby.
"Throughout my first pregnancy, I just didn't care about paying extra attention to my BP, not knowing it would affect my baby" she adds.
Fortunately, Ayanda is one of the 510 beneficiaries of the Cash Assistance Project to Complement Maternal and Infant Health Care that is implemented by World Vision Eswatini, funded by World Vision Taiwan and ICDF. This project set to do the following:
From December 2022 to December 2023, assists 510 pregnant women from 14 of the most vulnerable communities in Eswatini with a total of E4,378.00 each.
Conduct visits from Rural Health Motivators (bagcugcuteli) to teach them the importance of antenatal and post-natal care, as well as to check their progress.
Cover 14 constituencies in the Shiselweni and Lubombo regions (Gege, Zombodze Emuva, Shiselweni 1, Mtsambama, Sandleni, Ngudzeni, Sigwe, Lubulini, Sithobela, Siiphofaneni, Dvokodvweni, Matsanjeni North, and Lomahasha).
Ayanda explains how the knowledge and money she received from this project has transformed her life and that of her baby's:
"My Rural health Motivator, Lungile Mngometulu helped me realize the importance of being extra careful with my BP during my 2nd pregnancy; I went to all of my antenatal care visits and still go post-natal; Lungile also warned to stop doing heavy work whilst pregnant, to mention a few".
When asked about the cash benefaction, she chuckles and her face lights up;
"My baby's warm, never misses her immunization appointment and also, there is some for emergencies. After I successfully delivered Uzusiphe, I used this money to pay for a taxi home. There is still some left in case my child gets sick, especially because this place does not have enough transport. There is only one bus. There are not enough words to express my gratitude".
Parenthood looks good on you Ayanda, congratulations!