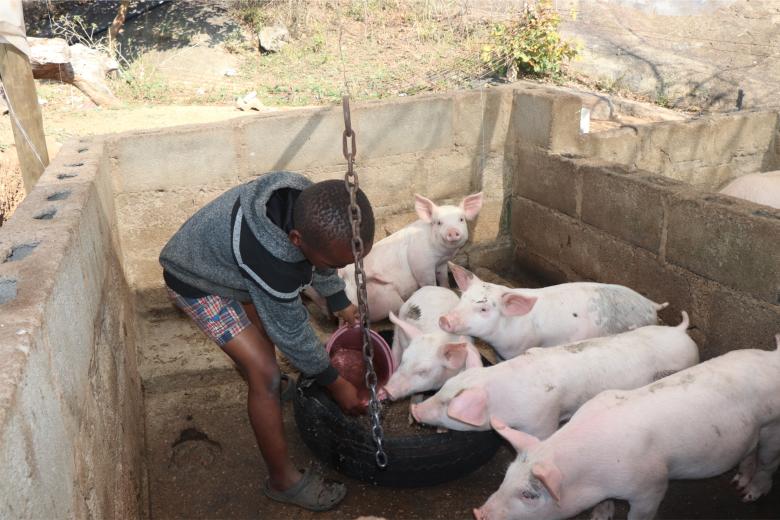 How a Gifted Sow Transformed a Family's Future
Wednesday, August 2, 2023
A Manana family from the Sigcineni community, under the Mahlangatsha constituency, has witnessed their life turnaround after being blessed with a donation of 1 sow (female pig) and pig feed from World Vision in June last year.
"We have sold a total of 15 piglets this year, ranging from E1,500 – E2,500 (USD 60 – USD 140) each, depending on the size of it. Our lives will never be the same! We couldn't afford most of our basic needs from the little that my husband made from his taxi business. Since we have four children, life was really hard", Sheila Hlophe, a giftee, explains.
The Manana family can provide all the basic needs their family and more.
Andzelokuhle Manana's (8) face lights up when you ask him why he loves helping his father in the piggery.
"My father can buy me toys now and we also have our own new TV! I enjoy watching cartoons the most!", he said.
Today, this family is the blessing that others need and helping other family members by buying them some of their necessities.
"I even buy my nieces and nephews school shoes and shirts, depending on my budget", Hlophe adds.
Ndumiso Hlophe, Mahlangatsha Area Programme's Community Development Worker (CDW) highlighted that this piggery project has helped reduce the number of illegal activities in the Sigcineni community.
"Six families benefitted from this project in this community. As their CDW, I have noticed that there has been a remarkable increase in the standard of living of the families that benefited in this community. for example most are able to meet their basic needs with easy now."
This benefaction was a result that was done by World Vision in collaboration with the Ministry of Agriculture as means of trying to find ways in which this community can have projects that will sustain them for life.
"The survey revealed that these six families actually have pigs, but they are not market-friendly, so World Vision stepped in and donated 1 sow for each family. A sow is a female pig that is used for breeding. This way, these families can make by selling these piglets", Ndumiso clarified.