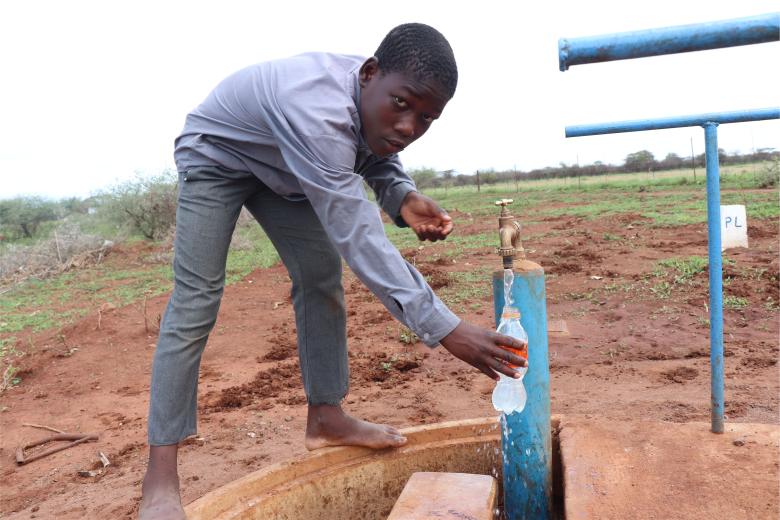 "Our children are now healthy and safe from drowning"
Friday, December 9, 2022
Over the years, Mahangeni community has lost a number of children through drowning in the Ngwavuma River while fetching water. This was the only water source for the community, with some households travelling up to three hours to and from the river.
According to the community's Water Committee member, Thandazile Mthembu, at face value, the river is not intimidating or scary, especially in winter and spring when the water would be quite low. She says during dry seasons, they would be forced to dig for water to come out, but there is a section of the river that has a rock where the children usually rest after bathing.
"What happens is that when diving in to swim, some would get trapped under the rock and drown. The water project by World Vision has come as a relief and our children are now safe," Thandazile elaborates.
Another Committee member, Mirriam Potgieter, also indicated her excitement about the project, which was completed last month.
"In the first week, people would queue and fill up all their containers at home, thinking the water might be finished. Now they have gotten used to the idea of having clean water nearby. We are really grateful to World Vision for saving our lives and that of our children," Mirriam adds.
According to Mirriam, some people in the community had skin problems because bathing was not done daily. In some households, she says, people would share bathing water and this was rife even with adults.
She states: "One would bath after the other had washed, using the same water just to preserve the little they have. Some would only wash the face, using as little water as possible, and go their way, hence the development of skin problems (scabies and rash) both in children and adults."
The community decided to approach World Vision for assistance. The discussion, consultations and assessments started last year. This year, the project was implemented with the committee working alongside the contractor. The contractor would work from 8 am until 12 noon, while the committee would work until 5 pm.
The solar-powered water system was finally completed last month (October 2022), and about 40 households, with over 200 people, are benefiting from the project.
"We are able to bath daily, wash clothes at home and children are safe. Some families have already started backyard gardens," Mirriam said. Lubulini Area Programme Development Facilitator Cebolenkhosi Mavimbela said the community requested support for the water project from World Vision. A total of E541 192.80 was used to complete the project, with the community providing manpower for the duration of the construction work.