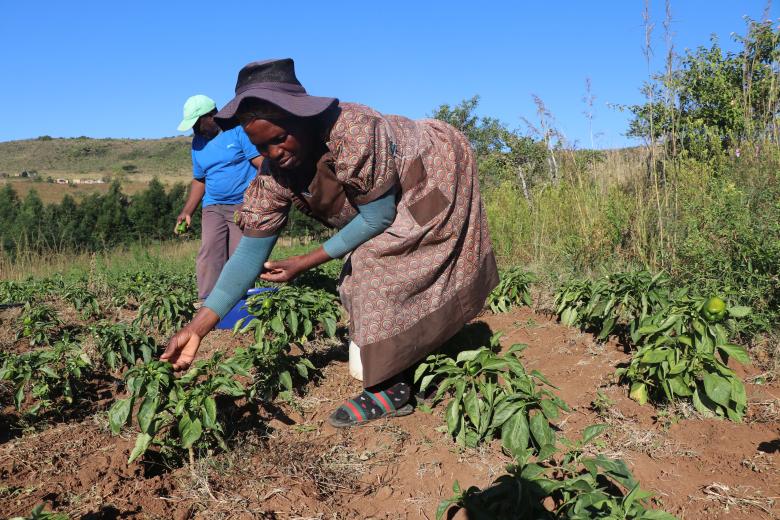 Breaking the chains of poverty: Empowering women farmers
Tuesday, June 7, 2022
Severe malnutrition and hunger affecting children is a thing of the past at Ezikhotheni under the Mantambe AP because a group of six women and one male have gone against all odds to start their project "Ezikhotheni Community Garden' which produces fresh vegetables and sells them to local communities. The project is a group of seven individuals.
The project was established by a group of women in 2001. During this time, the group of women had very little to sustain the project as they needed input for producing quality produce. They needed inputs such as fertilizer, seedlings and a water drilling system that would sustain the garden even in very dry seasons.
After learning about World Vision's intervention from their Inkundla, the women (6) and one male approached World Vision to request for assistance in making the garden project a success.  "In the past we used to struggle so much with feeding and sending our children to school, but now life is simpler because we are now able to afford basic needs and services for our children, life is much different now than it was," Dudu Msane one of the community members said. In its intervention World Vision donated a solar system that drills water effectively without the use of electricity a cost-effective way for rural women who rely on selling vegetables for a living. In total the project sustains about 28 children combined.
"The solar powered water drilling system is very convenient for us as a group because we no longer spend a lot of money on paying for water and electricity units," Busisiwe Ntshangase another member of the group argued. Today the women sell to National Agricultural Marketing Board (NAMBORD) which facilitates markets for farmers in and outside the country and assists these farmers with production, processing, storage, transportation, distribution of the produce the sale of scheduled products. Dudu further says that "we encourage our children to not only eat the food we produce here, but for them to be part of the process so that when we die, they know where the food and money is."
When given the necessary support, women contribute greatly to increasing food supplies in rural communities and developing countries through commercial and subsistence farming. "After school I come to the garden to assist my grandmother in watering the garden and removing weed, because she says this is where our food and money to pay for school fees comes from," 9 -year old Bongani Bhembe comments.  As a result of the success of the project, some members have been able to successfully start a side business financed by the profits from 'Zikhotheni Community Garden'. One member mentioned that she was able to start a pig rearing business which has started to pick up, while another tailors clothes for local communities.
World Vision adopts a holistic approach to Women's Economic Empowerment (WEE), which comprises four domains of empowerment. The organisation promotes women's economic advancement, access to opportunities, services, and resources, and agency, including decision-making ability in households and markets, manageable paid and unpaid workloads, and well-being.