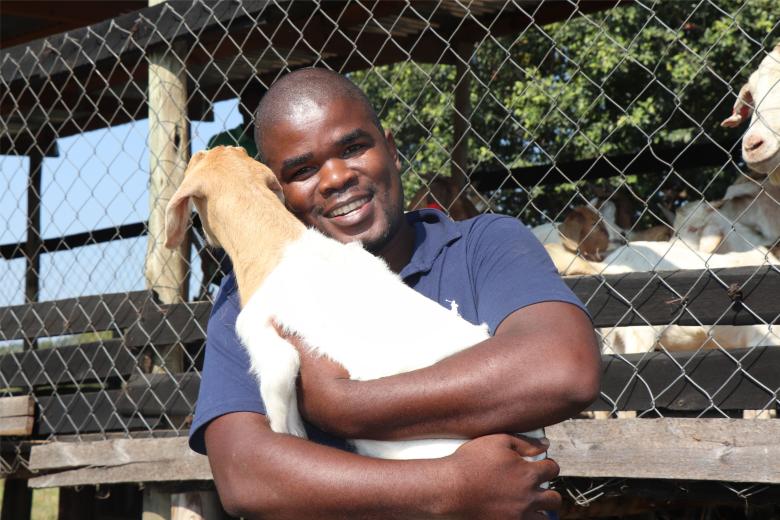 From Selling One Goat to Owning a Thriving Business:How Empowered Worldview Training Changed One Man's Life
Friday, February 10, 2023
In 2018, Sihle Dlamini of Mkhiweni Constituency was faced with a daunting challenge - he had no source of income to take care of his pregnant wife and coming baby. He was worried about the kind of life he would be able to give his family. However, his life took a turnaround after attending World Vision Eswatini's Empowered Worldview Training.

The Empowered Worldview Training is a biblically-based enabling project model thatcan lead to deeper and more sustainable changes in child wellbeing when combined with other project models. Implemented under the Faith and Development Programme, this project model is a behaviour change model that seeks to address dependency mindsets and promote individual empowerment among people living in poverty. It provides tips and knowledge on how to become a successful person in life.
Armed with knowledge, renewed hope and zeal, Dlamini came out of the training a new man. Shortly after the training, he had his first business deal, one which he realised he could have started a long time ago, had he acquired the right knowledge about using the available tools to start his own business.

"I have been on Facebook for years and mostly used the application for socialising, wasting my time," Dlamini observes.

He says, after the training, a community member approached him, asking for help
selling his one goat.
He says:
"I remembered that I could use what I have, in this case my smartphone! I put up an advert of the goat on Facebook and it was sold within a twinkle of an eye. I made a profit of E500 because I sold it slightly above the original seller's price, which was E700."

After this success, Dlamini had several community members approach him, asking for help with selling their goats. In the end, he made of total of E2000 that year. The budding entrepreneur purchased his first two goats the following year, officially starting his own business as a goat farmer.
In 2021, the budding entrepreneur's business was thriving and he was awarded a tender to supply 20 goats to Umbuluzi Valley Sales, one of the country's major meat products stores.

Last year, Dlamini owned a total of 94 goats, and sold half of his flock towards the end of that year. As a result of his success, the growing businessman has also been able to purchase his own vehicle, build a home for his family, and take care of his child and wife.

"I just bought all the uniform necessities my 4-year-old child needed and paid her school fees," adds a proudly beaming Dlamini, who says all this has been made possible through selling each goat at not less than E1200.
Reflecting on his journey, Dlamini says, "I am at a place I never thought I would be. Looking back at my life before attending the World Vision training, I was struggling, and life was tough. God knew how much I needed this training because it was truly an eye-opener."
Dlamini's story is an inspiring example of how empowerment, combined with knowledge and faith, can turn a person's life around. World Vision's Empowered Worldview Training is not just a project model, but a transformative tool that can help individuals and communities move from poverty to prosperity.