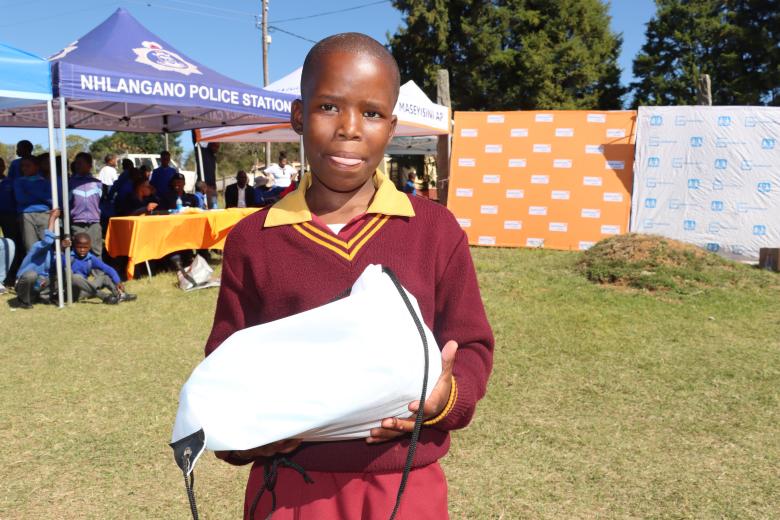 "Poor Menstrual Hygiene does cause the girl child to drop out" -Shiselweni Menstrual Hygiene 2023
Tuesday, June 13, 2023
World Vision Eswatini, in partnership with SOS Children's Villages, celebrated Menstrual Hygiene Day 2023 at Mzizi on 9th June 2023 with four schools from the community;
Nzongomane Primary & High School

Mlambo Primary & High School
These four schools are under the Shiselweni cluster, where World Vision Eswatini has several Area Programmes. This commemoration's theme was "Making menstruation a normal factor of living by 2030".
913 dignity packs were distributed to all the learners from these schools. Each pack consisted of three packs of sanitary pads, a towel, a toothbrush, toothpaste and a roll-on for the girls. Dignity packets for boys had everything except for the sanitary pads.
"I think that all markets should consider selling sanitary pads or in smaller scales, say maybe a packet can include four inside. This way, they will be cheaper and every girl child can afford them", a learner from Nzongomane High School said.
Tenele from SOS Children's Villages said menstruation is one of the reasons some girls drop out from school;
"Amongst other reasons, the girl child drops out of school because of menstruation. Some cannot afford these sanitary pads; some even decide to stay at home because the school environment does not proper sanitation. That is why they feel demotivated and end up not going to school at all", she said.
The Shiselweni region Member of Parliament, Nokuthula Dlamini-Masuku, echoed the fact that other things that cause the stigma against menstruation are cultural misinformation.
"Did you know that in some other households, when a female is on her period, she cannot touch anything, from cooking to being around males? She is basically a temporal outcast. This is very painful because this is what our young boys grow up believing", she said.
She further called for other child-focused organizations to aid the government in educating the boy child about menstruation.
"I urge all of you to assist us in educating the boy child about how menstruation is not a sickness but something they should normalize."