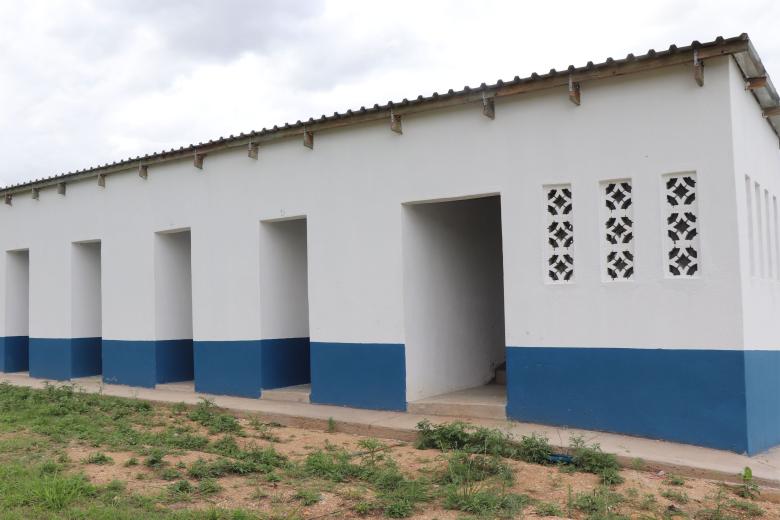 World Vision Steps in to Prevent Closure of School with Poor Sanitation and Hygiene
Thursday, November 24, 2022
Sigcineni High School was on the verge of being closed by the health ministry because their toilets were far below the expected standard.
Earlier this year (2022), the state of the toilets in the school, with an enrolment of 325 pupils, had become so bad that some of the pupils would opt to use other options, such as relieving themselves in nearby forests.
One of the pupils, Senanelo, who was with friends, said the old toilets were horrible, and you needed to condition your mind before, during and after their use.
"They were quite nasty and, when looking behind you, you could see all the dirt inside because the toilets were almost full," Senanelo states.
After the health inspector notified the school about the possible closure, since the toilets were posing a health hazard to the learners, they approached World Vision, through its Mahlangatsha Office.
"The school wrote a letter of request to World Vision and highlighted the urgent need. The school, on its own, didn't have any money for such a project, so we so grateful when, a few months later, World Vision informed us they would fund the project," Edward Dvuba, the Principal of the school, said.
About 90% of pupils from Sigcineni High School are vulnerable and cannot afford school fees. Hence, most of them are assisted through the government bursary, which affects the overall finances of the school.
According to Dvuba, the awful smell was disturbing and even troubling teachers daily in their living quarters, which are close by.   
World Vision started the construction from February 2022 to May 2022 and completed 12 pit latrine units. Immediately after completion, the school demolished some of the troublesome toilets and is currently still destroying all the old ones.
"The new toilets came as a relief and we no longer queue or feel disgusted during break and lunchtimes. So far, we are really enjoying them," says Senanelo a girl found with a group of other girls found using the new toilets. The other girls concurred.
The school's Principal extended his appreciation to World Vision and further highlighted other projects that the school was still to undertake.
Recently the school installed its own water system, and their biggest dream is to grow crops and vegetables in larger quantities for school feeding and to sell the excess to generate income for the school.
Other projects the school plans to embark on include the construction of an Administration Block, Consumer Science Classes, Fencing and a School Hall.