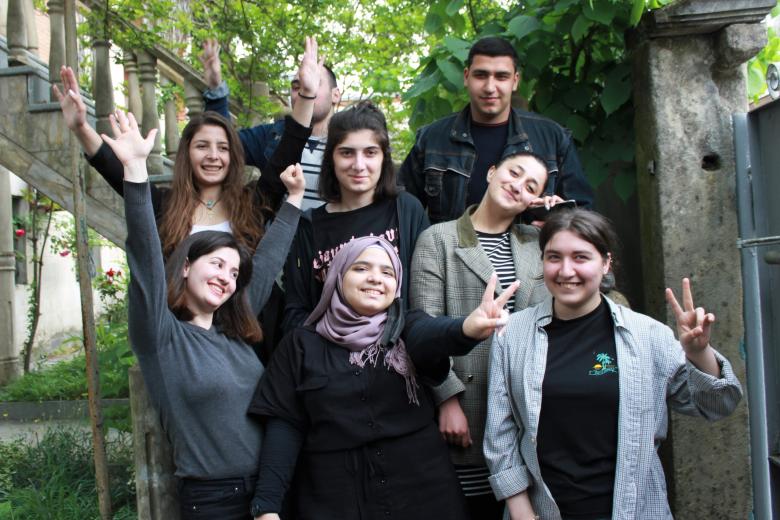 Sidra, SKYE club leader supporting young refugees in Georgia
Thursday, June 2, 2022
At the present day we are witnessing the rapidly evolving high-tech environment but at the same time the world is still struggling with refugee issues with declining prospects for refugees. Refugees and displaced children all over the world have their lives changed in an instant when they are forced to leave everything behind.
According to UNHCR over the past decade, growth in displacement is so high that the world struggles in finding solutions. One of the biggest UNHCR operations is in Syria, speaking more precisely, there are 13.5 million displaced Syrians, representing more than half of Syria's total population, half of which (6.8 m.) is hosted by 128 countries including Georgia. 
As of September 2021, Georgia is home to around 300,000 persons of concern. Data includes over 288,000 internally displaced persons, around 3,000 refugees, and asylum-seekers, and 500 stateless persons.
Sidra Habba's family was one of the asylum-seekers from Syrian refugees arriving Georgia back in 2011. Sidra was too young to perceive the life-changing challenges the way her parents faced during fleeing. Sidra was only four-years-old when the war commenced in Syria, which forced her parents to learn more about Georgia as their next destination. It was their relative who initially advised Sidra's father to settle in Georgia, where they would be able to work and live peacefully.
Sidra and her family faced several difficulties in a completely new country, as they had to adapt to an entirely new cultural and social environment facing a communication barrier.
She was enrolled in school at the age of nine, her fears were intensifying in public where she needed to communication with others.
World Vision is working for decades to provide life-saving support and durable solutions for the world's most vulnerable families, in order to protect children like Sidra and assure their wellbeing. With the support of World Vision Georgia, Sidra's life has changed drastically. She has successfully gone through the application process and was enrolled in the youth club initiatives.
World Vision Georgia, in partnership with UNHCR, keeps implementing the SKYE (Skills and Knowledge for Youth Economic Empowerment) programme to support the integration and economic empowerment of refugees, asylum seekers, and youth with humanitarian status. The programme incorporates four major modules: active citizenship, leadership, skills for employment, and entrepreneurship. Through SKYE Clubs, local and foreign youths enhance civic responsibility, build leadership skills, and acquire skills needed for further employment and entrepreneurship.
Within joint initiative of World Vision Georgia and UNHCR, the first integrated club in Kutaisi was established in 2021 through the SKYE Programme that unites Syrian, Georgian, and Nigerian young people. 
Presently 16-years-old Sidra is the leader of SKYE Club and assists Georgian and foreign young people to make friends, develop skills, and explore different cultures through a variety of activities.
"From the very first meeting of SKYE Club, Sidra was distinguished by her honesty, sincerity, sociability, and contagious positiveness. It is impossible not to laugh while hearing her innocent and hearty laughter. Her positive impact on the other members of the club was evident from the very beginning,'' says Ana, SKYE club mentor.
As a mentor, she started working with leaders to assist them to build the skills and competencies essential to carry out youth activities. This includes learning the specific methods of working with young people as well as developing interpersonal skills to create a safe team environment for people from different cultures and interests. 
''Leaders are people who work directly with young people with the help of non-formal education methods in order to ease integration of refugees, asylum seekers and young people with humanitarian status into society and to develop the skills essential for their success and solidarity,"- explains Ana.
Currently, Sidra lives in Kutaisi with her mother. They have a humanitarian status that allows the family to receive state assistance and services. Sidra's father was maintaining a family with a small business, his main source of income was the second-hand clothing warehouse business. After the death of her father, Sidra had to take over the family business temporarily, which, obviously, was an impediment to her learning. Education appeared the most valuable and significant part of her life and despite the hardships, she has never stopped studying. Sidra and her mother quickly found a solution, and hired an assistant in the warehouse. This helped Sidra continue studying at school and spend more time at the SKYE club.
"When Sidra joined the SKYE Club, her life changed for the better. She was staying at home all the time before, she was only going to school and had difficulty communicating with people. Now she is more sociable, she has made many friends, whom we invite to our house and treat them with our traditional dishes. Today, Sidra has a very active life and I am very happy for her, " - says Samira, Sidra's mother.
"Whenever I had a problem, everyone was willing to help me at the SKYE club, there was no issue that they would ignore. So many things have changed in my life since I've become a SKYE Club member or a leader. Until then, I used to spend my day either at home or at school, I was afraid of people. SKYE Club helped me see my strengths and step by step I forgot those fears. As a leader, I feel a great responsibility for the club members," - says Sidra recalling her early experiences at SKYE Club.
Everything has changed in my life, I have learnt a lot, I have improved my English, I have made more friends, and my life has changed entirely.
Sidra is fluent in Georgian, as well as Arabic and English, she spends most of her time with the children in the club and her hobby is handcrafting. She plans to become a pharmacist in the future, but she also wants to learn other foreign languages to help other refugees.
Sidra's parents did the impossible to make sure she gets an education and attends the school. Samira also wishes for Sidra to study pharmacy, she thinks that Sidra is pretty good at handling responsibilities and also possesses a talent for running a business, hence she supports Sidra's active educational process.
Sidra loves Kutaisi very much and considers Georgia as her home country.
"If I leave Kutaisi I get nervous and whenever I return, I feel that I am at home. I can't imagine leaving Georgia, which welcomed all my family so warmly. I am sad I don't know my country Syria at all, I grew up here and consider Georgia as my second home," - says Sidra.
Like Sidra, many refugee children have to start a new life in a host country which gave them security and new opportunity. Providing durable solutions for the children to help them rehabilitate and integrate into the society is vital. Improving the life conditions of refugee children needs concerted efforts from governments, international organizations, non-governmental organizations, and local communities.  
World Vision Georgia, together with partner organisations, aims to continue working with the most vulnerable families to promote human transformation, seek justice, and focus especially on the needs of children and their protection.