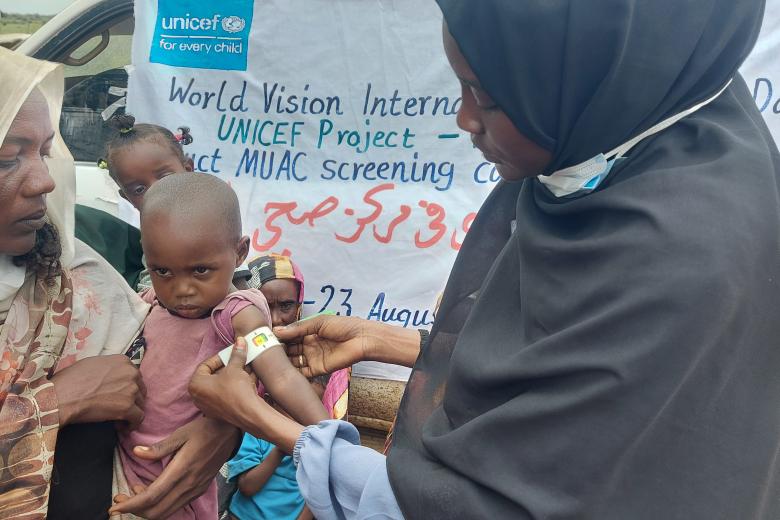 Combating Malnutrition with Community-Led Complementary Feeding and Learning Sessions and Early Malnutrition Detection
Thursday, October 12, 2023
According to recent UN reports, almost 700,000 children with severe acute malnutrition are at high risk of death without treatment due to Sudan's ongoing conflict.
Early identification and treatment for malnutrition saves lives. Despite the challenges posed by the conflict in Sudan, World Vision, with support from donors, continues to support communities by maintaining the functionality of primary healthcare centers (PHCs) and outpatient therapeutic programs (OTPs), with Ministry of Health support, that provide access to essential life-saving nutrition services.  
Naiya, a 29-year-old mother of three, recently joined the Community-Led Complementary Feeding and Learning Sessions (CCFL) implemented by World Vision to improve her family's nutritional status. Her two-year-old son, Fathi, upon an initial assessment by the health care workers, found that his Mid-Upper Arm Circumference (MUAC) was 12.5 centimeters. Without proper nutrition support, he was at high risk of severe malnutrition. As a result, the health workers enrolled Fathi in the CCFL program, and Naiya, his mother, participated in sessions that provided her with knowledge on preparing and providing nutritious food items such as milk, millet, and rice to diversify her child's meals. In just 12 days, Fathi's MUAC increased to 14 centimeters. 
Since joining the project, Naiya has attended weekly training sessions with other women to learn how to prepare nutritious meals for their children. Practical cooking demonstrations follow each session, helping mothers apply what they've learned. Naiya was also encouraged to create a kitchen garden, for which she received vegetable seeds and gardening tools
Now, I grow various types of vegetables in my kitchen garden," Naiya proudly shares. The homegrown produce has introduced new ingredients to the family's menu, improving their overall nutrition.
Another beneficiary of the project is Mary, a 30-year-old South Sudanese refugee with four children and a pregnancy. Her 18-month-old son, Deng, was malnourished with a MUAC measurement of 11.2 centimeters. The health and nutrition team enrolled her to CCFL and she was provided with essential food items, including milk, oil, sugar, peanuts, salt, and rice. After 45 days of visiting the World Vision clinic, Deng's MUAC increased to 12.6 centimeters. Mary also received gardening tools and vegetable seeds to establish her own kitchen garden, along with improved cooking demonstrations at the household level.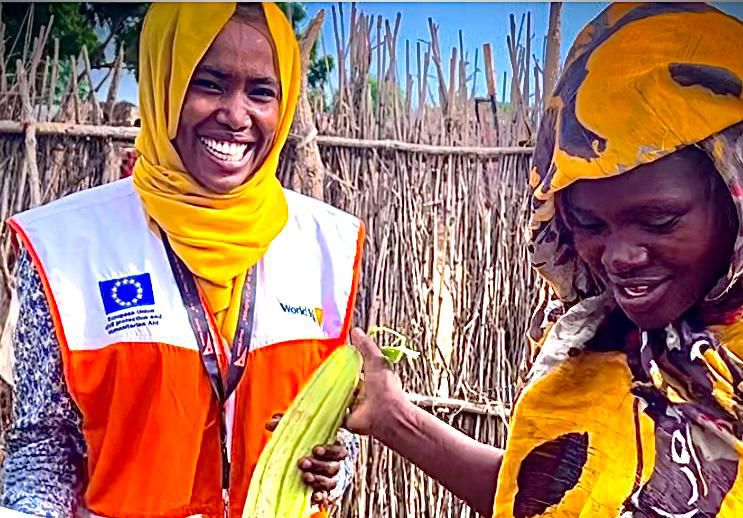 This project, implemented by World Vision Sudan in East Darfur, is funded by the German Federal Foreign Office (GFFO). The CCFL approach empowers mothers to use local ingredients to diversify their household's nutritional status. This is crucial for vulnerable communities as it not only reduces malnutrition rates but also helps households overcome the nutritional gaps resulting from a dependence on limited ingredients such as sorghum and millet in Darfur rural communities.
Through this CCFL, World Vision has supported 1,000 households,  working through 50 mother-to-mother care groups, in East Darfur since the conflict began.
At another primary healthcare center, we meet two-year-old  Seed who was presented with flu-like symptoms. The healthcare staff conducted a nutrition screening to aid in early detection and prompt treatment. Seed's MUAC measurement indicated malnutrition, measuring only 11.3 centimeters. Consequently, Seed was immediately enrolled in the outpatient therapeutic program (OTP) and initiated on a regimen of nutritious ready-to-use therapeutic food (RUTF), which is rich in essential vitamins and minerals designed to promote weight gain and increase energy levels.
In a recent assessment, Seed's MUAC measurement showed improvement, now registering at 12.4 centimeters. Seed will continue to receive RUTF until he is discharged from the clinic. This project is supported by UNICEF.
In this way, World Vision, along with the support of donors and dedicated healthcare workers, continues to make a positive impact on the lives of mothers and children in East Darfur, offering hope and health where it is needed most.
- Story by Gamal Ghalab, World Vision Sudan Communications Officer