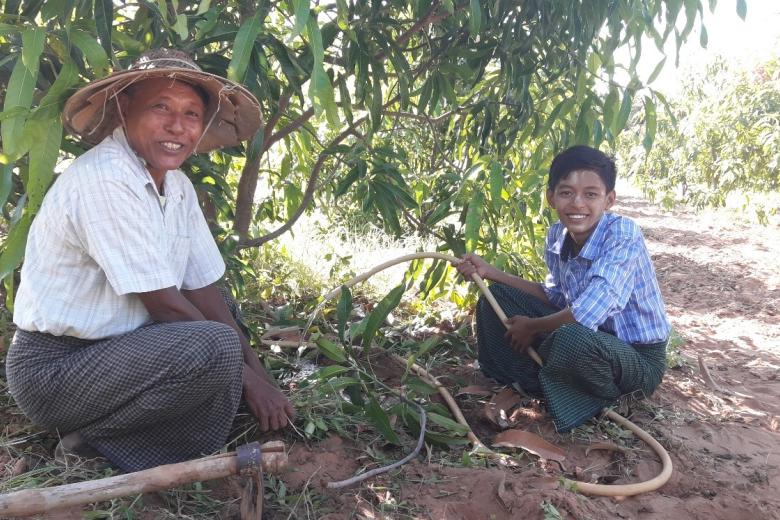 A farmer's dream
Tuesday, October 24, 2023
Thet, 15 years old registered child of World Vision Myanmar, Chauk Area Programme, lives with his family and grandfather in Chauk Township. Thet's grandfather, U Maung plants crops for a living. He grows peanuts, especially groundnut and sesame. U Maung did not earn much from crops selling due to climate change such as drought, lower yield and the quality of the crops was not good enough. Thet said, "Sometimes, I helped my grandfather on the farm to learn about the agriculture process and I can see the hard work of my grandfather."
U Maung mainly started up with his thinking and created ideas on how to reduce the dependency on rainwater for farming. Based on his thoughts, "The weather cannot be predicted, so I came up with the idea that perennial crops need to be planted together with other perennial crops, even if the crop is lost, another perennial crop can generate regular income." With this idea, U Maung collected local mango seeds to grow perennials, and then he prepared his seedlings and started planting (250) mango trees together with other crops such as sesame and groundnut.  Mango trees were well-grown but did not earn enough by selling mangoes due to inflation when he harvested.
In 2017, World Vision Myanmar invited farmers from Chauk areas to the meeting to plant perennials for long-term cash trees on Agro-forestry farms. U Maung had a chance to attend the meeting and got an opportunity to learn about Agro-forestry farming, especially on the planting of regular crops / perennial plants and long-term fruits.
After that, World Vision Myanmar supported U Maung with 150 mango trees, 10 Citric trees, 50 Guava, and (200) Thanat Khar trees to cultivate in his current farmland as an Agro-forestry design. Moreover, U Maung received agricultural natural compost-making training especially natural fertilizers (bokashi) and natural pesticide-making techniques such as fish amino acid, fungicides, and fruit stimulants / supportive medicines for well plant growth from World Vision Myanmar.
He applied the techniques he received from the training and produced self-made natural fertilizers and pesticides on his farmland. He also shared with other farmers in his community how to use them and their advantages.
 Thet family has been working on the plantation for years, but it is a semi-arid region, and they only get water during the rainy season, and there is no water in other seasons, so they face many difficulties with planting. To solve these difficulties, it is necessary to have access to water regardless of the season. By the suggestion and encouragement of the village Community-Based Organisation (CBO), U Maung submitted the proposal to request water access to World Vision Myanmar. Later World Vision Myanmar supported water access with necessary equipment such as water pipes and water storage for regular watering systems for plant growth.
Thet said, "In my grandfather's mango farm, I feel like I am a farmer working together with my grandfather and I am very happy to help him with the watering works."
Now, U Maung's mango farm produces fresh and qualified fruits as a result of using natural Bio-fertilizers and pesticides. Moreover, mango production has increased significantly year by year. In 2023, U Maung received more income from mango, as well as other crops such as fruits and vegetables, beans, and sweet potato. His family can reduce living costs by consuming the crops they plant. U Maung could support Thet's education from the profits of selling crops.
The agro-forestry farm has been functionalizing as one of the nature-based solutions for climate change and adaptation. It will help with the reforestation and regreening of Thet village and nearby villages for long-term effects.
Thet said, "I have spent 4 years on my grandfather's farm, and now I am beginning to feel the fruits of success. I am happy to see that the natural environment is becoming greener."