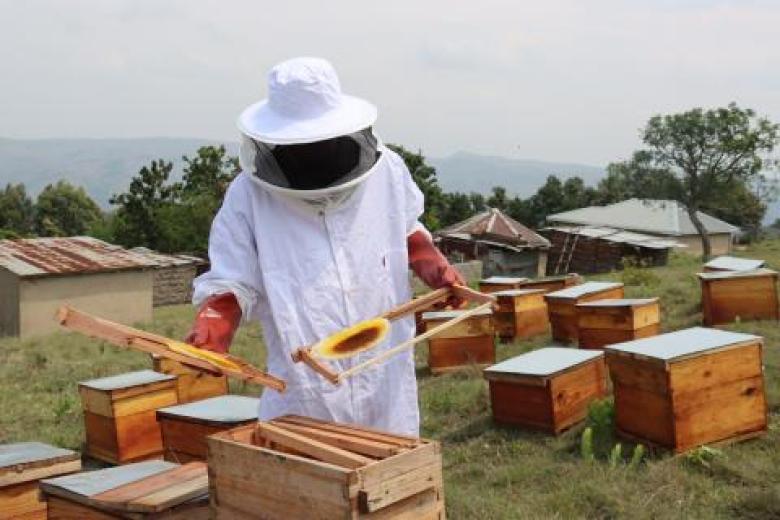 How World Vision Helped a Beekeeping Association Buzz and Thrive
Thursday, October 19, 2023
Imagine waking up every day, worried about how you're going to feed your family. That was the reality for 30-year-old Sipho Ngwenya and the other members of the Mgofolweni Bees Association hailing from the New Hebron community in Eswatini before World Vision stepped in.
For years, the association had struggled to make ends meet. They were using outdated beekeeping equipment and had difficulty finding markets for their honey. As a result, many of the members were living in poverty.
Sipho Ngwenya, who is part of the 18-member association, reflects back on the not-so-pleasant past. "We have been trying to do this beekeeping business since 2018, barely making enough money to survive as an association, worse, providing for our families. Looking back, I remember how we barely harvested half of the honey we get now," he says.
But everything changed when their Bucopho (community leader) linked the association with World Vision Eswatini's Mahlangatsha Area Programme Office. World Vision provided the association with new beekeeping equipment, training, and access to new markets.
"First, we were trained on beekeeping by an expert World Vision had hired. This organization additionally donated beekeeping equipment which included 110 beehives, which includes supers, and two sets of protective clothing for beekeepers. Each person own in the Association owns a total of five boxes. The remaining boxes will be used by new members who are willing to join us", Ngwenya said.
The results were immediate. The association's honey yield doubled, and they were able to start selling their honey to major retailers like Pick'n'Pay and Bulembu Honey. The  members of the association also saw their incomes increase significantly.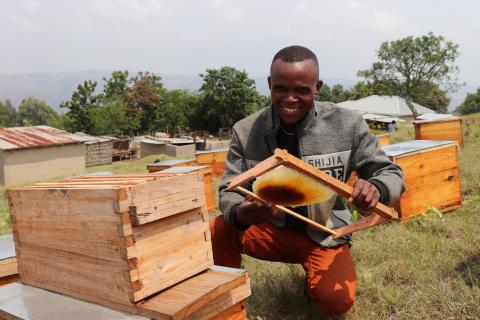 "The benefaction from World Vision was not the only thing we received. They also linked us with markets for our honey. You are looking at a supplier for Pick'n'Pay Eswatini and Bulembu Honey. Who would have thought?  We also get support from locals", he says, his face beaming with pride.
Ngwenya states that before getting the help, he would harvest the honey using his old supers once a month, making a total of SZL 1,500 (about USD 80), whilst now, he harvests it twice a year, and he makes a total of SZL 2,500 (approximately USD 132) from each harvest, which makes a sum of SZL 5,000 (about USD 235) a year.
The impact of World Vision's support has been life-changing for Ngwenya and his family. He is now able to provide his children with the food, clothing, and education they need to thrive. He is also more optimistic about the future than ever before.
"My children have enough food, enough clothing, enough everything," Ngwenya says. "You will never find my children wearing torn shoes. I can provide enough basic needs."
"Even my mental health has upgraded. I have less stress now knowing I have something to look forward to everyday, something that really has a great impact in my life", The father of two adds.
When asked what kind of future plans the association has, Ngwenya says the sky's the limit. "We're going to have a savings account which will be dedicated to buying a maize milling centre. With the training World Vision provided us on how to manage our financial books as an association, this is very much possible," he says.
Zandile Matsebula, Mahlangatsha Area Programme's Development Facilitator states that World Vision is always halp to help capacitate people to bring about change in their lives.
"Through our Livelihood Technical Programme, we assisted this Association because not only were they giving this business their all, but because the environment at Mgofolweni is also friendly for such a business meaning there was a lot of potential. We built capacity and helped them produce their produce at a large scale", she said.
As the Mgofolweni Bees Association continues to listen to the hive and let the bees guide them, their story is a testament to the power of community and the importance of investing in people. With World Vision's support, the Mgofolweni Bees Association has been able to transform their lives and create a better future for their families.