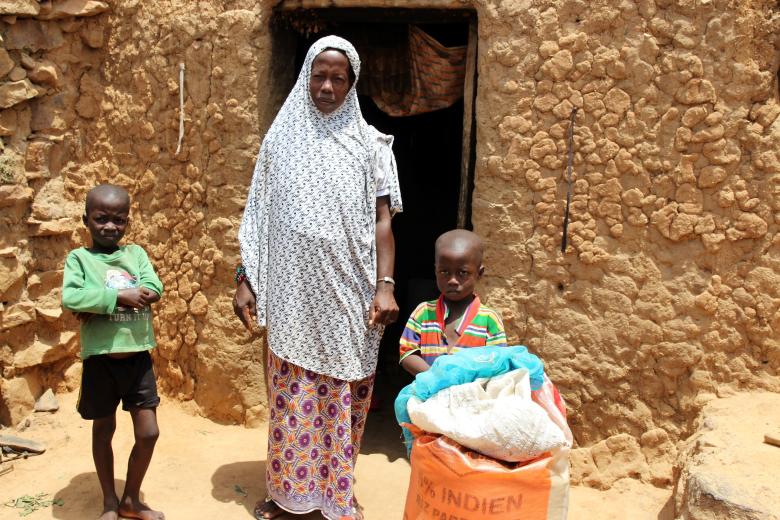 " They took away all our food rations ", tells Aramata.
Tuesday, September 19, 2023
Mali, shaken by a multidimensional crisis, has been going through a dark period for more than a decade, and the country is in a situation of real fragility. The population living in insecure areas has not been spared from the consequences of the crisis : threats, intimidations and even attacks.  
As a result, a lot of people from those area are forced to seek refuge elsewhere, often far from home, fearing to be killed by armed groups that frequently target them. It is the case of Aramata and her family. 
The 46-year-old mother of 7 children (4 boys and 3 girls) saw her village attacked twice in a row by dozens of armed men very early in the morning. These unexpected events were a nightmare for the people of her village. 
"It was around 5 o'clock in the morning when they attacked us. It was terrible. They tried to kill our men and took all our food rations. So, we decided to flee with the children to a nearby village". 
This forced displacement was the beginning of an unexpected and unpleasant adventure, because not only had they lost everything they owned, but the displacement had also worsened their living conditions and made life precarious for them. 
"When we arrived, we introduced ourselves to the village chief and explained our situation. He agreed to help us and asked the villagers to welcome us as brothers and sisters," she revealed. 
Did her neighbours' acceptance mean the end of the nightmare for Aramata and her family? 
The answer seems to be quite the opposite, even though she was able to escape the attackers with her husband and children.  
 "Unfortunately, we couldn't farm there [in the host village] because we had no land. But from time to time, we would help our hosts in their fields and they would help us in return by giving us food rations, even if it wasn't enough ", she said. 
What did it take for this mother, her family and all the other displaced people to have enough to eat?  
"Given our status as displaced persons and our inability to cultivate the land, the village chief reported our living conditions to the mayor of his commune so that an NGO could come to our aid ", Aramata told us.
Was her prayer answered? Probably yes, because it turns out that World Vision, in partnership with World Food Program, had set up a food aid operation to meet the immediate food and nutritional needs of households, including displaced and vulnerable people affected by the conflict in central Mali. 
"They helped me with food six times. The rations consisted of 18 kilos of lentils, 81 kilos of rice, 4.5 liters of oil during the first four months. In addition, I received 100 kilos of rice, 10 kilos of sugar, 15 units of spaghetti, 4 kilos of sugar and 3 kilos of salt and 4 units of magic cubes during the last two months". 
"When I received my first rations, it was a relief for my whole family, including my children, they ate well and were very happy. They rarely got sick." 
According to Aramata, after a period of peace in their home village, they decided to return to rebuild a better future.
"Although we have returned home, we are still receiving the rest of the food that was meant for us. It will last for another 3 months or more because this year we haven't been able to cultivate all our fields, especially those that are far from our homes. We are afraid to go there", she hopes.
"We hope that the next distributions will help us to survive until the next harvest. We are grateful to World Vision and WFP for the support they have given us during our displacement, and we wish the conflict to end so that we can be able to live peacefully because conflict is not good", concluded this mother of seven. 
World Vision's food distributions have reached 332 conflict-affected displaced households in the commune of Doucombo in the Bandiagara circle in central Mali, enabling them to meet their immediate food needs.