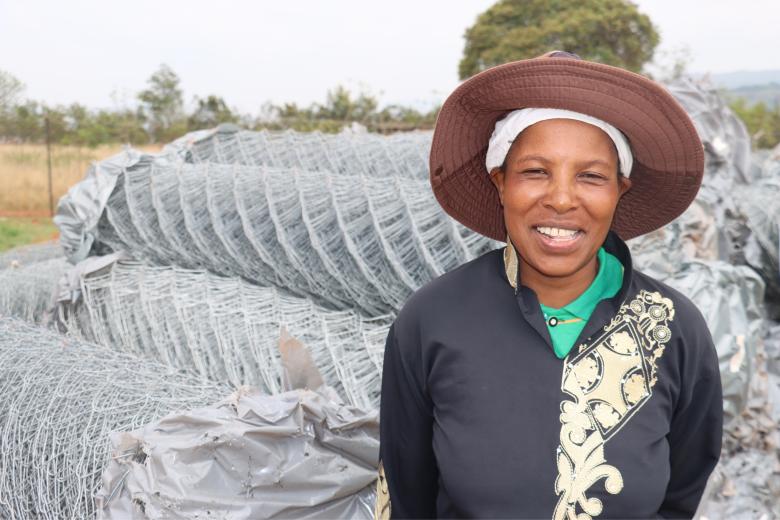 World Vision Empowers Communities for Sustainable Gardens
Monday, October 30, 2023
Dlamini smiled as she received the roll of fencing from the World Vision staff. She had been wanting to start a backyard garden, but she didn't have the money to buy fencing to keep the animals out. Now, thanks to World Vision, she could finally make her dream a reality.
Dlamini is one of 50 households in the Mambatfweni community who received 10m by 10m fencing rolls from World Vision  Eswatini on October 12, 2023. The fencing is part of World Vision's efforts to encourage families to start backyard gardens and improve their food security.
"May the Lord multiply where this is coming from because now I will be able to grow something on my yard and feed the grandchildren I stay with healthy vegetables," says Dlamini,
World Vision is integrating its Livelihood and Water, Sanitation and Hygiene (WASH) Technical Programmes to help families grow their own food and improve their nutrition. This is just one of the ways that World Vision is working to ensure there is enough food to end child hunger.
The Mambatfweni community has recently been connected to the Mambatfweni Water System through World Vision Eswatini's WASH technical programme, the water system provides water to about 900 people, including children. This access to water has now made it possible for families to grow their own food even during the dry season.
"Our goal is to ensure that children are well nourished across our programming reach. By integrating our technical programmes, we are achieving this goal and also helping families put food on their tables", Simanga Mkhombe, World Vision Eswatini's Manzini-Hhohho Cluster Manager said.