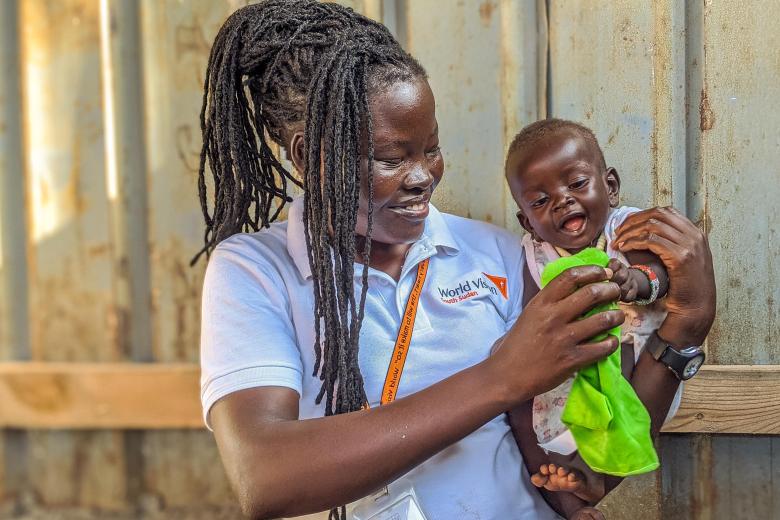 Her story: Becoming a humanitarian in South Sudan
Wednesday, March 8, 2023
Ajio Bridget, WV South Sudan nutrition staff, reflects on the pains and joys of being a woman and a frontliner at World Vision's emergency responses as she supports women and children recovering from starvation and poor health. She shares her story of becoming a humanitarian in one of the world's least peaceful countries and a country that ranks among the top 10 countries in the world's most vulnerable to climate impact, including droughts and flooding (South Sudan Humanitarian Needs Overview 2023)
I'm a woman, a humanitarian, and an emergency health worker.
I agreed with Arnold Schwarzenegger when he said, "In our society, the women who break down barriers are those who ignore limits." Indeed, women have vast potential, primarily when provided opportunities to learn and grow. And when women support each other, incredible things happen. I hold on to these thoughts as I encounter women whose strength and tenacity are unwavering, especially in the face of adversity. 
South Sudan is facing an unprecedented number of humanitarian situations today. Protracted conflicts, natural disasters, and devastating food insecurity grip communities nationwide, threatening lives and livelihoods – and women and children bear tremendous consequences. 
Over a million South Sudanese children severely affected by conflicts and disasters live in internally displaced people (IDP) protection of civilians (PoC) camps. Fleeing for survival and living in the camps impact their lives physically, socially, mentally, and psychologically. 
As a humanitarian worker, my core commitment to children and women is fulfilling the rights of children and women affected by humanitarian crises. In a nutrition emergency, every second counts. A timely, coordinated response can safeguard children's minds, bodies, and futures.
During humanitarian crises, World Vision's foremost priorities are to prevent death from starvation and disease and to reduce malnutrition. As a humanitarian worker, my core commitment to children and women is fulfilling the rights of children and women affected by humanitarian crises. In a nutrition emergency, every second counts. A timely, coordinated response can safeguard children's minds, bodies, and futures.
We protect children's and women's rights to food and nutrition in emergencies. With funding from UNICEF and World Food Programme, we identify and treat children suffering from acute malnutrition, provide fortified foods and supplements to prevent vitamin and nutrient deficiencies, protect and promote breastfeeding, and support families in providing safe and nutritious food for young children.
Malnutrition is deadly: a child suffering from severe acute malnutrition is nine times more likely to die than a well-nourished child. And nothing is more painful for a mother than witnessing the deterioration of her child's health or the death of her dying child.
But the dire consequences of malnutrition are not always visible from the outside. Poor diets also inflict devastating damage on the inside, stunting children's growth, impairing their brain development, and leaving them susceptible to disease.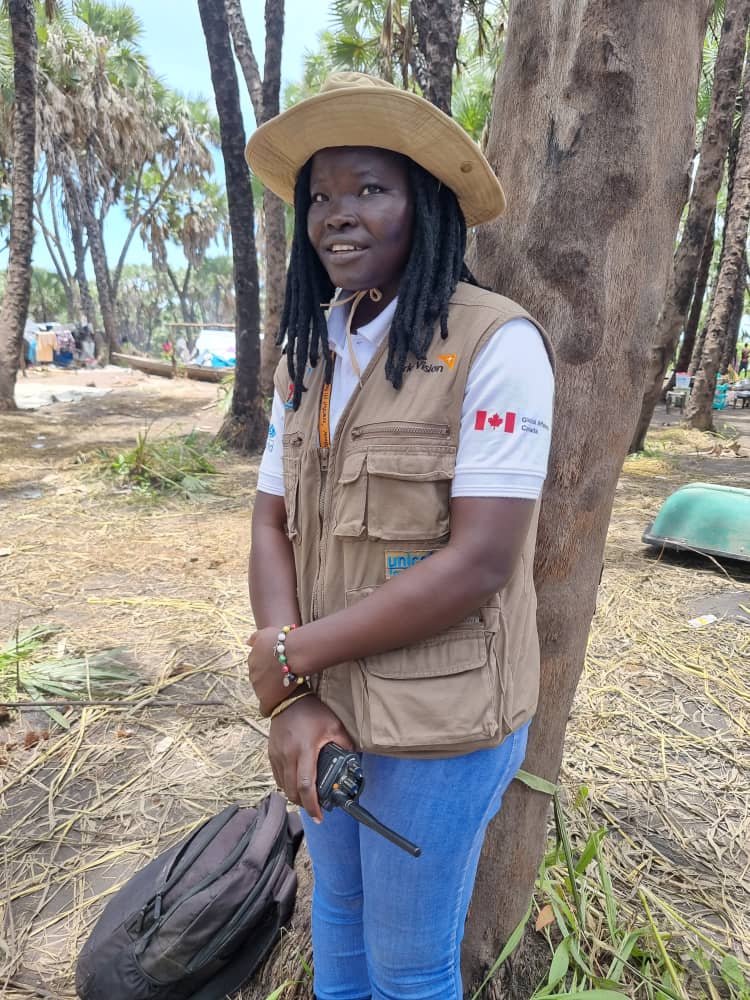 I have worked in the fragile context for a very long but the most heart-melting moment that has moved me emotionally and made my heart bleed and shed tears was the conflicts of 2022 in Upper Nile, where thousands of IDPs from Tonga fled for their safety in Panyikang county which is miles away from where they came from. They spent several days reaching this place after being thirsty and starving. 
Limited access to safe food and clean water and disruptions to essential health and nutrition services often characterize humanitarian crises – a lethal cocktail of undernutrition.
As we were doing the screening, one of the community nutrition volunteers came to me reporting about the situation of a woman who gave birth on arrival at the camp. I could imagine how traumatized the mother was with all she experienced from her fleeing the home with a termed pregnancy, the small children, and sleeping in the cold with her newborn. She was at risk of developing Postnatal Psychoses. So, I ensured that this woman received proper nutrition for pregnant and lactating women. Our team registered her and her family, and she received her food and other necessary supplies. We also established an emergency nutrition facility to continue providing nutrition services to the IDPs in the camp since all the facilities from the affected locations were looted. 
Then a few weeks after, as we were planning to do monitoring together with UNICEF as the nutrition cluster lead in the country, I received a call from our staff on the ground saying the IDP camp had again been attacked, and women and children were struggling to escape from the attackers. They were trying to swim to Owach before crossing to Malakal town. This message almost crushed me. I couldn't control my emotions as tears rolled down from my eyes, and I felt my heart was bleeding. Those who survived went to Owach and later to Malakal PoC. All our energies and support, and work went down the drain.
Another painful experience happened in west Bank Fashoda County in the last quarter of 2022. As we planned to complete our targets for the year, most of our nutrition facilities outside Kodok town were looted as site guards and staff fled for their safety because of the internal conflict that hit parts of Fashoda County. As a front-line humanitarian worker, I had to support the team in Kodok to provide emergency nutrition services in the IDP as these people came with barely anything. Therefore, we established a screening center at the entrance point of the IDP Camp. We identified children with severe and moderate acute malnutrition and immediately gave them treatment, including preventive packages such as treated bed nets, soaps, etc.
We helped mothers and caregivers with children 6-59 months know and understand the importance of maternal, infant, and young child nutrition, exclusive breastfeeding, and good hygiene practices through health education sessions conducted in the camp.
All these experiences give me more than enough reasons to continue doing what I do as a nutrition staff. I am very proud to be part of this great, fantastic team and to have the opportunity to serve the neediest people at the pike of emergencies, and I am a strong woman; I don't limit myself; I always look for a challenge in the eyes and give it a wink.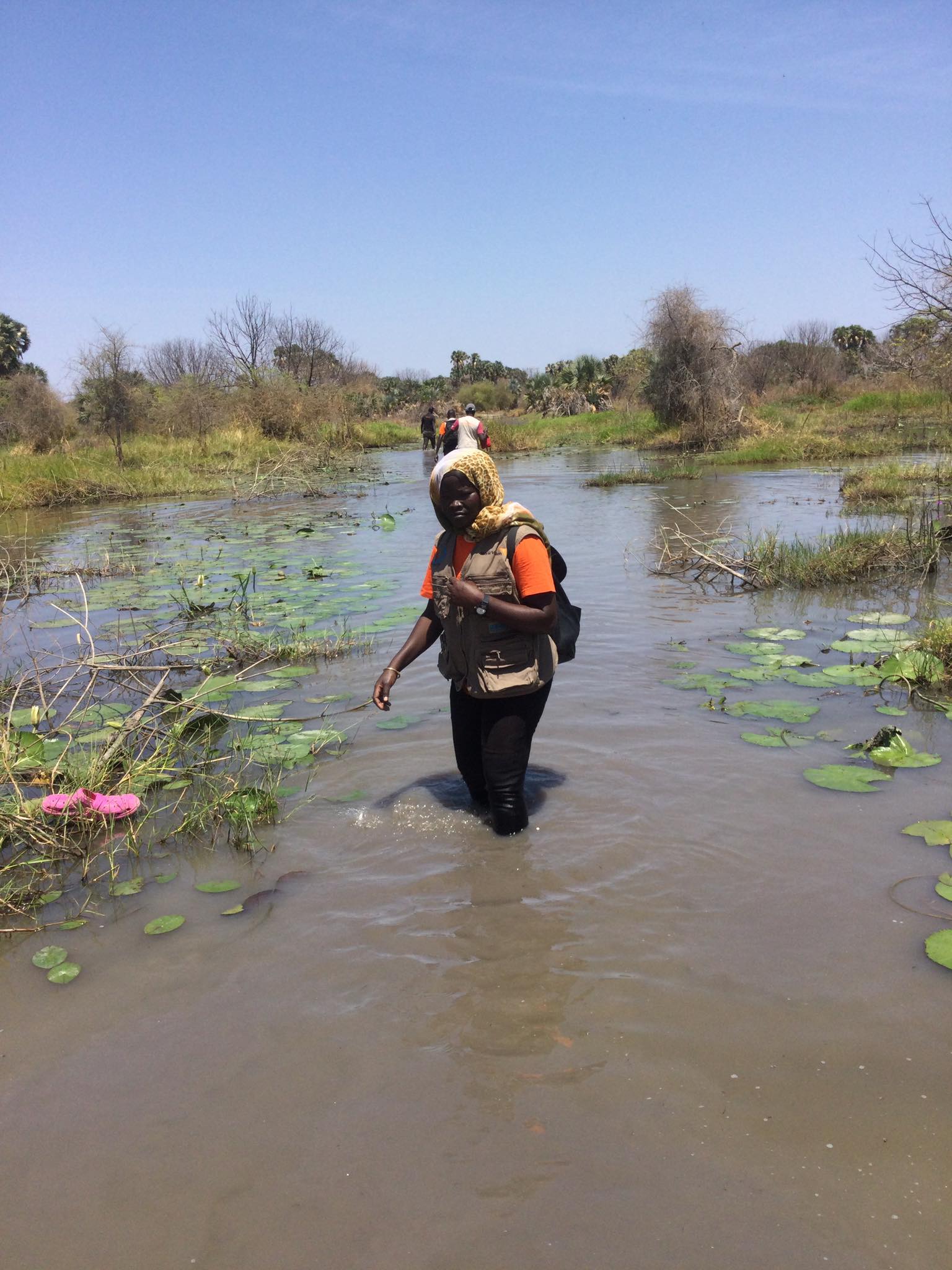 To all the humanitarian workers, please let us work hard to give hope for women and girls in South Sudan to arise and shine. 
To the mothers I have met in the IDP camps during the responses, you will forever be in my heart. Your stories give me hope and strength to serve this nation despite its many challenges.
Story by Ajio Bridget, WV South Sudan Nutrition Staff. Photo ©WorldVisionSouthSudan