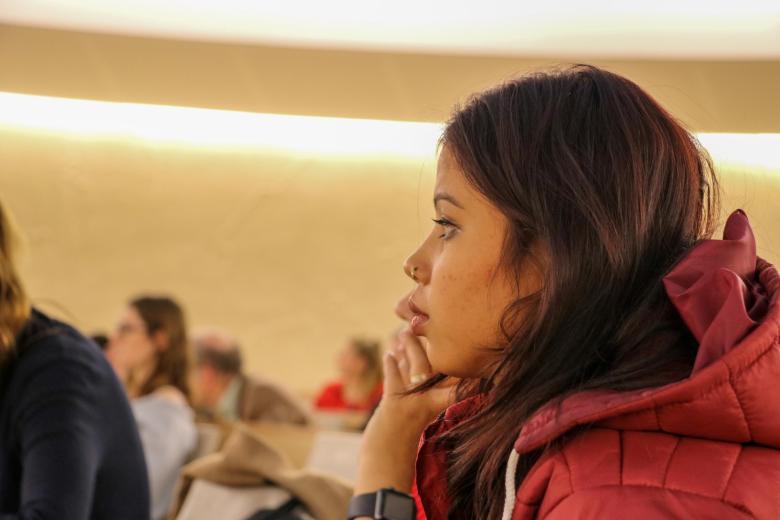 A child marriage story: child rights in Nepal
Monday, November 25, 2019
By Dibya, 17, Nepal
Five years ago, when I was just 12 years old, I started going out with a boy from a nearby village. Everything was fine until this boy started pressuring me to marry him. If I didn't, he threatened to marry someone else.
My father passed away when I was an infant, and my mother took care of us by farming vegetables on our small piece of land and running a local grocery shop. But it wasn't enough to sustain our family. Times were difficult, and my mother struggled to look after us.
I belong to the Tharu ethnic group that comes from the southern foothills of Nepal. If you see where I come from, it is a very remote place. It has not been so many years since we first had an electricity connection in our village, and access to the road and the ability to travel in a vehicle is something to cherish for the people of my community.
Marrying at a young age is a very common practice among the people here. My community allows its daughters to live with their future in-laws without any kind of formal ceremony. And unfortunately, although I never intended to, I became a victim of this practice.
When this boy came to me and threatened to marry someone else, I was hurt and sad, but I did not intend to marry because I knew that marrying at such a young age would mean I had to give up my studies. I told them my dream was to continue school, but it was hard for me to resist. The boy's mother arrived at my house and asked me to come live with them. And finally, after a few days, she took me to their house by force.
Just a few days later, the boy left for India to work, like many of the other young men in our community. But I didn't get to go home – his family made me do all sorts of household chores and I was followed everywhere I went. I was not allowed even to have a phone conversation with my family. My brother and mother came and tried to take me home, but my in-laws wouldn't allow it.
It was only after a year, on the day of Bhaitika, a Hindu festival, that I somehow managed to escape and return back to my mother.
My case was reported to the Child Club that works with the local government's Ward Child Protection and Promotion Committee (WCPPC). The WCPPC worked with the boy's family and my mother, and got them to sign an agreement that said neither the boy nor I could marry until we turn 20 – the legal age of marriage in Nepal.
I had lived with my in-laws for a year, but now I am back to my family – to my mother and brothers. At present, I am pursuing my high school education, focusing on management studies. I have also become the chairperson for my local Child Club, and am trying to help others the same way they once helped me. I am happy with what I am doing at present.
I used to be very nervous, and was not able to even introduce myself properly. After being associated with the Child Club, I have gained confidence, and I am able to share my story with others. We're working to stop child marriages in our village, and we are making parents aware of the issues caused by child marriage and the laws against it. However, many of the families that marry their daughters early in our community do so because of financial constraints – sons are sent to India to find work, and girls are married. Until our community gets economic development, it will be hard to stop child marriage, and give us all the rights the Convention on the Rights of the Child says we are due.
Dibya's Child Club is part of a World Vision advocacy project, and Dibya is also part of our Young Leader's programme, which supports young people in sharing their stories and advocating for themselves and their peers directly with leaders around the world. Dibya recently attended the Convention on the Rights of the Child 30th anniversary conference at the United Nations in Geneva, and spoke with leaders from Girls Not Brides, Oak Foundation, and World Vision today (25 November) about the gaps between practice and law that allow child marriage and sexual violence to continue.