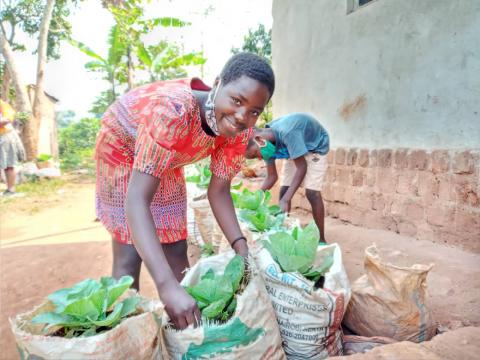 Kitchen gardening boosts children's immunity amidst COVID-19 
Wednesday, August 26, 2020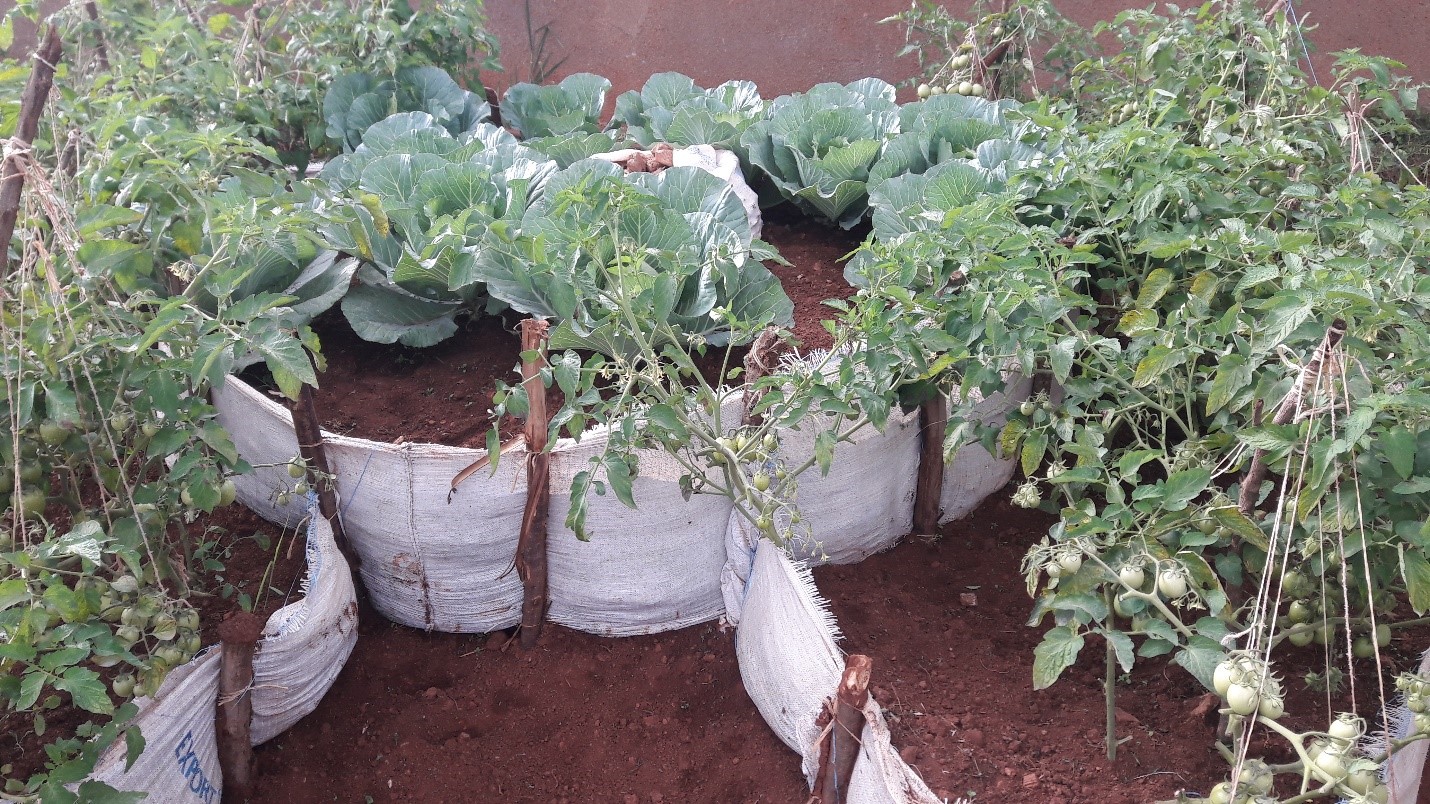 Jowelia, 14, lives in Butambala District in central Uganda. She boasts of good health despite COVID-19 havoc. She is a beneficiary of kitchen gardening, a World Vision promoted initiative of growing a variety of vegetables, herbs, and fruits of one's choice on small portions of gardens around the home. The initiative aims to build resilience as well as provide essential vitamins and minerals to vulnerable households. 
Jowelia is also a member of a child protection committee in her community advocating for access to nutritious foods. In Butambala District, there are 24 child protection committees, each comprising 18 children aged between 10-16 years.
The fast-spreading COVID-19 is a serious threat to food security. Many families in Uganda are not accessing nutritious foods, and children are the most affected.
According to the July 2020 UN report on the State of Food Security and Nutrition in the World, the COVID-19 pandemic could tip over 132 million more people into chorionic hunger by the end of 2020.
It is against this premise that we at World Vision are working with children, their families and communities to ensure every child thrives; their futures filled with hope, well-being, and promise.
Compelled by our beliefs and experiences, we seek to collaborate with a wide spectrum of partners, supporters, and others to roll out kitchen gardening in every household so that children like Jowelia won't suffer from hunger if the pandemic continues to cause disruptions.
"We now have a kitchen garden at our home, thanks to World Vision," said Jowelia, pointing at her garden of flourishing vegetables. "In my group we were 18 children and our parents were also invited to participate in the training. We are now all growing vegetables and this has boosted our diet. Personally, I used to fall sick often because I lacked some important body nutrients according to doctors. But since I started eating vegetables almost daily, my health has greatly improved." Today, Jowelia's group has grown to 25 members (14 girls and 11 boys), each representing a household.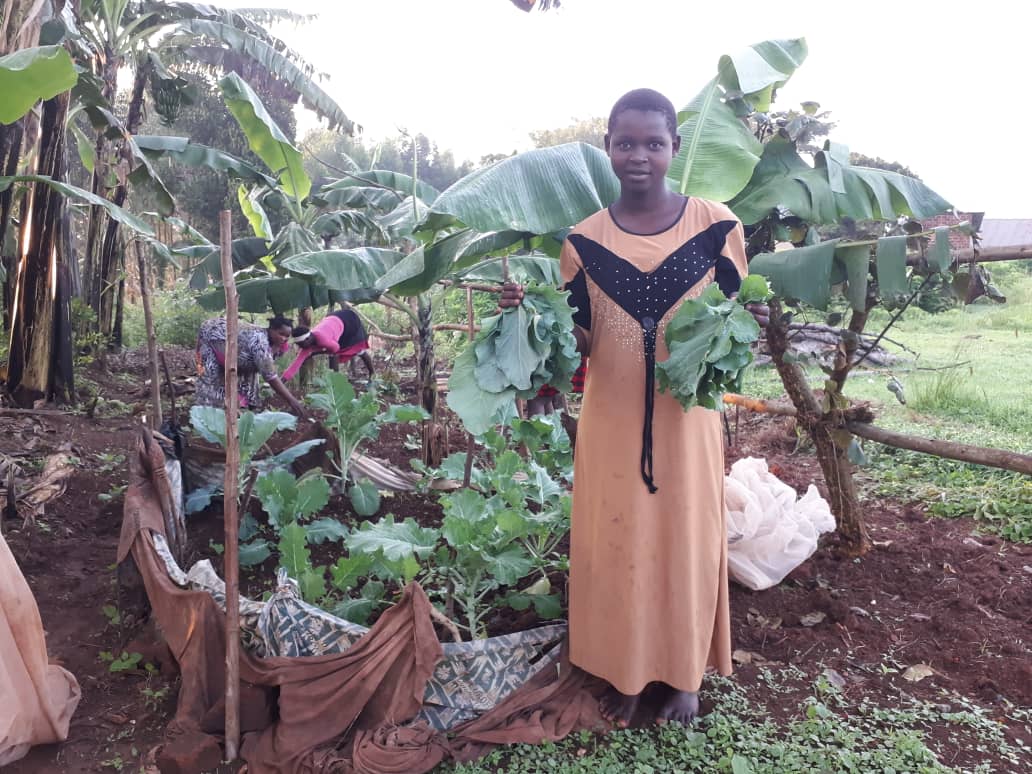 Rehema Ndawula, 40, is the patron of the group. She says that it was a difficult time for most parents in her community when children were abruptly sent home to contain the spread of novel coronavirus in schools.
"It was a real dilemma for many of us parents," says Rehema. "Like most parents, I wondered how I was going to take care of my children. But, thanks to World Vision's timely response, it is six months down the road since the schools were closed and our hopes are still high that we shall overcome."
Rehema was among the first batch of parents who were trained together with their children on how to make kitchen gardening. "After the training I was greatly inspired and immediately set up my own [kitchen garden]," she said.
Rehema is now able to provide her family with a balanced diet, including vegetables readily harvested from the kitchen garden just a stone throw away. "My children are now looking healthy," said Rehema, a mother of five. "The colour of their hair has changed and really looking beautiful. They have also gained weight and not falling sick often as before. I thank World Vision for a timely rescue because I can't imagine what life would be with all these disruptions caused by the coronavirus.  
Rehema has not kept all she learnt to herself. As a member of Seta-Bweya Household Cluster, she is sharing her expertise and experience with other parents in her household cluster. "Sharing is caring," she said. "So, I want all children in my cluster to be healthy and for parents to save that money for buying vegetables for other basic needs."
The Approach
The Household Engagement and Accountability Approach is a World Vision community-focused approach that brings together 10 to 20 households in densely populated communities and five to 10 in sparsely populated communities. The approach promotes different aspects of child wellbeing, including health, education, livelihoods, and child protection at the household level.
The approach also promotes community mobilisation, engagement, and accountability using participatory principles. It equips and strengthens families and caregivers to be the first line of protection and care for children. It also strengthens linkages and engagements between household members and their local governments as well as Civil Society Organisations for quality service delivery.
Leo Toorach, Resilience & Livelihood Specialist with World Vision Uganda says a typical kitchen garden measures about 10m by 15m and one can grow in it all kinds of vegetables like amaranthus (dodo), cabbages, kale, spinach, tomatoes, eggplant, and carrots. "You don't need a big land to create a kitchen garden," said Leo. "You just need to have passion because you can even do it on your verandah or in sacks put around the house."
Learn More
Learn more about the work World Vision is doing to improve the health and nutrition of children in Uganda as well as how to make your own kitchen garden.
Story by Martha Nakabuye, Sponsorship Operations Officer and Sophia Aloikin, Donor Liaison Officer, World Vision Uganda