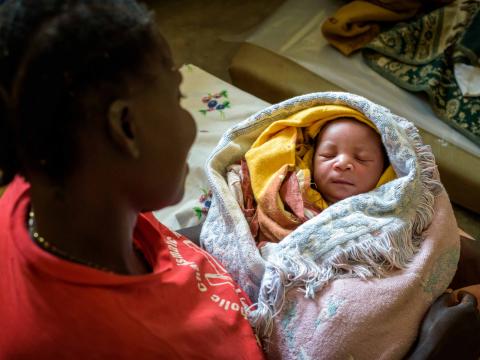 Health and Nutrition
Good health for all...
In Uganda, as it is in most developing countries around the world: children are dying before they have a chance to live, mothers are dying in childbirth, malnutrition and outbreaks of disease are devastating communities. We don't want any of these things to happen. In fact, we want all children and their families to experience good health. To ensure this happens, our teams focus on three essential ways to improve health and reduce mortality: good nutrition, protection from infection and disease and access to essential health services.
With protection from diseases that have previously blighted their existence, families can live fuller, freer lives and parents can work to provide for their children's needs.
With the proper nutrients, children can grow and work toward their full potential. And, with access to essential health services, motherhood becomes a positive experience without suffering, illness, or death.
At World Vision, we have a tried and tested strategic approach to solving complex health problems. We help bring about lasting behavioural change by providing training in good health practices and connecting communities to what works so children and families can survive and thrive. We help families to protect their health by advocating for improved health services with better practices.
We are working hard to reach vulnerable mothers, children, and adolescents all over the country. Despite our efforts, thousands still don't have access to what they need to thrive. For example:
Poor nutrition accounts for 60% of deaths among children under five; with 14% of children being underweight and 33% stunted.
The top killers of children younger than five are pneumonia (13%), diarrhoea (8%), neonatal sepsis (7%), malaria (5%), measles (1%), and AIDS (1%) 3
Child marriage and teenage pregnancy rates a major concern, with HIV still remaining stubbornly prevalent and the second leading cause of death among adolescents
Our Approach
Our teams work to strengthen health systems to serve vulnerable populations. This includes: the distribution of medication and medical supplies, working alongside the Ministries of Health to address pneumonia and diarrhoea and providing nutrition awareness and education to mothers.
Our community-based model has been refined and expanded over the years and helps establish sustainable solutions that lay the foundation for a healthy life.
Community health workers are often local volunteers who are equipped and trained to provide emergency front-line care and the most essential life-saving interventions. They can help prevent many, if not most, child deaths as a result of preventable causes such as diarrhoea, pneumonia and malaria. They also equip parents with the knowledge and skills they need to prevent disease and promote good nutrition and hygiene.
Long-term engagement ensures that mothers, children and adolescents are well-nourished, protected from infection and disease and have access to essential health services.
Here are some of our areas of focus:
One of the things that set World Vision apart from other organizations in Uganda is our unique "7-11" framework, featuring seven preventive core interventions to protect the health of new mothers and 11 interventions to ensure babies flourish. Interventions include ante- and post-natal care, good nutrition for the mother, protection against malaria, TB, and other infectious diseases, newborn care, breastfeeding, medical care and complementary feeding to prevent malnutrition.
Timed and Targeted Counselling
We use this approach to deliver critical messages to mothers and their families about maternal, newborn and child health during the first 1,000 days of a child's life. Messages are carefully scheduled to provide enough time to act. This counselling supports families facing cultural, financial or geographic barriers to adopting healthy practices.
"Positive deviance" means straying from the norm, but in a beneficial way. Despite stark poverty and food scarcity, some parents find ways to raise well-nourished children. This programme seeks to determine what "positive deviant families" are doing differently from the parents of malnourished children in the same community in order to help others replicate their actions to fight malnutrition.
Community-based Management of Acute Malnutrition (CMAM)
This programme helps identify and initiate treatment for children with acute malnutrition before they become seriously ill. Caregivers provide treatment in the home using "Ekitobeero", that is, Ready-to-Use Therapeutic Food (RUTF) and routine medical care. When necessary, severely malnourished children with medical complications are referred to inpatient facilities for more intensive treatment.
The BabyWASH programme integrates water, sanitation and hygiene (WASH) interventions into maternal, newborn and child health in order to have a more profound impact on child health in the first 1,000 days of life.
Citizen Voice and Action (CVA)
Through CVA, we empower families to learn about basic human rights and help their communities work collaboratively with the government and service providers to improve health services.
This programme helps local faith leaders promote preventative practices, encourages the development of good habits and fights the cultural stigma surrounding diseases such as HIV and AIDS.
Our mHealth mobile technology provides training (via radio distance learning programmes), collects data and connects people in the field with health-facility staff.
With the support of our donors, we are amplifying a strong local and national presence by mobilising partners and supporters worldwide.
Impact*:
1,583,570 most vulnerable children reached
2.6 million people supported with health and nutrition
31.6% newborns who received postnatal care within 48 hours of birth (up from 0.9% in 2015)
30,864 children monitored for growth 
6.9% underweight children under five in project areas (down from 9.5%)
2,135 Village Health Teams trained to reach every household with a pregnant mother and child before 2 years
662 children aged 12-13 months (324 boys and 338 girls) were fully immunized
24,111 children and pregnant women were protected from malaria through the distribution insecticide-treated bed nets
17,863 children were tested for malaria and over 15,000 children were treated for the disease in 2018
20,272 households adopted appropriate nutrition practices and almost 30864 children younger than five were treated for acute malnutrition and monitored for appropriate growth
10,868 households had access to improved and safe sanitation facilities and demonstrated appropriate hand washing behaviour
23,223 pregnant women were offered HCT and received their results
16, 774 pregnant women attended 4 antenatal care and 13,418 mothers were attended to by a skilled attendant
*Statistics as of 2018
Related Resources