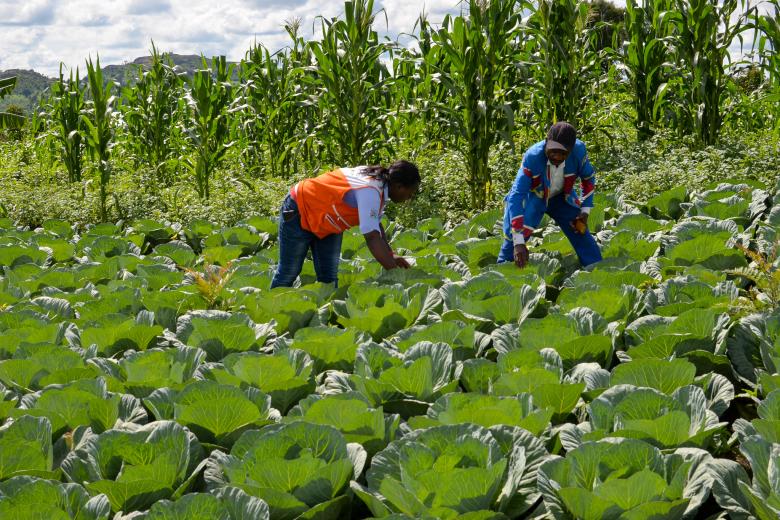 Kitchen Gardening; A New Innovative to Supplement Food Rations Among Refugees in Uganda
Thursday, November 7, 2019
"Food is now the least of our problems," says Everest Gato, a jubilant farmer and refugee from the Democratic Republic of Congo who was among the first beneficiaries of the World Vision Kitchen gardening project in Kyaka II Refugee settlement. "We have raised money to look after our children and even pay school fees. I have two children at school that I support with money from these gardens. I am also happy to see some of the community's most vulnerable people, especially women and children, coming to my garden to collect some vegetables. It feels good to help such people."
According to a 2019 report by the Food and Agriculture Organisation of the UN (FAO), in Uganda refugee households have high levels of food insecurity compared to host communities, which negatively affects their Resilience Capacity Index. This high level of food insecurity results from the fact that refugees' access to land is limited and that they have fewer animals and produce fewer types of crops, or no crops at all. As such, they remain highly dependent upon humanitarian assistance to meet their basic needs and are often forced to adopt negative coping strategies to deal with food shortages.
On a monthly basis, refugees receive food rations that vary depending on the size of the household.  As part of their food rations, they receive cereal, cooking oil and corn soya blend among other items. Refugees are sometimes forced to sell a portion of their food to pay for other necessities, including medicine, and often don't have enough food to feed their families until the next distribution. Another shortfall of the distributions is that eating the same kind of food every day is that not only is the food monotonous, constant diets often lack the nutrients (vitamins and minerals) necessary for proper nutrition. 
In order to address some of these needs, World Vision has developed and is implementing an innovative approach to ensure refugees have a variety of foods and nutrient alternatives at their disposal, both boosting their household incomes and nutrition levels at the same time. This has been achieved through the introduction of kitchen gardens, an approach that allows refugees to maximize the small pieces of land provided to them to grow high-value and nutrient-dense vegetables.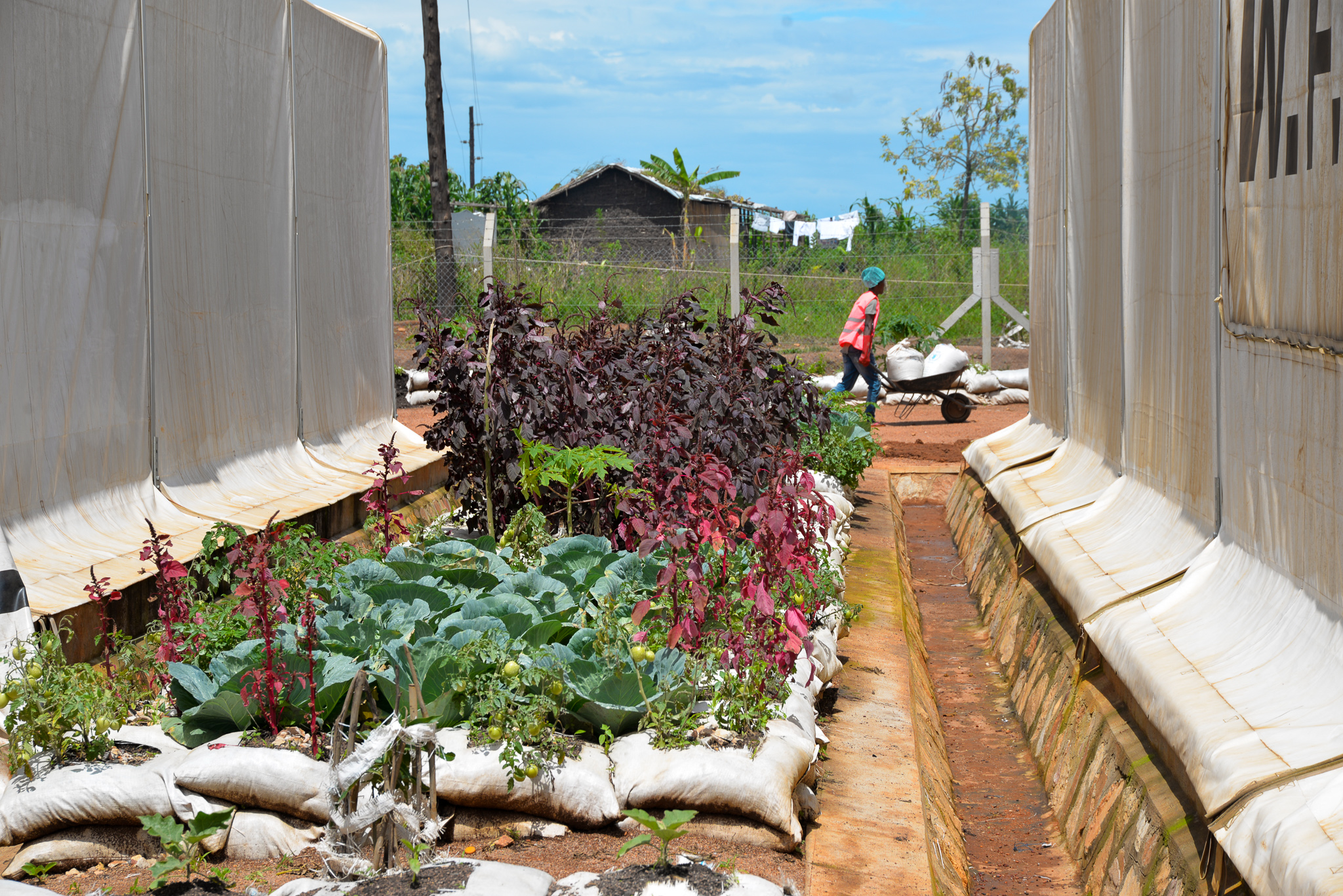 The pilot started in Kyaka II refugee settlement in south western Uganda early in 2019 and consisted of two kitchen demonstration gardens which were planted at two food distribution points; Sweswe and Byabakora, to show refugees collecting food how achievable the method is. After the initial demonstration, five community leaders were also given seeds to try this in their communities and encourage others to follow suit.
"This project is a combination of food assistance and livelihood development," said Mable Tungu, World Vision livelihood officer in South Western Uganda. "We thought of how to best address the issue of refugees having no [access] alternative source of food or having some extra food in case their rations run out or if there is a delay. We therefore decided to come up with these kitchen demonstration gardens which we use to teach communities how to replicate and do the same in their homes. The results have so far been remarkable," she added. 
The demonstration gardens comprise a variety of high-value, easy-to-grow vegetables, especially those liked most by the community. These include spinach, red amaranths, onions, cabbages, tomatoes, green peppers and so many others. These vegetables are rich in many nutrients including potassium, dietary fiber, vitamin A and Vitamin C.
The gardens are planted on a very small piece of land of about 700 square meters which is almost the same size available to the refugees, who are allotted about 0.09 hectares of land.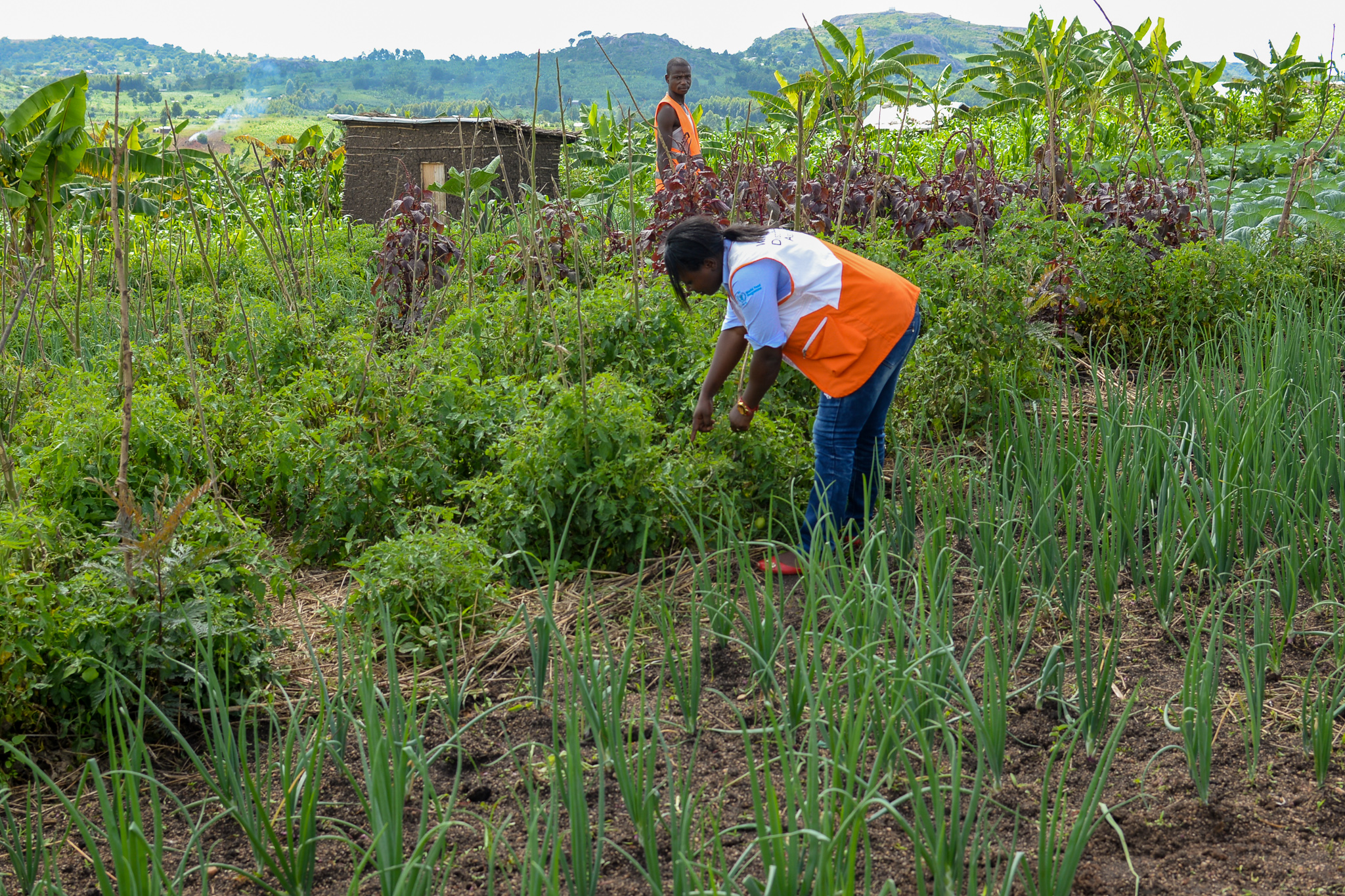 "We decided to use box gardens and plant vegetables in sacks here at the food distribution point to show the people of concern that these vegetables can be grown anywhere no matter the size of the land. You can even decide to grow them on your veranda and they will be just fine. They are quite adaptable and easy to grow." Tungu added.
Everist Gato, a 42-year-old refugee from the Democratic Republic of Congo staying in Mukundu village in Kyaka II, was among the first five community leaders to receive seeds. Gato, along with other people from his community, received training about the importance of growing such vegetables, how to grow them and how to maintain them.
"I am very lucky to have benefited from this project. After the training, I felt empowered to start growing my own vegetables. Working with my community group, I acquired some extra land and grew as many crops as possible. After harvesting, I take some of these to the market and sell them, but I also keep a big chunk of the vegetable for my home consumption. My wife and children like vegetables so much," he said.
Gato couldn't bear to be the only one benefiting from the programme. After seeing the positive results, he trained most of his other community members to grow these vegetables as well. Now, the majority of them are also benefiting from the fruits of their own gardens.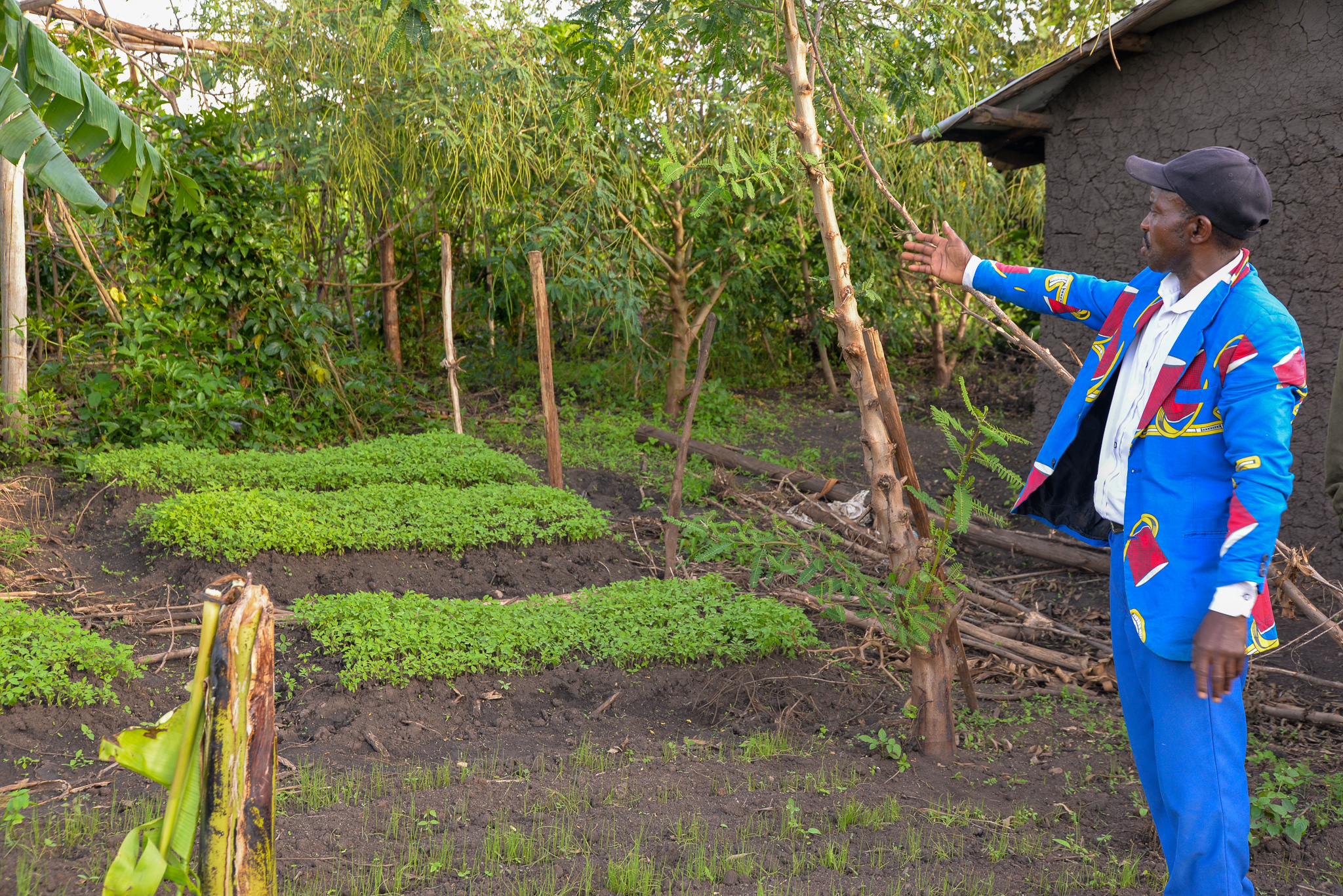 At the demonstration gardens, regular spraying is done to keep the vegetables healthy and in good shape. Other maintenance activities include pruning and weeding.
After harvesting, World Vision's staff members ensure that the outputs from the demonstration gardens are given back to the vulnerable groups in the community, like the elderly, pregnant women, children and people living with disabilities.
According to Paul Mwirichia, Manager of World Vision's food distributions in Uganda, this is only the start and more gardens will be opened soon and more refugees will be trained on how to grow these high-value vegetables.
"We are rolling this out to all the other distribution points and later on to all the settlements where we are working. This is because success has been immense here. We just want the refugees to have as many alternatives and supplements to the food we give them as possible, to be able to sustain themselves and their children," Mwirichia said.
According to UNICEF, about 2.4 million children in Uganda are stunted - an irreversible condition, the majority of whom are in the Karamoja region-Northern Uganda, and in the refugee settlements. Growing such vegetables to provide extra nutrients and an alternative diet might be the answer to have this statistic change among refugee children in Uganda.