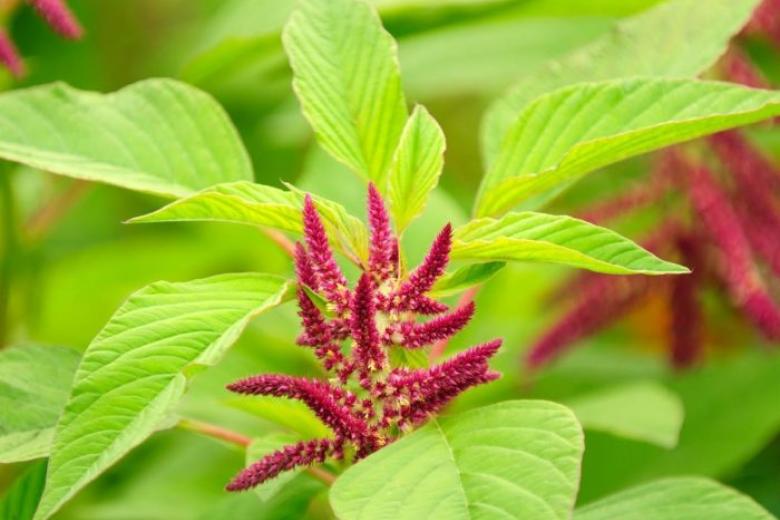 Families tackle malnutrition through kitchen gardens
Friday, November 1, 2019
By Fred Ouma, Development Communications  Coordinator  - World Vision Uganda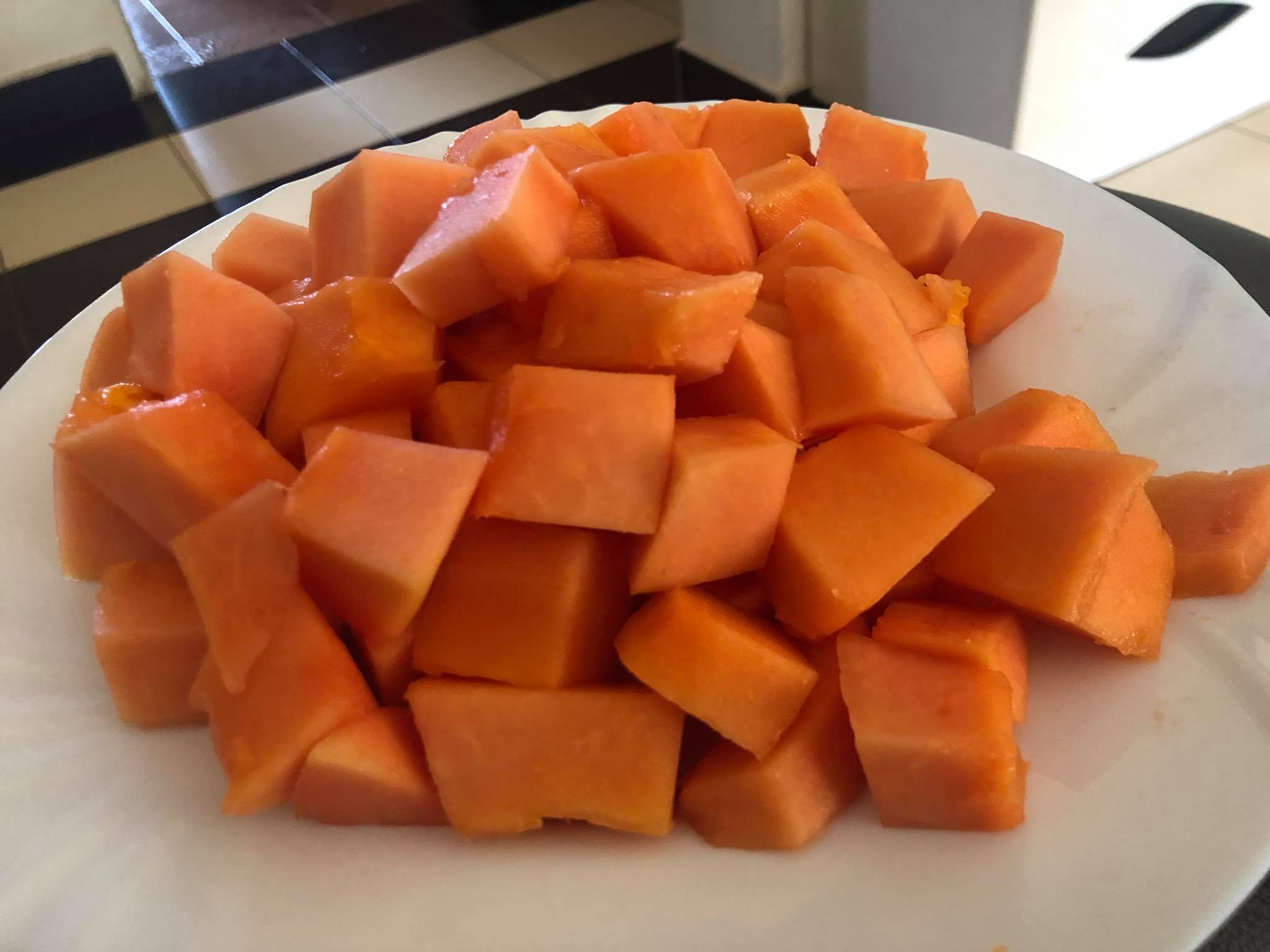 Have you ever imagined the magic feeling of grabbing fresh fruits and vegetables at any time straight from your home garden no matter the size of the backyard?
Even if you are not a fan of gardening, a kitchen garden will gradually motivate you and your children to develop the passion for comfortably growing your own vegetables, for the family to enjoy them fresh all year round.
According to Immaculate Sekitto, Resilience and Livelihoods Technical Manager with World Vision Uganda, kitchen gardening is growing a variety of foods, vegetables and fruits of your choice on small portions of gardens behind houses.
Immaculate explains: "Why you need it close to your kitchen door is because whenever it is kitchen time, you need to visit and continuously harvest from it year-round for breakfast, lunch, and supper while enjoying the health benefits that come with fresh foods."
If you grow in excess, she says, you can preserve some of the vegetables or sell the surplus to supplement your income however small the returns may be, remember it is less costly to maintain this garden.
 Malnutrition situation as it is…
Over 2.2 million children under 5 years (29 percent) in Uganda are stunted, according to the most recent Demographic and Health Survey (DHS) (UBOS and ICF 2018). That is almost one-third of children under 5 years having low height-for-age. Stunting increases with age, peaking at 37 percent among children 18-35 months. Stunting is greater among children in rural areas (30 percent) than urban areas (24 percent) with some regional variations.
According to Irene Nakachwa, Health and Nutrition Technical Manager with World Vision Uganda, stunting is the result of growing under a limited provision of food, health, and care. Moreover, poor nutrition is linked to almost half (45%) of children's deaths under the age of five.
Malnutrition in childhood and pregnancy, Irene says, has many adverse consequences for child survival and long-term well-being. It also has far-reaching consequences for human capital, economic productivity, and national development overall.
To lessen the malnutrition burden and preventable deaths, World Vision is using its community-focused approach dubbed the Household Empowerment Approach to train and support over 300 Mother Care Groups in 15 districts of Uganda to establish demonstration kitchen gardens where families can come and learn before starting their own.
Mother Care Groups are groups of 10-20 women (mothers) who are mobilised and trained on nutrition-utilization of the available foods to improve the health of their children and family members. The groups are also trained on the production and preparation of bio-fortified and nutritious foods such as orange flesh sweet potato, iron-rich beans, vegetables, and fruits.
Each Mother Care Group works hard to ensure every family in the community has got a kitchen garden. It also follows up group members to ensure that they are all keeping good sanitation and hygiene. "We don't want to be counterproductive to our own success," says Awor Milly Babu, 55, a lead mother and trainer of trainers in Aber sub-county. "When people feed well, they need decent facilities to dispose of what eventually comes to avoid contamination and outbreaks of diseases like diarrhea and cholera due to poor sanitation. So every household is required to have at least a kitchen garden and a toilet for a start."
Oyam households curb malnutrition, improve income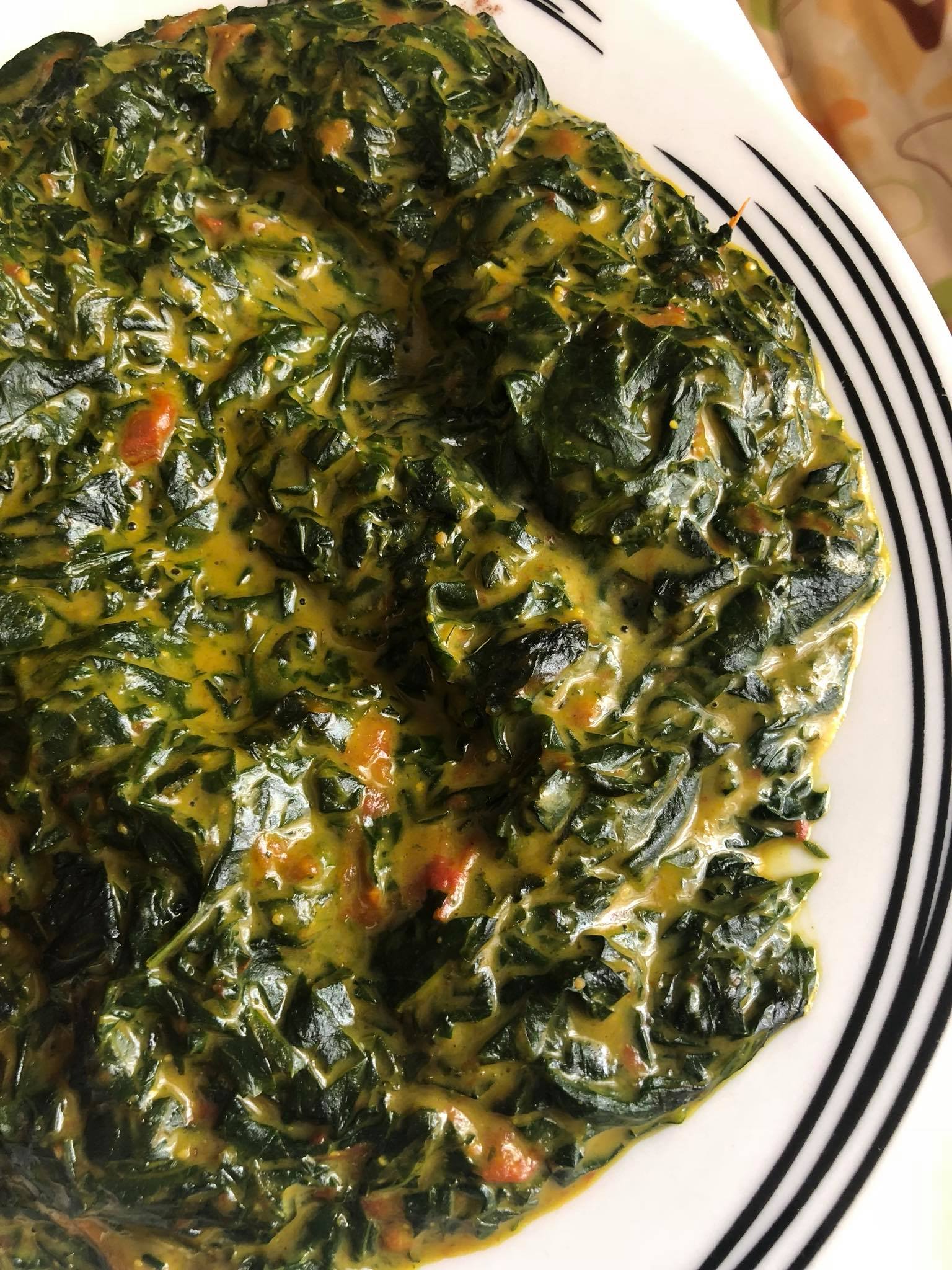 Through World Vision's Household Empowerment Approach, families in Aber sub-county in Oyam district in Northern Uganda have adopted kitchen gardening to address the problem of poor nutrition and food shortage.
The kitchen gardens measuring about 10m by 15m are now a common sight in most of the homes in rural areas of Aber, Aboke, Acaba, and Minakulu where World Vision has operations. The households grow traditional vegetables, including cabbages, kale, dodo (amaranth greens), cowpeas, spider flower, crotalaria, carrots, and tomatoes.
Babu, a community health worker trained by World Vision says that she started to engage in kitchen gardening after she couldn't raise money to purchase food for her family on a daily basis. She says that she had a little piece of land behind her house, which she later utilized. She grows amaranth, cowpeas, akeo (spider flower), and alayo (crotalaria). Babu says that she depends on the traditional vegetables as a sauce to accompany cassava, sweet potatoes and millet. "Before I was ignorant about the benefits of vegetables," says Babu. "But now we have vegetables on every meal, and this has boosted our health. We are stronger and healthier because of the balanced diet involving vegetables full of vitamins."
The mother of six is now encouraging expectant and lactating mothers to grow and eat a variety of vegetables, especially during the first 1,000 days of life – the time spanning roughly between conception and one's second birthday. "When you have a kitchen garden you are assured of a constant supply of nutritious meals all the time," she says.
 Healthier and wealthier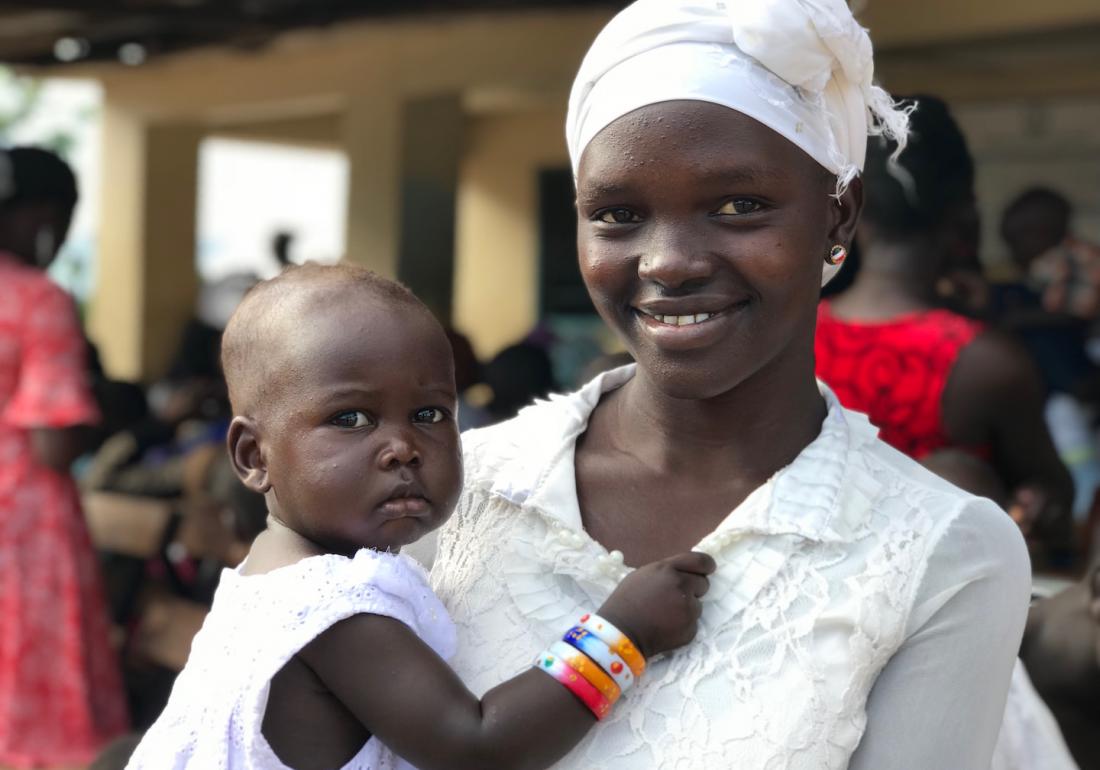 Joan Anana, another lead mother supporting Alyec community care group says that in the past she was spending more than UGX10,000 shillings (about US$3) every day to buy food and sauce for her family. Joan says that since she started kitchen gardening last year, she is spending less because she is sure of the sauce. 
For Joan, the kitchen garden has done for her two great things: reducing her food expenses and increasing her household diet. "My family looks healthier and wealthier than before," she says.
Besides making savings on would-be vegetable expenses, Joan is reaping big from the sale of surplus. "I use some of the money to buy scholastic materials and pay school fees for my five children, and to meet other basic household items like salt, soap and cooking oil."
Joan is also a member of the village saving and loan association where she saves some of the money from the vegetable sales. With an inexhaustible market for vegetables in Northern Uganda, especially in bigger towns of Lira and Gulu, not mentioning the capital Kampala, Joan wants to take the advantage to grow more vegetables.  Recently she purchased oxen to help with draught work of ploughing. "Vegetables are now lucrative," she whispers as if not to let out the secret.  "There is a ready market. I want to open up more land for vegetable growing because I can earn more, and an ox plough is going to be of great help."
Joan also says that she has started sensitizing women in her area about the importance of kitchen gardening and how to prepare them. She says that many women are ignoring the spaces behind their houses, and yet they could turn them into 'green goldfields' and boost the nutrition of their children and the elderly. "A kitchen garden when well managed is a natural pharmacy with all the vitamins, proteins, oils and essential minerals good for our health," Joan says.
A number of people outside World Vision's areas of operation have adopted kitchen gardening. As Rose Atoo, the headteacher of Aber Primary School says: "Buying food every day was expensive," she says. "When I learned about a keyhole gardening technology from a nearby community care group, I had to replicate this to ensure a constant supply of quality vegetables for my family year long. The move was, in particular, the best thing for my husband who is diabetic."
 Must have for every household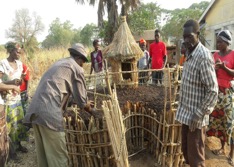 Some of the traditional vegetables which have a very high nutritive value like dodo (amaranth greens), and nakati (solanumaethiopicum) have been grown.
Studies show that green leafy vegetables like amaranth and its grains have nutritional and health benefits, ranging from a general improvement in well being to prevention and improvement of specific ailments and symptoms. They also aid severely malnourished children to recover and increase the body mass index of people living with HIV/AIDS. Improvement in appetite, fast healing of sores and herpes zoster and weight gain are the other benefits of these green leafy vegetables as well as orange or yellow fruits. Not forgetting association with higher milk production among breastfeeding mothers.
Eric Ssebunya, a nutritionist from Mwana Mugimu at Mulago National Referral Hospital says amaranth seeds are rich in amino acids called lysine. The quantity of lysine is deficient in most plant proteins and when a diet lacks amino acids, the rest of the proteins become ineffective.
The grains are also rich in unsaturated fatty acids and contain substantial levels of essential micronutrients, he says. Since lysine is easier to get in animal proteins; vegetarians will miss out, making amaranth seeds the ultimate source.
Leo Ronald Toorach, World Vision's Technical Programme Officer for Resilience and Livelihoods, Northern Uganda, encourages every household, regardless of the location, to have a kitchen garden.
"A kitchen garden is a must for every modern home because of its health benefits," says Leo.
Whether we live in town or rural setting, Leo says, we should not waste that space or piece of land in the backyard, but instead, grow vegetables. "Vegetables are not only a great source of nutritional benefits for the entire family, if done well they are a great source of income too. They are also a buffer during periods of drought and scarcity," Leo says.
Already more than 45,000 households in World Vision operation areas are practicing kitchen gardening, using a keyhole gardening technology, a move that is providing both nutritional benefits and income to families throughout the year. A keyhole garden once constructed can last between 5 to 20 years under good care, says Leo.
About Household Empowerment Approach
Rolled out in Lwabanda village in Rakai, south-western Uganda in June 2017, the Household Empowerment Approach approach brings together 10 to 30 families depending on the proximity, among other things, to promote different aspects of child-wellbeing, including health, education, livelihood and child protection at the household level.
The household clustering approach has been applauded by the government as self-sustaining and empowering and has since been scaled up in all World Vision operations areas across the country. It also strengthens linkages and engagements between household members and their local governments as well as Civil Society Organisations for quality service delivery.
Learn more about the work World Vision is doing to improve the health and nutrition of children in Uganda as well as how to make your own kitchen garden.