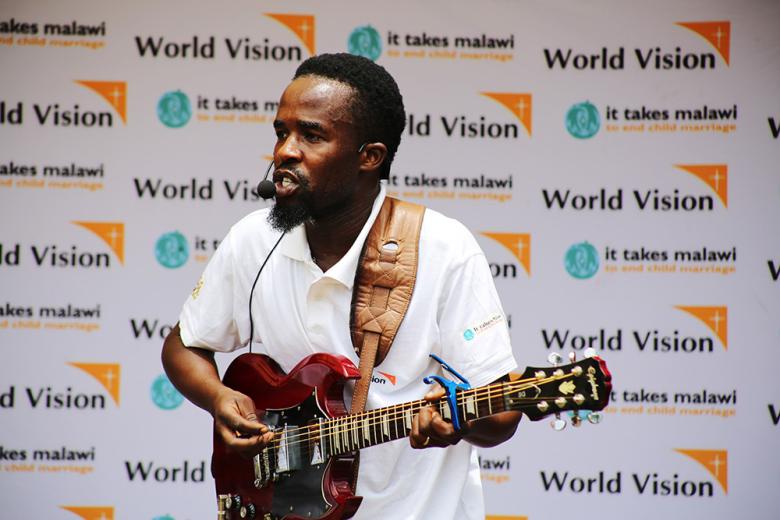 Gospel Artist Vows to Fight Against Child Marriage
Friday, May 17, 2019
One of World Vision Malawi's Ambassadors on It Takes Malawi to End Child Marriage Campaign, Faith Mussa, has vowed to do all he can to advocate against child marriages in Malawi. The afro Soul singer, songwriter and guitarist also known as Malawi's "electronic one-man band" said this in Blantyre recently as he launched his 'Mdidi Album'.
Speaking to a gathering of over 500 people, Mussa said that while children face multiple challenges in Malawi, a study by World Vision had found child marriage to be the worst
and in need of urgent attention in order to meet the country's development goals.
"Malawi has one of the highest rates of child marriages in the world with approximately 1 in 2 girls married by the age of 18. In total, 42 percent are married off at 18", said Mussa before he invited on stage, Memory, a survivor of child marriage who was rescued by Inkosi Kachindamoto, another Ambassador of the campaign.
In her remarks, 19-year-old Memory thanked efforts of organisations like World Vision and Chiefs around the country for standing up to the vice.
"But there is more that needs to be done", said Memory. "The girls coming from marriages need to be helped to believe that there is something for them in life and supported to get basic and formal education, which they cannot afford".
Memory is now in her second year at the Polytechnic in Blantyre where she is studying for a Degree in Environmental Health.
Mussa then capped up his advocacy hour with his song 'Anawa', touted to become the It Takes Malawi to End Child Marriage Campaign theme song in the future.
In the hit, slowly becoming a strong force in speaking for the girl child, Mussa challenges people and communities to give the girl a chance, uphold their rights and let them stay in school and live her dream.
"I did this song I wrote as a teacher, specifically advocating for children's rights, especially the right to education. It's a cry from a child; I want to learn, I want to go to school, I want to achieve my dreams", said Mussa.
World Vision Malawi launched its campaign on Ending Violence against Children (VAC) in 2017 and its main theme is: "It Takes Malawi to end Child Marriages". The overall aim of the Campaign is to reduce child marriages by 20 percent come in 2023.
Malawi's First Lady, Gertrude Mutharika, launched the World Vision campaign in March 2018 alongside United States Ambassador, Virginia Palmer.
Beneficiaries Hail LMMS
Recipients of Long Lasting Treated Mosquito Nets in Neno district have hailed the Last Mile Mobile distribution system for the timely distributions they had in the district.
A total of 81,198 LLINs were distributed to 30, 331 households, benefiting about 149,370 beneficiaries.
According to District Environmental Health Officer for Neno, the use of LMMS helped prevent a recurrence of a scenario three years ago when manual data sheets went missing, leaving out other beneficiaries from the exercise.
"In the past, our data management was not so good. An extreme case was where an entire village's register was lost prior to distributions. This led to the entire village not being given their entitlement thus leaving them vulnerable to Malaria", he recalled, stressing that he would be happy to see this scaled up to other districts.
"Imagine today we have fully reconciled all nets that we were given and we were actually the first district across the country to finish with our distributions, thanks to the lmms innovation", added Mpoha.
According to Loyce Magombo, World Vision's Malaria Global Fund Project Officer for Neno, LMMS was user-friendly such that all Health Surveillance Assistants in the district were able to participate in the exercise.
Speaking over a month after winding their distributions, Dickson Kafa who is also Group Village Headman Chidakwani of Traditional Authority Chekucheku said that people were happy that they did not have to spend a lot of time at distribution sites, hearing out names as they easily lined up and had their cards scanned before receiving.
"It was very decent and orderly all the way, no scrambling for a turn as we all walked peacefully and presented our cards", he said, before pledging that his subjects will put the nets to their intended use.
"We have set up bylaws that will be used to discipline those who will abuse these nets because we know that those who have given us these nets have not done so because they have a lot of money, but they know our problem of Malaria and want to help us", said GVH Chidakwani.
In the ongoing exercise, World Vision Malawi has distributed 10.5 Million Mosquito Nets to over three million households.