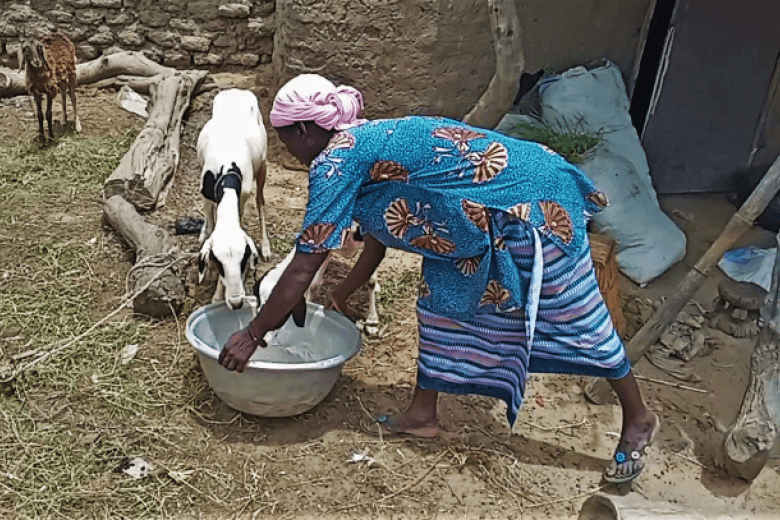 Clean water ends ordeal for Sama and her family
Friday, November 26, 2021
In central Mali, it takes sacrifice and patience to have clean water in some places. This situation is far from pleasant for vulnerable families like Sama's; one which has had to endure the ordeal day and night. Sama is a mother living in the village of Begnena in Koro district. She explains how difficult it was for her to have a permanent source of water in her environment to cover daily household chores.
Despite the presence of a borehole in her community, she reveals that the water shortage for them was due to a pump failure at the borehole, from which she was supplied. "The number of people who fetch water from this borehole per day is very high. Unfortunately, due to the very low speed of the water at the pump, it takes me at least 25-30 minutes each time to have water for my household chores", she shares.
"We have been living this condition for more than three years. Unlucky for us, no one in the village has been able to make an effort to change the routine. So, since my house is not near another water point, I was forced to accept the spell", Sama adds.
Beyond everything, Sama also informed us that the most difficult challenge for her has been the stagnation of her income-generating activity due to the water shortage. "Before the pump broke, I had a lot of cattle that I sometimes sold to support myself financially and cover small expenses for my children. Unfortunately, when I started having trouble watering them, I had to sell them at a very low price so they would not die of thirst."
The tone of our meeting with this brave mother turned pleasant when she began to share with us how World Vision made her smile again through the Jigiya Project, through which the organisation rehabilitated the borehole pump, which now allows her to have an abundance of water for to carry out her household chores and to restart her livestock breeding.
"The water shortage had seriously affected my business. I am now convinced that my breeding will see tremendous increase", Sama confidently shares. "I am very grateful to World Vision. Thanks to them, I can get water from the pump in the blink of an eye. I am not the only beneficiary, all the inhabitants of the village are talking about it. I believe that it [the borehole] will now serve as our permanent source of drinking water and will boost our incoming-generating activities."
Sama further adds that her husband, with whom she has gone through the ordeal, was also relieved of suffering thanks to this rehabilitation of the borehole. "Beyond my needs, I think my husband was also delighted with this assistance because he has plow oxen and a donkey that are watered at the borehole. From now on, he will save time in his tasks and the animals will be well watered", she shares.
For Sama, water is life. She now feels even more confident in her ability to meet her children's needs and those of others. 
"Currently, I have seven children under the age of 18 that I take care of. Of course I would like to see them always clean and well-dressed, especially when they go to school. Thanks to this borehole's rehabilitation, sanitation will no longer be a concern for my family. I am very happy. I do not know what to say to thank enough World Vision. My husband, my children and I are all very happy", she concludes with a smile on her face.
-
By Fousseni Koné - Emergency Communication Officer (Intern)