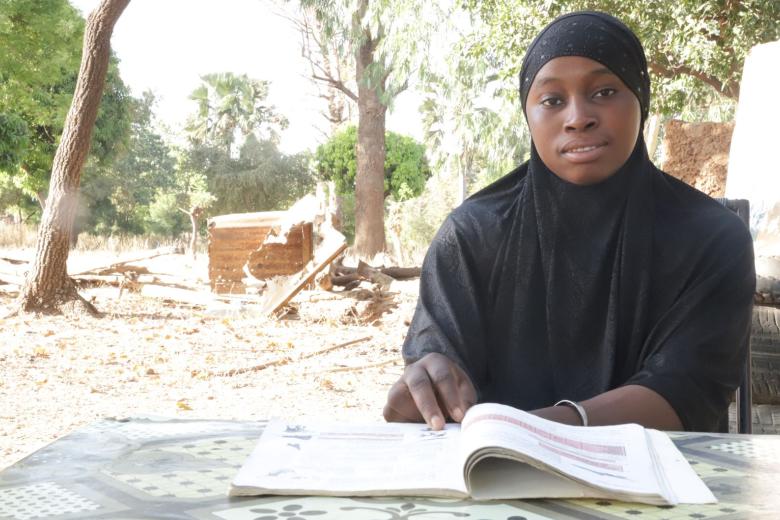 Hawa was saved from an unwanted wedding
Tuesday, January 5, 2021
By Isaac P. Sogoba - Communications Coordinator, Mali
Fifteen-year-old Hawa is a bright student from Bankass District, in Mali's Mopti region. She was also the fiancée of a man who was planning to marry her last year despite this not being her desire.
In a Malian society where Hawa comes from, cultural beliefs and customs are rooted in the daily lives of people, to the point that they are considered local laws. According to local traditions, a daughter cannot oppose to her father's decision, and the mother is hardly consulted in the process. Normally, women are informed about the choice of men for their daughters and they have no choice but to accept the decision.
Hawa was worried. The unwanted wedding was already scheduled and she did not want to drop out of school. At the time, she did not know whom to turn to for help. She knew that she could not disobey her parents and bring shame to her family. Her dream was to do her basic graduation exam and go to high school before getting married.
The teenager received salvation following an awareness-raising initiative done by World Vision on the consequences of child marriage in her locality. The initiative raised the awareness of 20 teachers, including Hawa's.
With visible relief and joy on her face, Hawa tells us: "I was saved from child marriage after awareness was raised on the consequences of child marriage by my teacher named Mr. Mostar, "The teacher was able to sensitise my parents who accepted his advice, thus giving up my wedding, which was scheduled for last year. I really want to continue my education until high school before getting married. I thank the teacher for sensitising my parents. I am very happy to be released from this marriage and sincerely thank World Vision for initiating this project."
Mr. Moctar is among 20 teachers trained trough the DREAM project to sensitise parents against child marriage and Gender-Based violence in Koro and Bankass district. The DREAM project's efforts implemented within World Vision's Central & Northern Mali Emergency Response (CNMER) areas of Koro and Bankass have been able to save six girls from child marriage so far.
Now more than ever, Hawa believes that she needs to prove to her community and to her parents, that she is determined to pass her final exam. "I study very hard before the exams," she says "because I knew that this is the only way to avoid this marriage. A failure would have jeopardised the whole plan and the decision to end my marriage."
Hawa's commitment has enabled her to overcome challenges and succeed. "I thank God I was admitted to my final year exam. When this happened, my joy was so great!" she says  "My parents were so proud of me that, they have congratulated me. My dream is to become a Midwife, to make my contribution in giving life."
Her father Amadou agreed to let her finish her studies and to choose her husband herself when the time comes. "I am convinced that giving a daughter away in marriage at a very early age reduces her chances of success and represents a danger to her health." he says.
Amadou, adds: "I did not know all the consequences of child marriage. Now I have a lot of information, so I decided the best for my daughter is for me to allow her to continue the studies. My daughter has rights that I did not know about previously, I wish her every success in her studies". Amadou also decided to get involved with the heads of families in the context of sensitisation. ''In our talks with the heads of family in the community, I have shared the information received on child marriage so that our daughters are no longer victims", he says.
Hawa firmly believes that she is now an advocate against all forms of violence against girls, and any practices compromising their future or access to a better life. "I call on all girls to fight,  not to fall into the bonds of forced marriage, and this must go through studies, because education is an effective way to fight against forced marriage. I thank World Vision and wish for this project to be successful,'' concludes a smiling Hawa.