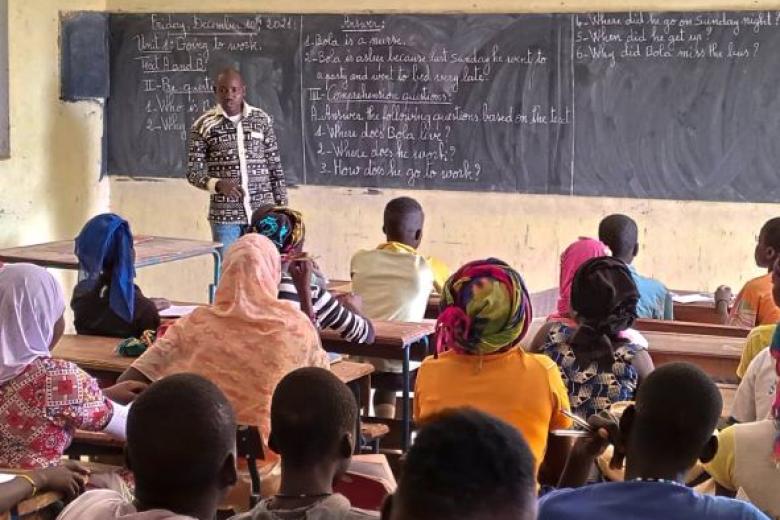 Improving children's development through school-based awareness
Thursday, December 16, 2021
Lack of awareness about education and child protection at the school level could have a negative impact on children living in conflict-affected areas if nothing is done. This can result in psychosomatic disorder, stress, inequalities and sexual harassment for these children in their living environment, including schools, where every child is supposed to gain equal opportunities and safety.
Today, as part of supporting conflict-affected schools in Central and Northern of the country, World Vision in its commitment to working for children's well-being was able to organise training workshops through an initiative called Education Cannot Wait (ECW). The programme seeks to enable schools and teachers to learn pedagogical behaviour that improves children's education and protection at a school level.
"Thanks to World Vision, I learnt so much about issues such as gender, equality, and sexual harassment in schools. Before this, I knew very little about them, as they are sometimes viewed as sensitive topics in our community", says Mr. Togo, a 35-year-old father who has a small family in central Mali.
Mr. Togo also teaches English in a basic school in a village in the Koro district. He reveals to us that he was satisfied with his participation in trainings that reached 15 schools and six CAPs (Pedagogical Animation Centres) in the Koro district. Our programme trainings aimed to contribute to reinforcing teachers' knowledge on pedagogical practices and approaches on gender, equality, conflicts, and children integration at the school level.
"The training was very fruitful for me because I now know enough about the psychosocial aspects such as stress, psychosomatic disorder and trauma that are unfavourable to school-going children in conflict-affected areas", Mr. Togo further adds. "I think that our children need to be supported and protected equally at schools. From now on, I am glad to be not only committed to put this knowledge into practice in my school, but also to pass it on to colleagues in other schools around me." 
For Mr. Togo, World Vision's support is huge. He notes that he is now confident about positive changes that his knowledge will have on students and the entire community.
"I can also testify that the knowledge received will help us improve professionally as well as socially. It will force us to teach the children in a different and better way so that every child can enjoy school. By putting into practice lessons from World Vision's education programme experts, a decrease in violence against children among both boys and girls will be achieved, and every parent will notice the change."
The English teacher concludes, "I really want World Vision to multiply this kind of teacher training that helps to contribute to strengthening community resilience and children education. Thanks to them, we are now fully prepared to bring change to some social practices that can affect children at school".
---
By Fousseni Koné - Emergency Communications Officer (Intern)