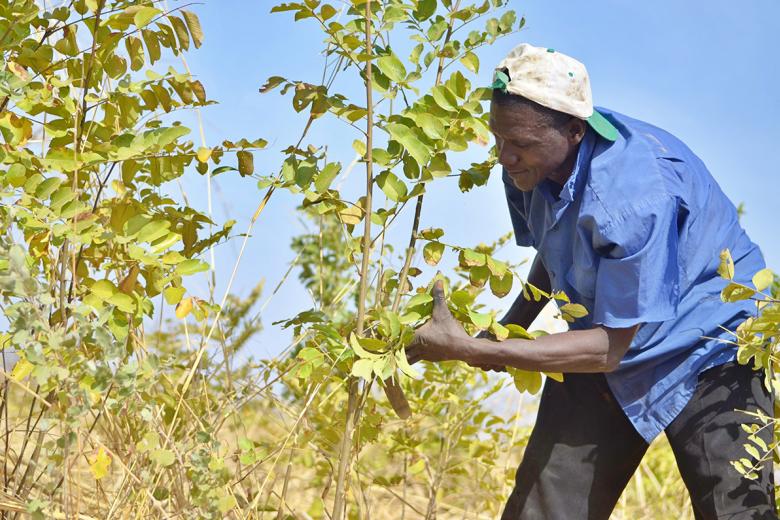 My Farm Takes Care of Itself
Monday, November 4, 2019
The land was so degraded I could only plant every other year," laments Sidi Toure, a farmer in the Koulikoro Region of Mali. "Then we would either run out of money or food – and as soon as one ran out, so did the other."
Sidi had been struggling to feed his family and make ends meet while only being able to cultivate his millet and sorghum in two-year cycles. The situation was so dire that his children could not go to school. The father of five was desperate.
Although he owns a four-hectare farm – about the size of four rugby fields – he could barely produce 10 to 15 sacks of grain each harvest. That harvest would then have to provide for his family for the next 24 months. "You could definitely say we did not have enough food," Sidi says. He remembers how often his children would get sick because they were not eating enough.
Sidi followed the local farming traditions. He would clear the land for planting by removing saplings and burning shrubs and foliage. "I used to have shea tree stumps on the farm, and would cut down the new growth each year." As a result, there was nothing to stop the water from the annual rains from flowing through the farm. Little was retained and the soil was eaten away by erosion.
In 2014, Sidi was one of many farmers in the region to join a World Vision agriculture project which emphasised the importance of the local ecology. Experts taught farmers to manage their land using the Farmer Managed Natural Regeneration technique which calls for an end to the indiscriminate harvesting or destruction of the re-growth from tree stumps, roots and sprouting seeds. Farmers are also encouraged to protect trees from their livestock until they mature, pruning them and leaving the foliage to decay instead of burning it.
This was a completely new world for Sidi and his contemporaries, but he decided to give it a go. "I didn't have anything to lose by giving it my best effort," he says. "They also advised us to build stone barriers around the farm to aid in water retention and I did that too."
Five years later, Sidi is not only planting every year, but the yield from his efforts keeps rising. "Last year, I harvested two metric tonnes of millet and sorghum. My wife and I have been able to branch out into other crops. She harvests nuts from the shea trees and grows groundnuts."
Today, Sidi's children eat three meals a day and go to school. He says they are happy, healthy and have a brighter future. All it took was the proper management of what they already had – land.
"We have enough food and I can take care of my family. Now I can harvest different things, I am not at risk when one crop has a sub-standard harvest. All I had to do was create the conditions for my farm to take care of itself."
Sidi was one of 40,000 people who benefited from this training, which was made possible through our partnership with the Margaret Cargill Philanthropy (MACP). Learn more about this project, our partnerships and other projects we are carrying out to improve the livelihoods and resilience of vulnerable families in Mali. Learn more about World Vision's work with other partners across West Africa in this publication.